Her slap is on cue and she certainly did not hesitate
Indian weddings are grand affairs. Full of colour, music, dancing, ceremonies and drama. But perhaps not drama of the slapping kind.
At a wedding, reportedly in New Delhi, an Indian bride becomes a viral video sensation after she is seen slapping a man on the wedding stage after she participated in the garland exchanging ceremony between her and her husband.
An activity which is hugely popular in Indian weddings and usually one of the first things to take place after they are wed.
With the bride and groom being the centre of attention, anything that happens to them is always going to be in the spotlight. And this was no exception.
The video shows the couple waiting to exchange their garlands on the wedding stage with lots of 'hungama' (commotion) around them.
It has to be said that the bride does not look 'exactly happy' in the video. Whether this is with the fact she has got married via an arranged marriage which she is not thrilled about, the possible lack of maturity in her husband or something else. But her waiting with the garland does project a certain 'can we get on this?' look.
Then, suddenly, a man who looks like a brother or cousin of the groom, standing behind him, decides to play a little prank on him by lifting him up into the air from behind. So that he is 'out of reach' for his new wife to place her garland around his neck.
At this point, she is looking somewhat bewildered. And then behind her, another man turns up and decides to lift her up too. Making it possible for her to exchange the garlands with both bride and groom in the air, lifted by the men.
What happens next, you can see in the video: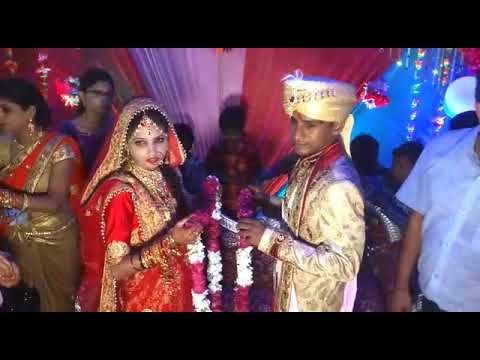 As you can see, something happens, when the second man lifts the bride up, in order for her to react in such a dramatic and 'slaptastic' way.
Her slap is on cue and she certainly did not hesitate.
Raising the point that there was definitely something sinister about the way the man lifting her up possibly handled her or where on her body, he placed his hands. Because, by this point, even the groom is looking seriously at the reaction of his wife too.
The reaction from the man who lifted her up is even more shocking immediately after when he slaps the girl standing nearby. As if he was 'caught' doing something he should not have been and was seen by the young girl.
Turning the moment of garland exchanges, which was supposed to be a fun and happy one, into an immediate serious and awkward mood on the wedding day of this couple.