"It was a pleasure having these legends around! #PremierFutsal will be back next season."
Mumbai 5s became the first ever champions of Premier Futsal, after a thrilling opening edition of the tournament.
And the non-stop action ensured that nobody was left disappointed.
Fans were treated to an incredible 79 goals in the 15 matches which were played in Goa and Chennai. That averages to a mouth-watering 5.27 goals per game.
In a tense final, Kochi took the lead and looked set to become 2016 Premier Futsal champions.
But a last minute Mumbai equaliser broke their hearts and sent the match to a dramatic penalty shootout.
Both Ryan Giggs and Michel Salgado missed their penalties, and the shootout went to sudden-death.
Mumbai's Luis Amado scored while Kochi's Casalone saw his penalty roll agonisingly wide.
So after their tense 1-1 draw, Mumbai 5s won the penalty shootout, and became 2016 Premier Futsal champions.
Just days before their Premier Futsal final, Kochi and Mumbai met in the group stages of the tournament. And they produced the highest scoring game of the tournament as Mumbai defeated Kochi 6-4.
Goa 5s earned the biggest win of Premier Futsal 2016. They came from 2-1 down to beat Bengaluru 7-2 in a group stage game. And their Brazilian World Cup winner, Ronaldinho, scored 5 goals in a blistering performance.
Unfortunately, that was to be Ronaldinho's last appearance for Goa 5s. Premier Futsal bosses allowed him to leave early after he was selected to be the ambassador for the 2016 Paralympics in Brazil.
Ronaldinho was replaced in the Goa team by an even more successful Brazilian. Two-time World Cup winner, Cafu, joined Paul Scholes, Michel Salgado, Hernan Crespo, Ryan Giggs, and Falcao as a Premier Futsal marquee player.
Tournament organisers praised the legends of football in a tweet after the game. They said: "It was a pleasure having these legends around! #PremierFutsal will be back next season."
Watch Ronaldinho's unbelievable 5 goal Premier Futsal performance against Bengaluru here: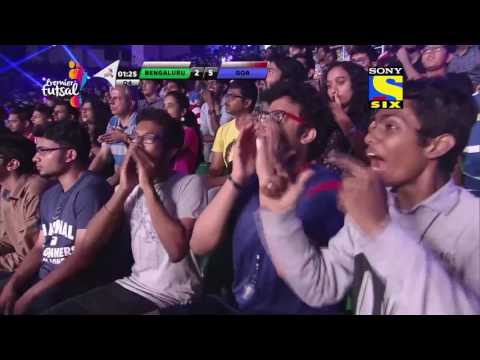 After the incredible first edition, you must surely already be looking forward to having it back on your screens in 2017.
Premier Futsal is one of the latest attempts to revamp sport, and football in particular, in India. Click here to find out more about the changes to Indian football.