"The Premier Futsal anthem is sporty, lively, mix of rap chorus and beats."
Virat Kohli and A.R. Rahman shake a leg to the Premier Futsal anthem, titled 'Naam Hai Futsal'.
This is the first time that the 'Mozart of Madras' is lending his music prodigy to a franchise-based sports league in the country.
He tells Indiatoday: "The Premier Futsal anthem is very different, it is sporty, lively, mix of rap chorus and beats.
"Commonwealth was rock, Pelé was electronic – stadium anthem kind of a thing.
"This is like a much younger sound, something that people look for in today's times."
Indeed, the happy techno song is one extraordinary creation, with the Indian cricket sensation Virat Kohli grooving and rapping which is definitely refreshing to see.
And we are pleasantly surprised by how this fiercely talented cricketer showcases his new found talents!
Watch the video of 'Naam Hai Futsal' here: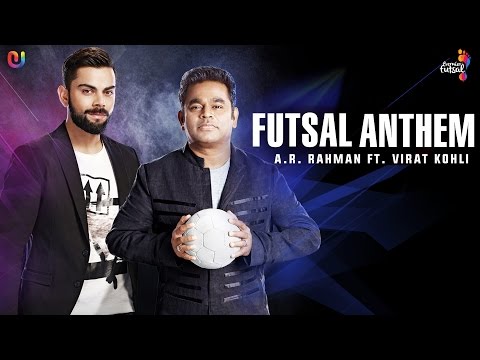 Kohli is the brand ambassador of Premier Futsal League and has collaborated with the musical maestro for the first time.
The cricketer reveals to The Times of India: "I have been a fan of A.R. Rahman for years. It will be a personal achievement and also a privilege to share the screen with him and lend my voice to the anthem of Premier Futsal."
Futsal is an an indoor, fast-paced five-a-side version of football that focuses on skills and abilities in high pressure situations.
The inaugural Premier Futsal will aim to entertain as well as inspire the youth onto a relatively new sport in India.
It will feature city-based teams from Bangalore, Chennai, Delhi, Goa, Hyderabad, Kochi, Kolkata, and Mumbai.
Launched by Luis Figo, the franchise-based league will also witness former international marquee football players such as Ryan Giggs, Paul Scholes, Ronaldinho and Deco.
Premier Futsal kicks off its maiden season in India on July 15, 2016.