"She has become the voice to many social and sensitive issues hence I enjoy what I do"
Meet Ssumier Pasricha, an Indian actor and comedian who plays 'Pammi Aunty' in his viral internet videos.
Pammi Aunty is a stereotypical Punjabi woman who loves to gossip, phone her friends and complain about life. The tongue-and-cheek humour will make you laugh until your tummy hurts!
Pasricha simply started off like the rest of us, on Snapchat trying all the various filters and making funny videos.
One day, Ssumier posted a video of him with the old lady filter and Pammi Aunty was born. He couldn't believe how viral it went. Within 15 days, Pammi Aunty was a huge internet hit!
As an actor and comedian, Pasricha has starred in international movies, soaps and theatre musicals. He is also seen as one of the young icons of India.
If that wasn't enough, the 36-year-old also gained a lot of attention due to his resemblance to Bollywood actor, Shahrukh Khan.
In an exclusive interview with DESIblitz, Pasricha talks about his internet fame, social media, and his inspiration behind 'Pammi Aunty'.
How did the character of Pammi Aunty originate?
It was one fine evening I was just sitting idle and had nothing to do, so while exploring Snapchat filters.
I just saw this Pammi aunty filter with big cat glasses and curls and ranted few lines and posted on Facebook and Instagram.
I continued for good 15 days and it became viral and how I didn't even expect it.
Do you have a favourite aunty, and if so who?
Well, all are my favourite aunties and every aunty has one peculiar style of carrying her life and gossiping, so I observe them all.
How do you choose what kind of content to create?
I prefer to create content more or less like a story and keeping in mind everyday topics and issues around me or my life.
I have observed them carefully hence it helps me to create it better level. C'mon [a] Punjabi family and no drama? Hahaha, it can't be possible. LOL.
How long does it take you to get into character with the make-up and clothes etc?
Well, it's just like 2-minute noodles, and also the moment I am sure what to talk about.
I quickly put that face pack on and roll that towel around my head, stick those curls, wear my pink glasses and wrap any around stole like chunni.
There you go Pammi aunty is ready. It is not more than 5 min job to get ready.
What do you find enjoyable about doing what you do?
Well, Pammi aunty has become a daily dose for most of them. People have connected to this character like they connect it to their daadi, Nanni, Mom, Khala or Appa.
Plus, she is topical and talks about current issues. She has become the voice to many social and sensitive issues hence I enjoy what I do, it is my way of giving it to society.
It is a way of social work or entertainment. In return, I am getting lots of blessings and love from around the world.
With many other males playing females characters on YouTube, what makes you different?
Everyone has their own following but what makes Pammi Aunty different is she connects with a 3-year-old kid to 80-year-old grandmother. Her range is wide.
It's clean comedy; it does not demean anyone yet says the truth in her style. That makes Pammi Aunty different from everyone.
Also, no one has done it in Punjabi and it's a character close to reality. We all have one Pammi aunty in our home.
What do you think makes good entertainment?
It is purely content-based. I would say clean and innocent comedy is all about entertainment. It shouldn't be forced humour, no double meaning and defaming anyone.
"Then only it is called pure entertainment. Sadly, in this current scenario, we are losing good entertainment. No wonder Pammi Aunty became hit."
Are there any subjects you would never do and why?
I would never do video or comedy which would demean certain section of society or people or anything cheap in the name of entertainment.
What is your ambition with Pammi Aunty or other projects?
Ambitions keep growing with time and age, so I shall say I would want people to know me as a good entertainer and a versatile actor, who can do serious as well as a comic role.
What would you say to young people thinking about doing what you do?
Try to be original, be focused and have patience. Success does not come easily to some. So respect what you do and people around and give your 100%.
Watch one of Ssumier's hilarious Pammi Aunty videos below: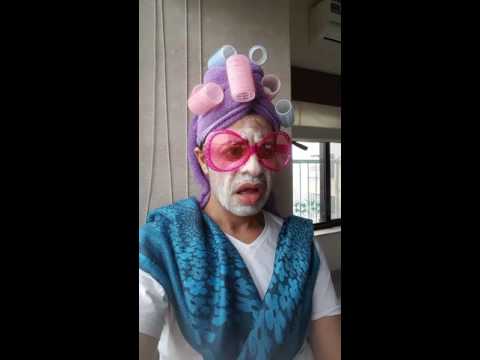 There are many more of Pasricha's YouTube videos where you can hear Pammi Aunty rant about her exaggerated stories, Germany's Euro exit, Brexit and more.
Bollywood actor Rishi Kapoor is also a fan of the online character. He tweets his appreciation for Pasricha's work.
This guy is amazing. He is Pammi Aunty! Anyone know about him or his whereabouts? Am told he is all over the net pic.twitter.com/q9i9MLl7PN

— Rishi Kapoor (@chintskap) July 10, 2016
With so much love and adoration for Pammi Aunty, could we one day see her in her own movie?!
Subscribe to Pasricha's YouTube channel and enjoy many more Pammi Aunty videos.