she waves her gun very confidently in the video
A video that has gone viral shows an Indian aunty from Punjab, India, showing off very large amounts of cash and gold jewellery while she travels in the back of a car.
As well as the bling display of cash and gold, she then even grabs a gun as part of her boastful 'gangster-like' video performance.
The highly shared video on social media platforms shows the Desi aunty singing surrounded in cash and miming to the Jazzy B Punjabi track titled 'Maharajas' released in 2011.
The Indian aunty uses the lyrics of the popular Punjabi song as a means to denote and display her wealth as she sings along:
"Gaddi utte 'MR SINGH' lakwaya (On my car I have the private number plate with 'MR SINGH' written on it)
"Adha killo da me karra ghut vich paiya (Half a kilo gold bangle I have on my wrist)
"Asi vaddiyan gharan de.. vadiyan gharan de sehzadeh (We are the princes from the auspicious households)
"Sadi rees koun kar lau sanu raab ne baniya MAHARAJEH (Who will dare copy us, we are made Maharajahs by the almighty)"
During the lines of this chorus, she intimates her association with the lyrics as aptly describing herself and her household as 'maharajas' in possession of large amounts of cash and gold.
For the line about the 'half kg' gold bangle, she proudly displays her bangles which look exceptionally expensive and heavy.
Not knowing exactly the location of the video or the Desi aunty in it, one can speculate that she is either possibly going or coming to a Punjabi wedding or that she is simply portraying her wealth to the world through this video.
What is clear that as well as the wads of cash and gold, she waves her gun very confidently in the video sequence.
This parallels with the actual song video too because the video of the song shows Jazzy B taking a few shots from a gun too.
As she holds up the gun, she lets the money drizzle down her right arm with a bumptious expression.
Watch the video of this 'gangster' Indian aunty: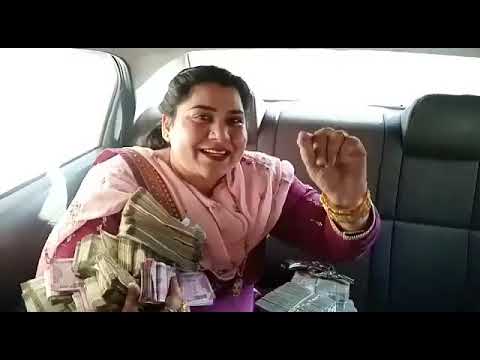 It does make you wonder where she obtained such large amounts of cash and gold and does she have the gun to protect herself too?
Either way, the video has definitely grabbed the attention of thousands of people sharing it on social platforms like WhatsApp, Facebook and other social media accounts.