"I love the satisfaction of repairing and reusing discarded items to give them a new lease on life."
An Australian Indian woman has won the Etsy Design Award after going viral for recycling and repairing old dolls and giving them a unique twist.
Sonia Singh from Tasmania launched her project 'Tree Change Dolls' in 2014 after being made redundant.
Sonia was selected as the 'Community Choice Winner' on Etsy. The Science Communicator turned artist takes discarded dolls and upcycles them by giving them a lifestyle change.
She swaps the ultra-glam factor for a more relatable and natural look by repainting their faces and dressing them in new outfits.
Sonia finds the dolls in second-hand shops and market stalls, where she takes them home and repairs them by making new hands or feet and re-styling their hair.
Most of the dolls Sonia finds are Bratz dolls, known for their heavy eye makeup and plump lips. Sonia removes all of the factory paint and gives them a fabulous new make-under.
Her mother knits and sews all the outfits for each doll, and together they offer a new lease on life to a second-hand doll, for kids to enjoy:
"My sisters and I grew up playing with second-hand dolls and home-made toys in the beautiful Tasmanian natural environment. I love the satisfaction of repairing and reusing discarded items to give them a new lease on life," Sonia says.
"Initially this little doll project of mine was just a fun hobby where I just wanted to see if anybody was interested. And I've just been overwhelmed with the responses from people. I did not expect them to go viral!"
Sonia decided to share pictures of the dolls on Tumblr, sharing the post with her 200 Facebook friends.
Over the next few days the post started to go viral and Sonia's dolls became an internet sensation. She now enjoys over 440,000 Facebook likes.
You can take a look at the Sonia's doll journey here: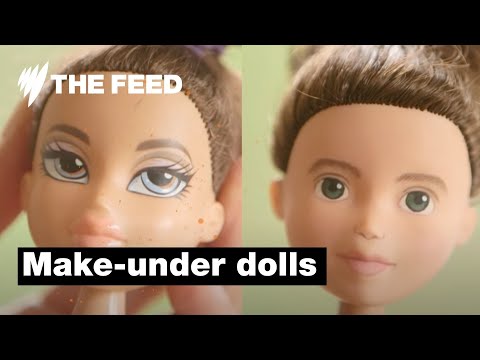 While Sonia admits that it was never her intention to make a statement with these more natural-looking dolls, it is clear that she has inadvertently added to the debate on the hyper-sexualisation of dolls for children and girls:
"I've had a lot of comments from people saying, 'These are the kinds of dolls I want my children to play with'."
"I'm not a doll manufacturer, I don't want to be. But if what I've done does influence some of the big toy companies out there, and make them rethink the kind of dolls they're putting out on the market, I don't think that would be a bad thing at all."
Sonia currently produces 20 dolls each month, which she admits sells out rapidly. She has also begun encouraging other doll owners to design their own outfits, by selling knitting patterns. She also auctions off one hand-made doll each month for charity.
Etsy.com is an online marketplace for handmade goods. Sonia beat 52 other finalists that were shortlisted by an expert panel.
Her prize is a weekend in New York City where she will visit the Etsy HQ:
"It will be so exciting to visit New York for the first time, especially as I have many supporters there who have been following my journey from the start," Sonia says.
You can view Sonia's Etsy page here.