"I write new lyrics every day, which are based on my daily life experiences."
Rising star, Shannon K is the latest young talent to make waves with a new kind of music.
The teen sensation has introduced her brand of pop music to a global reach. Being the daughter of the legendary singer Kumar Sanu, it seems as though Shannon's passion and talent is very much in the family genes.
It was at the age of four that Shannon first showed off her talent to the world, performing a classical Indian dance at one of her father's concerts. Her studies of the 'Kathak' dance form led to her featuring at the 2007 Bollywood Awards Night in Atlantic City, New Jersey.
Almost a decade since her first stage performance, Shannon K has released her new album entitled Perpetual, which has been developed following a number of successful previous releases including, 'Sapphire' and 'Just Another Boy.'
Her debut single 'Roll Back The Years' is about how the friend of Shannon's sister was upset about her family breaking up. This touching story transformed into a song after Shannon read these lines and began humming tunes, which Kumar Sanu himself heard and found quite interesting. Thus, the emotional lyrics translated into a heart-warming song.
The pop star has already worked alongside talented producers including Andy Whitmore, Steven A. Williams, Rishi Rich and David Tyrell. Furthermore, Shannon takes her musical influences from various notable artists such as Mariah Carey, Whitney Houston, Adele, Bruno Mars and Justin Bieber.
In a special Gupshup, Shannon K tells DESIblitz about her latest album Perpetual and her music journey so far.
What kind of sentiments were you trying to convey with Perpetual'?
As we all know emotions are perpetual and I get inspired by almost everything, from my surroundings to the people I know and sometimes my own personal experiences.
There are two songs in this album called 'Running' and I believe that reminds me of my grandparents because I miss them so much and unfortunately I was quite young when I lost them so I didn't have much opportunity to spend time with them.
These songs were also written for my dad as he is always traveling for his concerts and I barely get to see him. 'Lately' is basically about high school and how people break your trust and not be loyal enough.
'Pretty Eyes' was actually about Justin Bieber eyes, I was just randomly watching his 'Boyfriend' video and I didn't realise that I was falling for his eyes and that's how the song came to me.
To what extent does the soundtrack actually reflect your personal experiences?
I can relate to most of the songs especially 'Running', 'Lately', 'I believe' and 'Pretty Eyes'. These songs are really close to my heart.
If you could literally 'Roll Back The Years,' what would say has been your most memorable moments?
Professionally, if I could back in time I would probably go back to when I performed Kathak Dance in Atlantic City in a Bollywood awards, I think that was one of my best memories of all time.
In personal life, if I could go back in time then I would like to go back to when I was with my grandparents and re-live the whole moment.
What encouraged your younger sister Annabel to co-write some of the poignant lyrics for Perpetual?
My sister, Annabel has been writing since a very young age and she also wrote my first debut single which was 'Roll Back The Years'.
For this album I wrote most of the songs because I had more experience in things than she did but she co-wrote some of the songs along with me.
Annabel is very sensitive and she observes her surroundings very quickly. I wrote some of the songs and spilled my heart out in those songs.
As depicted in the video 'Lately,' how do you think young women should stand-up for themselves in society?
Young women have right to be who they really are without anyone else's approval and they shouldn't be afraid to be judged by society.
Girls don't need to be perfect in shape or size. Girls can wear what THEY want to and still be happy even if others say they don't look as good because that's all just a bunch of talk.
If others really had the guts to be who they were then they wouldn't judge young girls.
Music is truly an art that requires hours of dedication. How much time do you spend practising your vocals?
I agree, it takes hours of dedication. I do my vocals every day and I write lyrics/melodies which comes in my mind. I write new lyrics every day, which are based on my daily life experiences.
Which is your favourite track of your father Kumar Sanu and why?
One of my favourite songs from my dad is 'Jab Koi Baat Bigar Jaye'. I love this song so much because it teaches us to be with our loved ones through thick and thin. If something goes wrong we should always stay strong and be together.
At the age of 6, you relocated to London before moving to America. What influence did this have on your music?
London is my music foundation, it's my home and I learned music from ABRSM and whatever I can sing is because of the music education that I did there.
I felt devastated when I heard about the terror attack in Manchester and London. My prayers go to all those families that were affected by this.
With so much scope in Bollywood, any plans to be a playback singer in the future?
If I get an offer to sing a song from Bollywood it would be an honour as my dad belongs to Bollywood, and I love it so much.
For now I have to complete my studies, which will take another 5 years.
Singing can be a force, which comes with great responsibility. If you were a superhero, what superpower would you have?
I'd like to be able to think of a way to end all wars so that there's peace and love in the whole world.
It's not easy to become a teen sensation. What is your greatest accomplishment to date?
"My greatest accomplishment is performing on stage with my dad and another legendary Bollywood singer, Alka Yagnik."
I think that is a very big honour since these two are the first people whose songs were the first songs I ever heard and I grew up listening to them.
Another greatest accomplishment that I think I had was when my song was played on the radio.
Finally, what is the secret behind pulling the heartstrings through music?
The more real you are, the more relatable and emotionally the song gets. I think everyone goes through the same thing and when you listen to the songs that are relatable to the situation that you had been through that's when you feel the emotion.
Watch our exclusive Gupshup with Shannon K and her dad Kumar Sanu here:
For Shannon, her album Perpetual is her most emotional yet – since it addresses the way in which feelings can last a lifetime. It encompasses a vast range of deep emotions made accessible through stunning melodies.
With the perfect combination of both party tracks and sentimental love songs, it seems Shannon K has found another winner with this touching album.
Watch 'Lately' by Shannon K here: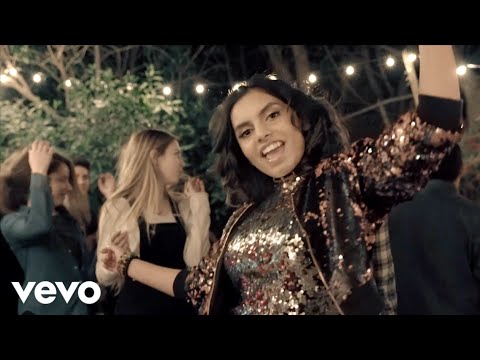 Under the doting care of her father Kumar Sanu, Shannon K has had a perfect introduction to music. Singing and songwriting from a young age has enabled Shannon to find a voice and style that is unique to her.
With her own musical journey now gaining momentum, her fans have been offered a glimpse into her extraordinary talent. And we are certain that this just the beginning of what promises to be a long and illustrious career in music.
DESIblitz wishes Shannon all the very best for Perpetual and the future!