I was just trying to concentrate on shooting
Abhinav Bindra, the Air Rifle shooter from Chandigarh, has won India's first solo gold medal at the 2008 Beijing Olympics.
It was Bindra's shooting skills that won him the gold in the 10 metre air rifle event. He scored 700.5 and has made history by winning a gold medal of any kind for India after 28 years. Zhu Qinan of China won the silver and Henri Hakkinen of Finland the bronze.
The thrilling shooting final, after the qualifying round where Bindra was trailing by two points, resulted in Bindra gaining the lead with his final shot after Hakkinen was on 689.7 points.  Bindra's final score was 10.8, Zhu's score was 10.5 and 9.7 was scored by Hakkinen.
This win makes Bindra the only person from India in the Olympics competition to ever win a gold medal for an individual sport. Whereas, in the past India have won eight gold medals in Hockey.
After the win Bindra said, "I was just trying to concentrate on shooting, I was not thinking about making history" and "For me life will go on. All my life I have just been punching holes in a blank piece of paper target."
Hopeful that his win will attract more attention to the Olympics competition, Bindra said "I sincerely hope this win will change the face of Olympic sport in India. In our country, Olympic sports are not really a priority, I hope now they will get more attention."
Bindra's win has attracted a lot of media frenzy and attention from his country. Including praise from India's president and prime minister, his home state Punjab awarding him 10 million rupees (£123,927) prize money, 500,000 rupees (£6,916) from Madhya Pradesh state, 1 million rupees (£12,392) from Maharashtra state, despite the fact he does not live there and the poorer state of Bihar to name a stadium after him.
In addition, Lalu Parsad of the Indian Railways has said that Bindra would get a gold pass for free rail travel for him and a companion, for the rest of his life, in the first class, air conditioned compartments and the Indian cricket board has also recognised Bindra's tremendous achievement and announced that it too was giving Bindra a cash prize of 2.5 million rupees (£31,100).
Here is the video of Abhinav Bindra receiving his gold medal at the podium along with the runners up.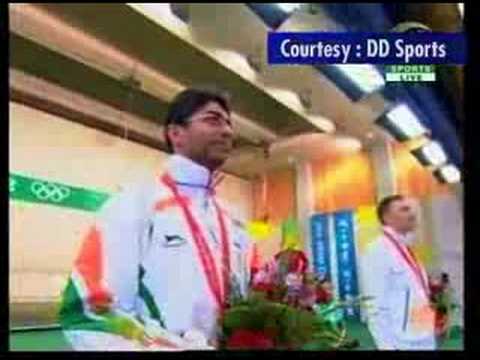 There have been many celebrations both across India and in Chandigarh, where his family have been ecstatic about his win. Neighbours and strangers were offered mithai (sweets) at the family home.
His father, a businessman, who has built an air conditioned shooting range for him to train, said of his son's victory, "He has won the greatest medal in the world." Bindra's mother, Babli Bindra, has said jokingly that Bindra is "the country's most eligible bachelor" and this has attracted a lot of attention from Bindra growing female fans.