the 10,000-strong crowd were standing shocked as Khan struggled to regain his composure
Colombian born boxer Breidis Prescott, defeated Amir Khan in spectacular fashion with a 54-second knockout which is his first defeat of his professional career.
Amir Khan was striving for a world boxing title challenge within the next 12 months, and what he wanted to actually do on this occasion, was to show off his fighting ability to the pay-per-view fight audiences but the reality was that he got knocked out violently and quickly.
Jorge Rubio a former Cuban Olympic coach had just been appointed as Khan's new coach replacing his old trainer Oliver Harrison. This was deliberately done to help Khan with his defence, after being punched to the ground by Michael Gomez in his previous fight and on other occasions by Rachid Drilzane & Willie Limond.
Prescott had always been a great puncher but no one could have guessed that he would knock Khan twice to floor in the first round and then take his World Boxing Organisation Intercontinental title away with an array of stunning blows to the head and body.
The defensive strategy that Khan had worked on so hard in his training sessions with his new coach was tested from the first second to the last, and with every punch, Prescott looked stronger and more dangerous. Prescott had an unbeaten record of 17 knockouts in 19 wins and he was not going to let Khan's title of the current Commonwealth Lightweight Champion stand in his way to victory.
Colombian, Prescott, had a greater height and weight advantage over Khan and was accustomed to fighting against light-welterweight opponents.
Ironically, Prescott was recommended as an opponent by Khan's new trainer.
The bell rang and immediately Khan was on the back foot it was not too long before he was on the canvas for the second time after being hit by a super left hand punch that left him dazed on the floor, the 10,000-strong crowd were standing shocked as Khan struggled to regain his composure, at which point referee Terry O'Connor stopped the fight making Khan's world title belt just a distant memory.
Below is some video footage from this very quick fight.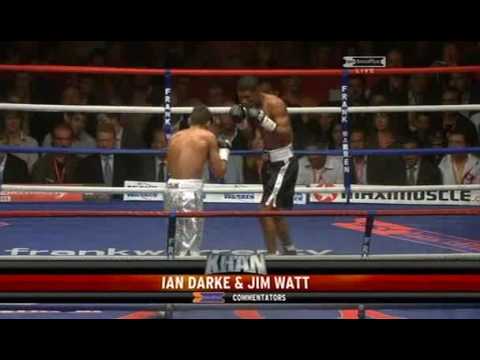 Amir Khan will now return to vigorous training, to recover from this huge blow, having lost after 18 straight wins. In a TV interview, Khan said, "Yes, definitely, I'm going to go back and I'm going to come back stronger."