"I live in Karachi plz meet me or do a meet and greet"
Popular YouTubers Sham Idrees and his wife Froggy aka Sehr have surprised fans by taking a trip to the land of their roots, Pakistan.
In fact, Sham Idrees was supposed to be going on his own but he pulled one of the most pleasing pranks on his wife when he took out her passport and told her she was coming too!
The pair have a huge fan following and are among the most famous Pakistani YouTubers.
Sham Idrees is of Canadian and Pakistani heritage and the pair attract major audiences worldwide for their vlogs and funny content. Pakistan is a major fanbase for the duo.
Starting out as friends appearing in their videos, they eventually tied the knot and got married on New Year's Day in January 2019. This followed their engagement on November 20, 2018.
Froggy was very happy and thrilled with Sham's surprise that he was taking with her. Despite the fact, she was still wearing her home chappals on her feet! Because she thought she was dropping him off at the airport.
Once news of their trip to Pakistan started to emerge on social media. Fans in Pakistan were both surprised and super excited.
They arrived in Karachi and plan to stay in Pakistan for about a month to be filled with their adventures in the country, including recording some vlogs during their trip
On Instagram, fans replied to the news with their desires to meet them. Here are some reactions.
"Welcome to Pakistan…i live in lahore….plzzz come to meet me"
"A very warm welcome from all of us"
"Both looking nice"
"I live in Karachi plz meet me or do a meet and greet"
"Please I know we're you live can I come and meet you"
"Please come to bahria town lahore"
"i want a meet &greet in hyderabad,pakistan in the boulevard mall but plz inform me when you are coming bcuz i really want to meet you"
"Meet and greet in lahore packages mall #SurpriseSurprise"
"I want to meet u froggy sis and with sham bro also plz come to quetta to my home"
"Plz come to lslamabad"
"Plz come to multan"
"you guys are at rawalpindi i saw you there at virus street"
They have already made a few vlogs on their surprising and pleasing trip.
They met up with family and spent a day trying out fruit and having some food. They also explored animals at a local zoo and in their locality.
Froggy also drives a rickshaw on her own!
Sham says in his first vlog from Pakistan:
"I'm on a mission to bring change to Pakistan."
"I'll be actively involved in building dams as well as travelling all over Pakistan.
"To show the world the beauty that lies within Pakistan."
Here's the first vlog they made of their trip to Pakistan: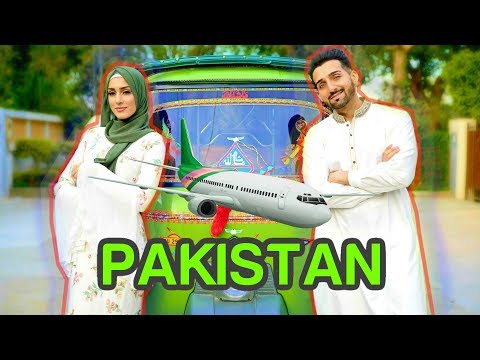 They also took a road trip where Froggy and Sham were behind the wheel to experience driving in Pakistan in their second vlog.
Here's the second vlog with their driving in Pakistan: