"You've been there from the start. My best friend became the love of my life."
Social media stars Sham Idrees and Froggy aka Sehr tied the knot on New Year's day after a surprise announcement of their engagement on November 20, 2018.
Sham Idrees is of Canadian and Pakistani heritage and the pair attracted huge audiences worldwide for their vlogs and funny content, especially from Pakistan.
The now husband and wife both posted photos of their wedding on social media announcing to the world they were now married.
Froggy's real name, Sehr, was revealed by Sham in a video he posted after their engagement in November.
The wedding images posted on Twitter and Instagram show the two in marital bliss.
Sehr posted the message "Happy New Year #JustMarried" with her image of the couple.
Sham posted on his Instagram the message with an image of the pair:
"You've been there from the start. My best friend became the love of my life. Say Mashaa'Allah @queenfroggy #ShamOSaher"
The couple went through a lot of ups and downs when it came to becoming a married couple with getting engaged, then not engaged and from being a couple to be separated.
However, now all that is behind them and the couple had an official engagement ceremony which was then followed by a formal Nikkah.
The wedding took place with close friends and family in attendance. After the wedding, Sham shared a video of his small and intimate marriage ceremony on his YouTube channel called "WE ARE MARRIED".
The video trended in Pakistan.
See the video of their wedding day: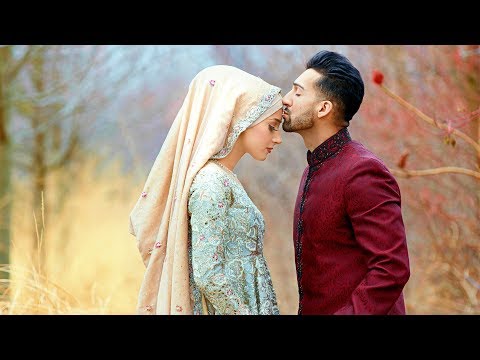 Then after getting married, Sham and Sehr both appeared on a video which was entitled "OUR FIRST DAY AS A MARRIED COUPLE".
In the video, you see the couple together as husband and wife and a shock announcement that Sham will no longer be posting daily vlogs any more.
Sham Idrees said:
"I Just want to take a moment and thank you guys for giving us this amazing opportunity to entertain you guys.
He added:
"If you guys had not been tuning in every single day, we would've not been doing this.
"But I know daily vlogs are coming to an end but I do promise that I will not abandon you.
"I will upload vlogs once in a while and I'll update you guys."
"I just want to say that I'm going to miss you guys."
Sehr then also took to the camera and felt emotional but gave their reasons, saying:
"As much as we don't want to do this. I feel we kind of need it.
"You know we need some time to ourselves as well because we just got married.
"We just need time to figure things out and I'm really going to miss you guys."
Sham concludes "until next time" and they both leave the camera.
Many fans were disappointed about this announcement, leaving comments such as:
"So sad no more daily notification from these cute couples wish u the best guys"
"No no no pls don't do that to us pls we love to see your daily vlog"
"By sham and froggy everybody is gonna miss your vlog a lot"
"We are really gonna miss u shroggy"
"my life is done"
Other fans happily congratulated the couple on their new journey together as husband and wife, saying:
"May you live long Sham and Froggy enjoy your life"
"Sham you to are the best couples just say positive"
"Finally you are married"
"Hi guys hope you have a beautiful day or night"
"Good luck for the future"
No doubt we shall see the couple keep in touch on their YouTube vlogs in the future with their fans but now it definitely feels the right moment for Sham Idrees and Sehr to be given time to enjoy married life.