"The first thing you learn is to fall on your own, get up and how to make fun of yourself."
Shahrukh Khan confesses many hidden truths of Bollywood in a very relaxed All India Bakchod (AIB) podcast with Tanmay Bhat, Ashish Shakya, Gursimranjeet Khamba, and Rohan Joshi.
In a two-part interview with AIB, King Khan discusses past movies, family life and what he thinks of himself as an actor.
The hilarious interview shows Shahrukh's sense of humour and honesty as he reveals the struggles of fame with Twitter trolls and paparazzi.
Also find out what advice Amitabh Bachchan gave him about surviving stardom in the public eye!
Future Aspirations
One of Shahrukh's unusual future aspirations is to get a padded room like an acting friend of him. He explains when he earns enough money he wants to buy a padded room and shout "I did it!" and "I am Shahrukh!"
He admits: "I really want to do that."
SRK reveals his cheap thrill is advertising shoots and talks about his favourite advert when he ate a biscuit. He jokes about how he learnt how to eat a biscuit with such emotion.
Shahrukh also hopes to do a wedding show with AIB. He promises: "We'll do a play. We write it, we perform it and tell the story."
Shahrukh also confesses how he previously offended someone at a wedding show for wearing track pants.
Acting and World Tours
Shahrukh shares with AIB that the first thing he learnt as a true actor and performer is to know yourself and not to take yourself too seriously.
He says: "I've always been like this. I come from theatre where the first thing you learn is to fall on your own, get up, and how to make fun of yourself."
Shahrukh says people who make fun of themselves are the most confident. He reveals how he snores at night and mocks himself for it.
He also jokes about how to be an actor you also have to be "sexy, cool, good-looking and intellectually smart".
Talking about people comparing his new movie roles to previous roles, Shahrukh says he understands how he can't please everyone with his movies.
Shahrukh's character in Raees reminds people of his previous character Don. But comparisons like this upset Shahrukh as he says it makes him question his acting abilities.
He asks:
"Am I the most pathetic actor in the world? Am I the same in every film, year after year?"
However, Shahrukh says he is happy doing another gangster movie and happy to see that fans like it. He also jokes about what movie role people expect him to do next. He says: "What should I do next, be a dwarf in the next film?"
SRK also discusses going on world tours and how they are different now compared to the 80s. He admits how he used to get yawns from the crowd when he shouted to audiences "Do you love me?" and only "one person clapped enthusiastically".
Before going on stage, Shahrukh tells us for 15-20 seconds beforehand he is "at one with God" confessing he is "very spiritual".
However, Shahrukh also admits that checking his zippers is another ritual he does before going on stage. Something he has learnt this from another Bollywood actor and legend, Amitabh Bachchan.
Living the Life as a Bollywood Star
Shahrukh talks about living up to the Bollywood star stereotype, which SRK describes as a "corrupted" and "arrogant" rich person who "cheats on women".
He talks about his experiences with paparazzi and how the media escalate stories, such as how he sits on a train with his foot on the seat makes him "ill-mannered".
Shahrukh says Amitabh Bachchan warned him about living in the public eye as an actor before he became famous.
SRK tells AIB Amitabh Bachchan told him to always be mindful of his behaviour in public. He tells Shahrukh when he becomes a big star, "whatever you do will always be wrong".
Bachchan advises Shahrukh to "apologise immediately" whenever he makes a mistake, even if it isn't his fault.
He continues to tell Shahrukh:
"If someone misbehaves with you, punches you and you punch them back, do you know what will happen? You were drunk."
He warns him how people will reinforce the corrupt actor stereotype where the "money [has] gone to your head".
Shahrukh admits: "I got so scared I didn't want to be a star." But he then mocks the Bollywood star stereotype labelling actors as corrupted just because they want to buy a luxurious car.
Not wanting to come across as "a victim", Shahrukh believes there nothing wrong with having a bit of freedom:
"Nobody's corrupt and bad just because they have money. If you get rich you want to buy a big car."
Does Shahrukh really read his Twitter mentions?
Shahrukh says he does read his Twitter mentions, especially when he is travelling. He even recognises the usernames of his super fans who regularly tweet him.
He says he even reads the twitter trolls who abuse him regularly and can name them all. But SRK jokes about it by saying he gets worried when he hasn't received a hate tweet from them after 4-5 days.
Shahrukh continues to say that he feels sorry for the twitter abusers and wants to help them with things like their spelling. He says: "If you're going to do it, do it right. Save abusers. Respect abusers."
He adds that people do criticise him a lot but it doesn't disturb him as much as people sending him the collection of films. He says:
"I make the films! I know the collection! This is the business I'm in! People send me collection figures! I know!"
SRK then laughs at the fact people ask him to change the endings of films they don't like. Shahrukh jokes about how he cannot change a film's ending once it is released in cinemas.
However, he laughs at his hopes for future films to allow people to choose their preferred alternative ending at the press of a button.
Watch Part One of Shahrukh Khan's AIB interview here: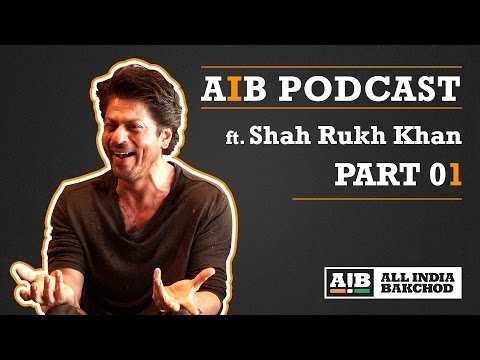 Watch Part Two of Shahrukh Khan's AIB interview here: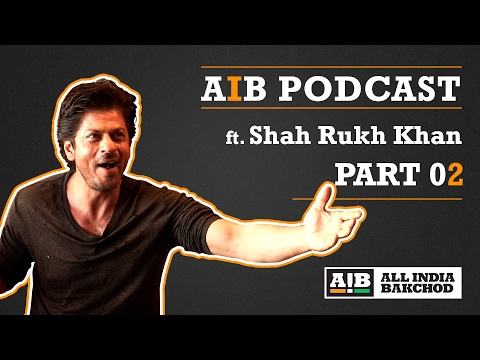 Click here to see why Shahrukh Khan does not aspire to work in Hollywood.
Watch King Khan in his latest Bollywood movie Raees.