"She has a lot of guts to produce unconventional stories"
The new Phillauri trailer has been released by Fox Star Studios.
And the upcoming film which stars Anushka Sharma and Suraj Sharma has caught the attention of big Bollywood stars.
Priyanka Chopra, Karan Johar and even Shahrukh Khan gave massive praise for the trailer.
The Phillauri trailer launched on YouTube on 5th February 2017. Bollywood celebrities are so impressed with it, they have taken to social media to voice their praises.
Congratulations @AnushkaSharma #PhillauriTrailer looks wonderful. So nice to see you roll out such amazing work as a producer and an actor.

— PRIYANKA (@priyankachopra) February 7, 2017
Too too sweet. Main paidaishi bhoot hoon!! https://t.co/1zSqraPmT9

— Shah Rukh Khan (@iamsrk) February 6, 2017
I LOVE this trailer!!! it tells a story that you want to know all about! #Phillauri https://t.co/ZIVyIQ6P41 @AnushkaSharma @diljitdosanjh

— Karan Johar (@karanjohar) February 6, 2017
Set for a release date of 24th March 2017, this is Anushka Sharma's second big production. Not only has she produced the film, but she also stars as the ghostly female lead, Shashi.
Suraj Sharma also stars in the film, after past successes such as Life of Pi. Anshai Lal directs the film and even Karnesh Sharma has teamed up with his sister Anushka to produce the film.
Watch the Phillauri trailer here: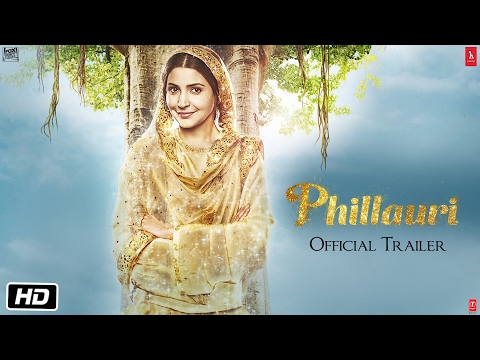 The trailer casts the setting for a fun and unusual film. Suraj's character marries a tree following advice from a priest. The marriage will cast away his ill tidings set by the stars. However, he finds out he accidently married a ghost, Shashi, whose spirit lives in the tree.
While ghosts are usually spooky, Anushka's ghost is a friendly spirit whose past life slowly reveals throughout the film.
Add in a Punjabi wedding and a beautiful love story with Diljit Dosanjh, the Phillauri trailer shows a big Bollywood hit.
The cast of Phillauri are also looking forward to the release of the film. Speaking to  The Indian Express, Diljit Dosanjh expressed his admiration for Anushka Sharma:
"She is the youngest producer, she has a lot of guts to produce unconventional stories like NH10, Phillauri. I respect her a lot for this."
It seems even Bollywood can't wait for the release of this film. Sources from Mid-Day even suggest that Anushka's beau, cricketer Virat Kohli will also help to promote the film. Although it is unclear what his role will be.
Set to hit the cinemas on the 24th March 2017, be sure not to miss this quirky film.