It is Ranveer's humble demeanour which makes this hero the 'Lootera' of many hearts.
His infectious energy, terrific acting calibre, killer good looks and unique dress sense all make Ranveer Singh one in a million.
Despite being dubbed as one of our generation's finest Indian actors, Ranveer's journey to stardom has not been easy, having faced numerous rejections along the way.
Remembering this period of hardship, Singh states: "Everything was so bleak. It was very frustrating. There were times I would think whether I was doing the right thing or not."
But at the end of the day, nothing can stop talent from rising up.
The 32-year-old actor began his career at Yash Raj Films and has since become a prominent actor in Sanjay Leela Bhansali (SLB) movies. He describes his rapport with SLB to the media:
"I definitely think I've grown as an actor and Mr Bhansali's contribution is massive, to say the least. He pushes me beyond my own boundaries as an actor to bring out something not everyone can."
Within just a span of 8 years or so, Ranveer has played various personalities be it a wedding planner, thief, an emperor or a tyrant.
In an ode to Ranveer's achievements so far, DESIblitz takes a look at which roles have been the most impactful!
Bittoo Sharma ~ Band Baaja Baaraat (2010)
Dhinchak, Dhasu and Damdaar – these three words best describe Ranveer Singh's character in Band Baaja Baaraat, which is directed by Maneesh Sharma.
Ranveer plays a college dropout who teams up with the ambitious Shruti Kakkad (Anushka Sharma) to run the successful marriage bureau, 'Shaadi Mubarak.'
From the Delhi boy attitude to the street-smart characteristics, Ranveer masters every nuance with such ease.
He brings so much energy to his role that one tends to forget that this is actually his first film appearance.
In fact, that energy is also reflected through Singh's dancing. Remember him grooving to 'Ainvayi Ainvayi' in that green, blue and reddish striped swede jacket and shiny shirt?
Critics could not refrain from applauding Singh's performance. Anupama Chopra, in particular, states:
"Pitch-perfect in the role of the uncouth but good-hearted small-town slacker who is a bit of a duffer when it comes to matters of the heart."
Consequently, Ranveer swept several 'Best Newcomer Male' award at various ceremonies.
Varun Shrivastav ~ Lootera (2013)
Singh's third film saw the actor take a completely new direction from his initial projects.
Anurag Kashyap's production Lootera is more of an arthouse period romance, based on O. Henry's 1907 short story The Last Leaf.
Ranveer portrays the role of Varun Shrivastav, a thief disguised as an archaeologist who abandons his bride (Sonakshi Sinha) for the sake of wealth.
The film is depicted in 1950s India and Ranveer Singh manages to look convincing as a seemingly noble and decent young man. In fact, he reminds us of a young Dev Anand in the movie.
Even in the second half of the film when Ranveer's real character is revealed, his charm element remains intact.
His portrayal of Varun was quite impressive for a (then) newbie in Bollywood.
Film enthusiast Rajeev Masand notes how Singh "brings a quiet sensitivity to Varun, and occasionally a smouldering intensity. Offering a finely internalized performance, he leaves a lasting impression."
Ranveer gained widespread critical recognition for his performance in Lootera.
Ram ~ Goliyon Ki Raasleela Ram-Leela (2013)
Ranveer said in the promos that "Report Acchi Milegi" and that is exactly what happened with Goliyon Ki Raasleela Ram-Leela – the Bollywood adaptation of Shakespeare's Romeo and Juliet.
Hindustan Times (HT) notes: "This one, I think, belongs to Ranveer. He's flamboyant and cheerfully vulgar but also vulnerable and broken."
Ram-Leela is Sanjay Leela Bhansali's most 'commercial' film yet and also Singh's first film to gross over 100 crores at the box-office.
Prior to this romantic venture, we saw Ranveer essay charming and chirpy characters. This role also displays similar attributes, but this is enhanced with a strong Gujarati flavour.
Ranveer's character, Ram, hails from the Rajadi community and the Rajadis have always been in a feud with the Saneras.
He is a loud and free-spirited character who falls in love with Leela (Deepika Padukone) who is the daughter of Dhankor (Supriya Pathak), the chieftain of the Saneras.
Soon, this effervescent story becomes a tale of treachery, misconception and unconditional love.
As HT acknowledges, Ranveer transitions from being happy-go-lucky to a heart-broken lover with such ease. Plus, his chemistry with Deepika is scorching hot, to say the least.
Kabir Mehra ~ Dil Dhadakne Do (2015)
Zoya Akhtar's Dil Dhadakne Do features a huge ensemble-cast. Consisting of Anil Kapoor, Shefali Shah, Priyanka Chopra, Ranveer Singh, Anushka Sharma and Farhan Akhtar.
Ranveer and Priyanka play siblings in the film. But did you know that these two names were not the original choices for the roles?
According to media reports, Zoya allegedly roped in the real-life Kapoor cousins Ranbir and Kareena for the brother-sister duo.
The movie narrates the story of a dysfunctional affluent family who invites their family and friends on a cruise trip to celebrate the parents' 30th wedding anniversary.
Comparatively to other roles, Ranveer Singh as Kabir Mehra is perhaps the most realistic and relatable character.
He plays a guy who is torn between dreams and duty and is compelled to marry a rich businessman's daughter, just for the sake of money.
Ranveer's subtle expressions seem very natural in the film.
This subtlety, in fact, makes us resonate with his emotions and frustrations more.
Peshwa Bajirao ~ Bajirao Mastani (2015)
In this magnum-opus, Ranveer portrays the Maratha emperor – Peshwa Bajirao, who falls in love with Mastani (Deepika Padukone), a Muslim-Hindu princess from Bundelkhand.
The movie then depicts the societal conflict Bajirao faces between Mastani and his wife, Kashibai (Priyanka Chopra).
From the graceful body postures to sturdy dialogue delivery, Ranveer aces this royal and valiant character – he moulds very well into it.
Even in the 'Malhari' song, he maintains this same manner and it is also reflected in his dancing.
As a matter of fact, this Peshwa avatar conquered the hearts of many. Raja Sen, in particular, opines:
"Ranveer Singh brings his character to life and does so with both machismo and grace, his Peshwa Bajirao slicing down soldiers like a Lehnga-clad golfer wielding a too-sharp niblick."
Regardless, of what people think of the film, one cannot deny that the line:
"Cheete Ki Chaal, Baaz Ki Nazar Aur Bajirao Ki Talvaar Par Sandeh Nahin Karte. Kabhi Bhi Maat De Sakti Hain" has become an iconic Bollywood dialogue.
Alauddin Khilji ~ Padmaavat (2018)
A sharp eagle-eyed stare, long black hair accompanied by a persona that transcends morality and ethics. This is SLB's representation of the tyrant and former Sultan of Delhi, Alauddin Khilji.
Padmaavat highlights how the bisexual conqueror preys on Chittor's Maharani Padmavati (Deepika Padukone) and is persistent to fulfil his desire of making the queen his own, under any circumstance.
Ultimately, this obsession causes the Maharani and other Rajput women to perform 'Jauhar', in order to preserve their honour in 1303.
Since Sanjay Dutt as Kancha Cheena in Agneepath, Ranveer as Khilji is the most menacing villain in Bollywood.
From his aggressive demeanour to iniquitous actions, Singh breathes life into the Khilji character and we end-up loving to hate him!
Undertaking quite a sinister role certainly is not easy. It is both physically and mentally taxing.
Reviewing his experience of working on the film, Ranveer tells BollywoodLife:
"It was difficult only because of the shooting process. Due to the incidents and delays, all my work happened back to back. I was screaming my lungs out one day and doing action on the next day.
"During the Khalbali dance sequence, my knees had become like jelly. I could not feel my legs. While doing the action scenes, I would faint, recuperate, go aside vomit and come back to shoot."
Well, the appreciation from critics and applauds from the audience is evidence of Singh's hard-work and dedication.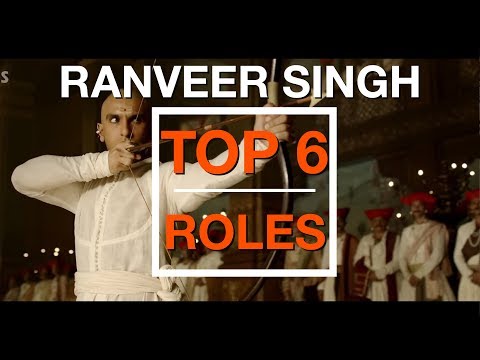 On the whole, Ranveer Singh has come leaps and bounds as an actor. No matter which role he undertakes, the actor always puts his heart and soul into his work.
Even in average or unsuccessful films like Gunday and Kill Dil, Ranveer never fails to make his presence felt on screen.
But more than his acting capability, it is Ranveer's humble demeanour which makes this hero the 'Lootera' of many hearts.
With some exciting and diverse projects such as Simmba and Gully Boy in the pipeline, one looks forward to seeing some more excellent work from Ranveer.
DESIblitz wishes Ranveer Singh all the very best for his current and future projects!
Loading ...