"Ranveer is the best kisser in the business!"
It's fair to say that Deepika and Ranveer are one of Bollywood's most speculated 'couples' in recent years. Despite the two yet to confirm any kind of romance, their fans feel it is an 'open secret'.
One can then understand the buzz created when the two held hands at a premiere screening of Padmaavat. Both starring in lead roles in the film, they certainly looked a happy couple as they smiled at cameras.
They even colour co-ordinated, wearing white, ethnic attire. With this display of a united front, the rumours look unlikely to fizzle away anytime soon!
Their rumoured 'relationship' has faced speculation for almost 5 years. Now, they mention engagement – with many hoping the two will have the next big Bollywood wedding, after Anushka Sharma and Virat Kohli.
Let's then take a look back at the story of this popular pairing. Are they now finally revealing their romance?
Unexpected Romance in Ram-Leela?
The two featured side-by-side in their first film together, entitled Goliyon Ki Raasleela Ram-Leela (Ram-Leela), in 2013. However, this wasn't the very first time they met – this instead took place at the Zee Cine Awards 2013.
Deepika Padukone particularly stood out amongst the stars with a sparkling, silver dress. She caught the eye of everyone, including Ranveer Singh. Around this time, they both were given roles for Ram-Leela. The chance to know each other better.
When the film released, fans and critics raved about Ranveer and Deepika's on-screen chemistry. Both delivering stunning performances, they raised temperatures with an intense kissing scene. Perhaps we can see why the dating rumours began around here.
After this project, Deepika starred in Finding Fanny (2014) which required her to stay near the set, located in Goa. However, Ranveer would often visit the set, reportedly to see the actress and even bagged a cameo role in the film.
Speculation sprang up again at the Zee Cine Awards 2014, where the duo sizzled on stage as they performed to 'Ang Laga De'. Showing off their perfect chemistry, this only fuelled the romance rumours.
Since Ram-Leela, both the stars have complimented each other on their kissing skills! Ranveer appeared on No Filter Neha and said of his Ram-Leela costar: "I think Deepika Padukone is the best kisser. Have you seen that song, Ang Laga de re, Mujhe rang Laga de re?"
Meanwhile, Deepika said in an upcoming season of BFFs with Vogue: "Ranveer is the best kisser in the business!" It's clear the two made a great impression on each other back then. And their on-screen chemistry would soon continue.
From Bajirao Mastani to Padmaavat
In 2015, Deepika and Ranveer were subject to heavy buzz about their relationship. We can't blame fans for their curiosity; they appeared to grow a close bond.
Paparazzi would often catch the two giving us cute couple goals! Remember when Ranveer 'pursued' Deepika at Farah Khan's party? While the starlet walked with Karan Johar, Ranveer was close behind with a yellow rose in hand.
He even upped the stakes at the IIFA Awards 2015. In an unforgettable moment, while the two appeared on stage, Ranveer went down on one knee to propose to Deepika!
While the segment was only for entertainment, we're sure you'll agree it was a cute highlight of the event. And made fans hope the rumours of their romance had truth to them.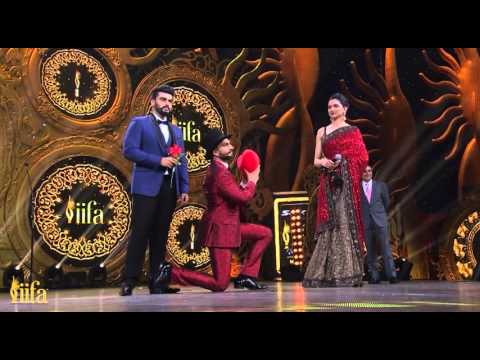 The year also marked their second film project – the historical epic Bajirao Mastani. With Ranveer as the king Bajirao and Deepika as his second wife Mastani, the two once again gave stellar performances.
With this, they cemented their place as one of our favourite Bollywood on-screen couples!
They also featured together on the cover of the October 2015 edition of Vogue. The two certainly look hot and stylish, sparking new buzz on their friendship.
In 2016 and 2017, the two have gradually shown signs they could be an item. At the 2016 Ambani bash, photographers snapped them leaving hand-in-hand.
With this first glimpse of such an interaction, this not only brought their romance back into the limelight. But many hoped it could signal a confirmation.
However, this didn't happen. Instead, the two went on to star in their third film together – Padmaavat. While the film has received huge controversy, Deepika and Ranveer also had their share of headlines.
In particular, they were faced with break-up rumours, citing busy work schedules as a cause. This speculation was quickly dismissed as two would respond to each other via social media.
Deepika commented on the rumours, saying:
"[Ranveer] is someone who has always been there and will always be an extremely important part of my life. That's never going to change."
Now, the two have shown another possible sign as they held hands at the premiere of Padmaavat.
What does the future hold for the two? According to recent reports, marriage could be on the cards.
Some reports claimed the two would get engaged in early January 2018 during their holiday, celebrating Deepika's birthday. For now, this doesn't appear to be the case, as Deepika said on BFFs with Vogue: "I was not engaged."
In addition, other reports have suggested they purchase a holiday house in Goa. One source said: "A luxury residence has been recently picked up by the two jointly, in the same area that also has Raghuram Rajan and Sunil Gavaskar's homes."
In the past, Anushka Sharma and Virat Kohli received endless speculation about their own relationship. But since getting married in December 2017, the media has now turned its attention to Deepika and Ranveer.
Time can only tell on whether they get engaged and married. We are still yet to hear whether they are actually a couple. But these public displays of hand-holding do suggest of a romance.
One thing is certain though. Regardless of their relationship status, we admire how these two have kept a close bond through their five-year history.