"I can mix these cultures together and make beautiful music."
Known for fusing cultures through a passion for music, rapper Premz came out with Mogul Mind (Brown Love), the first single of his second album on June 26, 2020.
Solidarity, Community, Power and Pride combine to form the thought-provoking conversations of Mogul Mind.
The song conveys a message for the South Asian community about uniting together and putting an end to segregation within the community.
The rapper from South East London specifically highlights the division amongst South Asians via culture, caste and faith.
The overall message emphasises on moving beyond the past to create a change by standing together for the next generation.
Mogul Mind releases during the COVID-19 pandemic and at a time when racial discrimination continues to resurface. Hence, much-required healing is the need of the hour.
Watch our exclusive interview with Premz about Mogul Mind (Brown Love) here: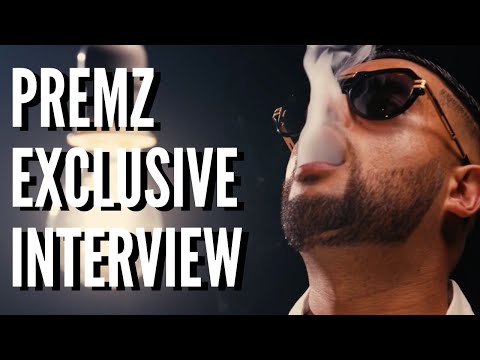 The single is a multicultural collaboration with two producers of Nigerian descent, integrating cultures and promoting unity.
Rapper and songwriter Ayo Beatz earlier in 2020 had produced Mogul Mind. He has previously collaborated with artists such as Wiley, Professor Green and Wretch 32.
Compelling songwriter, artist and producer Wavy Boy Smith has also had involvement in producing the song. Wretch 32, The Fanatix and Sevaq are few of the artists that he has worked with before.
The music video which already is receiving positive reactions on YouTube aligns well with the lyrics of Premz.
The video lasting just over just three minutes in duration showcases the distinctive beauty of South Asia as a whole.
In an exclusive interview with DESIblitz, Premz talks more about Mogul Mind and his music, along with highlighting a sense of 'Real' via writing and rapping.
Mogul Mind Idea, Writing and Messages
Mogul Mind is a cultural mix and first single of the second album by rapper Premz. The artist reveals the idea for this track came during a studio discussion on cultures with Nigerian origin producers Ayo Beatz and Wavy Boy Smith.
Premz took inspiration after the trio apparently got talking about the similarities and problems within their cultures:
"To be honest, it just sort of had me thinking about some of the things within our culture. I just thought, yeah, it might be time to actually make a song about this.
"Before I knew it, I was writing it. Ayo was making the beat and that's it. We had a song that night."
According to Premz the whole process for this track was around 3 hours. Whilst Premz spent approximately 40 minutes-1hr to write the track, Ayo "made the beat."
Smith was also very key when producing and recording the track. The song has three key messages, including solidarity, community, power and pride. Explaining these three themes in more detail, Premz said:
"So solidarity you know, there's been so much that separated all of us as South Asians."
"We need to just come together and stand in solidarity with each other, no matter what things have separated in the past.
"And in turn actually become a community and stand for each other. That way we can integrate into other communities once we have accepted each other and loved each other.
"Power and pride is just knowing the power of who you are and where we're from and where we come from and having pride in who we are.
Premz adds that we should accept each other without feeling any embarrassment. In other words, someone's background and "what we look like" should not come into the equation.
South Asian Divisions and Powerful Reality
The timing of this single comes at a time when the whole Black Lives Movement is going strong. Premz believes divisions amongst South Asians have historical links.
He does not agree with sub-continental differences relating to "cast' and "colourism." He also feels many South Asians in the "western world" have inherited such mentality also.
Elaborating more on this matter in context to his song, Premz says:
"These sort of divisions don't make sense to me because, you know, we are all one, we're one community. We're all living the same human race and you know, we're all South Asians.
"We should all stand for each other and stand together. That's why I wanted to make this record."
The question of whether this track is a dream or reality can be open to interpretation. Having said that, Premz is of the opinion that the song is generating powerful discussions:
"Ever since I released the song, a lot of conversations start happening online and people even telling me things that they've been speaking to with their family. That's what this is all about."
Premz alludes to the fact that any change will take time, but is not impossible:
"You know, Rome wasn't built in a day. I'm not expecting things to change overnight."
"However, I feel like it is up to myself and the other generations to really start talking about these things. And eventually, we can spark that change."
Like Premz, many people will be hoping that we can move positively forward when it comes to issues such as discrimination.
Music and Inspiration
Ever since Premz burst onto the music scene in 2019, he has come up with something different. Premz holds the view that as his rapping has a personal touch, no one else can do it better than him.
Describing how his music is different, he further comments:
"I know in my lane, I am completely different because I am being true to myself, in which case nobody can make music that's anywhere similar to mine."
Prem mentions that the biggest thing he has learnt from music is being true to himself. Being real helps his music like a diary, with songs reflecting what he is going through during a certain period.
Premz also states his tracks may even reflect what he is "about to go through." Premz further spoke about bringing culture into his music and mixing cultures through a collaboration:
"So, you know, I work with, producers of Nigerian descent. I live in the UK, but I'm Gujarati Indian. So I can mix these cultures together and make beautiful music.
"It's allowed me to learn the beauty of collaboration in a real form."
Additionally, Premz says that through writing and communicating about himself, he is improving his music every time.
Interestingly from a music point, he takes inspiration from his immigrant parents who had come to the UK from East Africa:
"I've seen what they've done to make a life and I've just taken that with me. I get my music gene from my dad and I get my hustle from both of them."
Thus, besides any musician, his mum and dad inspire him the most.
The British Asian rapper has already had an impact on more than two million listeners from across the globe through his musical journey, infusing culture and real-life experiences.
Reign of Raja (2018) was Premz first EP, with the critically acclaimed Indian Summer (2019) being his debut album.
Outside of music, Premz is Desi at heart as he enjoys watching Bollywood films and loves to drink Coca-Cola.
Meanwhile to keep updated with the rapping and music of Premz, check his website here.