"The perfect platform for budding Desi artists."
Gaining momentum in the early 2000s, the Urban Asian music industry has not stopped growing since.
Its appeal most likely stems from the way it merges cultures. Vocals can be a mix of English, Hindi and Punjabi. Tunes can compromise traditional folk instruments, modern auto-tuning and sultry R&B beats.
In this respect, the Urban Asian scene has become the perfect platform for budding Desi artists. Rather than suppressing any cultural element of their identity, they are free to express it all.
This is probably why it has become an ingrained part of South Asian culture, particularly amongst the diaspora.
So, we explore 12 figures that are amongst the elite of Urban Asian music.
Jay Sean
This article would be incomplete without mention of this hugely celebrated West London talent. His fusions of smooth R&B with Punjabi sounds paved the way for Urban Asian music.
Jay Sean entered the scene as part of The Rishi Rich Project in the early 2000s. Grouping with Rishi and Juggy D, the trio fast became the face of the Urban Asian music scene.
'Eyes on You' (2004), 'Push It Up' (2006) and 'Dance with You' (2004) sound-tracked every Punjabi party back in the day – and still do!
As a solo artist though, Jay ventured into mainstream hip-hop and R&B. His collaborations include the likes of Rick Ross, Tyga and Sean Paul.
His success is evident from his plethora of awards and nominations.
Across various Asian Music awards, Jay has repeatedly thrashed competitors. Best Male Act, Best Album, Best Video – you name it, he has won it.
His single 'Down' (2009) with Lil Wayne even earnt him Best Collaboration at the UK Urban Music Awards.
In 2020, Jay Sean collaborated with Guru Randhawa to create the hit song, 'Surma Surma' (2020).
Jay Sean is a name forever associated with Urban Asian music. His songs are as popular as ever amongst Desi's and non-Desi's alike…and rightly so!
Zack Knight
Zack hails from the northern UK town of Grimsby, though his name is linked to Urban Asian music internationally.
With roots in Pakistan and Africa, his rich heritage serves as one of the main influences of his music.
He uses Bollywood and Middle Eastern as the basis of his music, developing a style he describes as "R&B infused with a crossover sound."
We can hear this in his hits like 'Dheere' (2014), 'Nakhre' (2015) and 'Enemy' (2016). He is a regular on UK Asian Download charts, with 'Ya Baba' (2016), 'Lamhe' (2015) and 'Angel' (2019) all charting.
Outside of Urban Asian music though, he has ventured into many genres. According to the UK iTunes listing, he has had 2 top 5 singles in the R&B charts and another in the UK Dance charts.
He is particularly a fan of Afrobeats. As well as producing Afrobeats remixes of his existing songs, he also partnered with Fuse ODG to create the banger 'BomBae' (2016).
Over the 10 year span of his career, he has worked with an incredible variety of artists.
Names he has composed for include Ginuwine, Stylo G and Tinie Tempah. He was in fact introduced to Tinie by a mutual friend.
He has also had a lot of success collaborating with TV personality Jasmin Walia in songs like 'Dum Dee Dum' (2016), 'Temple' (2017) and 'Bom Diggy' (2017).
He went onto remaster 'Bom Diggy' (2017) for the Bollywood comedy Sonu Ke Titu Ki Sweety (2017). Combined, this version and the original have a staggering 700 million views on YouTube.
Mickey Singh
Mickey Singh started his career off remixing existing tracks. At 15, he started attending a music studio to nurture this passion of his.
Rihanna's 'Birthday Cake' (2011) was one of the first remixes he released. Incorporating his Punjabi vocals and harmonies with Western sounds is a style Mickey went on to adopt in his own songs.
Though born in Jalandhar, his family moved to the US when he was 13. Perhaps this influenced the distinctive hip-hop vibe of his songs.
As an artist, Mickey shows talent across the spectrum. Alongside producing music and singing, he is a lyricist. He, in fact, wrote the lyrics for Diljit Dosanjh's romantic 'Ishq Haazir Hai' (2015).
Some of his own most popular tracks include 'Summer Luv' (2019), 'Rooftop Party' (2015) and 'Yarri Yeah' (2018). Hitting over 10 million views on YouTube, they have helped to cement Mickey's name in Urban Asian music.
'Phone' (2017) is perhaps his biggest song, with an incredible 30 million YouTube views. He even went on to perform the hit at an NBA half-time show in 2019!
Guru Randhawa
Though he might be a familiar face in Urban Asian music now, Guru has not had the smoothest road to success.
Songs from his first album Page One were released over 2013 and 2014 but did not hit big numbers.
It was the help of rapper Bohemia that was crucial for Guru. It was Bohemia who, in fact, came up with the name 'Guru' for the artist (whose real name is Gursharanjot).
Their first collaboration 'Patola' (2015) earnt them 140 million YouTube views. They also won Best Punjabi Duo award for it.
Since then, Guru's music career has soared. His songs consistently get hundreds of millions of YouTube views – 'High Rated Gabru' (2017) almost has an astonishing 1 billion hits!
He now lists Jay Sean, Neha Kakkar and Arjun amongst other Desi artists as collaborators. He has also become quite prominent as a singer for films, releasing numerous tracks for both Bollywood and Punjabi blockbusters.
Whilst his style is intrinsically Desi hip-hop, this has not limited his musical ventures.
He has worked with international superstar Pitbull for two songs. One of these – 'Slowly Slowly' (2019) – became one of the most viewed videos in 24 hours of all time!
Arjun
Arjun is nothing short of an Urban Asian sensation.
As with many budding musicians, YouTube was the platform he initially used to showcase his talent. His remix of 'Why This Kolaveri Di' (2011) was one of Arjun's first step towards fame.
So, there is a beautiful irony to the fact that in 2016, Arjun was YouTube's most viewed artist. He received a staggering 380 million views that year.
His musical abilities seem infinite – he plays the flute, guitar, drums and piano alongside singing! These have all helped Arjun create the exclusive fusion of East and West present in his music.
Specialising in adding an R&B/hip-hop vibe to Bollywood anthems, Arjun has become a renowned Desi artist. He now has a vast discography of his own songs too, like 'Suit' (2016) and 'Tingo' (2019).
Whilst he has won numerous Urban Asian music awards, his talent is recognised much further afield.
He has performed across 6 continents, from Wembley Arena in London to New York's Times Square.
In 2018, Arjun, unfortunately, lost his wife Natasha. In her honour, he released the beautiful song 'One Last Time' (2019).
This song reached number 12 on trending in the UK. Jaz Dhami, Mickey Singh, Guru Randhawa and a host of other artists also came together to perform at a concert in her memory.
The PropheC
Filling the playlists of brown girls all over the globe, The PropheC is the king of senti.
He has become known for his mellow vocals, his soothing harmonies and his emotionally deep lyrics.
However, many of his collaboration tracks highlight how versatile he is as an artist.
His tracks like 'Chakkar' (2017) featuring Bambi Bains and DJ Harpz and 'Got It All' (2018) with UpsideDown show how he can switch his style up.
Working with other talents in the Urban Asian scene is something The PropheC has done throughout his career.
Artists he has joined forces with include Ezu, Fateh, Sidhu Moosewala and Pav Dharia. This has only helped to establish his name as one of the biggest in Urban Asian music.
It is just the beginning for The PropheC though. Producing 5 albums/mixtapes and numerous singles over just 10 years, he is a musician with an unrivalled work rate.
He has even toured the US, India and Europe – only possible due to how vast his international fanbase is.
Steel Banglez
Steel Banglez is a name synonymous with the UK urban music scene.
Much of his fame can be attributed to his fresh and unique take on music production.
His sound is an amalgamation of genres, taking influence from drum & bass, afrobeats, grime and garage.
It is this that we hear some of the UK's biggest urban artists using – J Hus, AJ Tracey and Dave to name a few.
However, Banglez has built a reputation within Desi music too.
One of his main collaborators, MIST, is a fan of sprinkling Punjabi slang into his Patois vocals. In an interview with GQ, he states this as one of the main reasons he was actually drawn to MIST.
Banglez also produced the track '47' (2019) in cahoots with a giant of the Punjabi music industry, Sidhu Moosewala. This rocketed to the top of the UK Asian Chart, as well as debuting in music charts across the world.
With the success of this collaboration, we hope to see more of Steel Banglez in the Urban Asian world of music!
Raxstar
Raxstar is one of the biggest names associated with the Desi hip-hop scene. Just a few decades ago though, he was building the foundations of his career by distributing his mixtapes at school!
On his website, Raxstar discusses how important his British Asian identity is in influencing his music. With his two cultures being so different, Raxstar uses music as a platform to channel the two.
We can hear the Desi and R&B blend in his hits like 'Jaanemaan' (2011), 'Poison' (2015) and 'Signs' (2016).
Raxstar stands out from the crowd thanks to his storytelling abilities. He uses music to convey narratives of forbidden love, conforming to stereotypes, amongst other significant topics.
By rapping in English and Punjabi, he also makes his songs accessible to all sort of people.
Raxstar has worked alongside various other Desi artists, like Ezu and Zack Knight. These collaborations have only reinforced his status as a giant of Urban Asian music.
Mumzy Stranger
Mumzy Stranger is one of the only Bangladeshi artists to have made it in the mainstream music industry – so certainly no stranger to fame!
As a finalist of BBC Asian Network's Unsung competition in 2005, he was taken under the wing of one of the judges – a certain Rishi Rich.
Rishi was crucial in helping Mumzy lay the foundations of his career. They produced Mumzy's first single 'One More Dance' (2009) together.
His debut album Journey Begins was released in 2011 and was a significant stepping stone in Mumzy's journey to fame.
Featuring big names like Wiley and Steel Banglez, it remained in the top 40 of the UK Asian Download chart for 17 weeks.
The following year, the Stranger Family was born. It was Mumzy's attempt at creating a collective of Urban Asian artists.
They released a single 'Ghetto Refix' (2012) but unfortunately disbanded soon after.
However, members of the group like Junai Kaden and Tasha Tah have gone on to achieve success as soloists.
Mumzy is no exception. He has released many recognised singles oozing his smooth R&B style, like 'Love Comfort' (2014). His collaborations include the likes of Juggy D, Jay Sean and Bobby Friction.
Admirably, Mumzy has stayed true to his heritage and roots on his musical venture.
He has endorsed Bangla remixes of many of his songs like 'Fly With Me' (2010) and 'Jaan Atki' (2016). He also features on tracks by Nish and Master-D, two up-and-coming talents in Urban Bangla music.
Imran Khan
Musically active since 2007, Imran Khan took the Urban Asian scene by storm. Speak to any Desi and they could probably name several of his songs.
He is a talent across genres, with tracks like the heart-wrenching 'Bewafa' (2008) to the smooth and seductive 'Imaginary' (2015). He even made a debut in Bollywood, singing for the film Tevar (2015).
His initial singles like 'Ni Nachleh' (2007) and 'Amplifier' (2008) have almost 130 million YouTube views combined. Unforgettable – his 2009 album – was nominated for Best Album at the UK Asian Music Awards.
Imran's music only grew in popularity and in 2011, his success enabled him to set up his own label – IK Records.
Under his own management, he has gone on to release more international sensations like 'Satisfya' (2013), 'Imaginary' (2015) and 'Hattrick' (2016). The label has also gone on to sign other acts, like the Dutch duo Twin N Twice.
Imran has become somewhat notorious for his wild music videos too, with exotic animals, sexy sports cars and bikini-clad ladies often taking the spotlight. One of his live performances even featured a snake draped around his neck!
On his website, Imran says he was never interested in Punjabi music until entering the industry. So, it is quite ironic that Wikipedia now states him as one of the most famous Urban Punjabi singers!
Tasha Tah
Though the Urban Asian music scene is positively bursting with talent, it still seems rather male-dominated. Cue Tasha Tah.
In her music, Tasha takes a hip-hop vibe and adds her own Desi-inspired touch.
After signing with B4U music, she has released several songs in which we can hear her distinctive sound. 'Oye Oye' (2017), 'Malang' (2017) and 'Lak Nu Hila' (2014) are just a few.
It was her track 'Haan De Munde' (2011) that broke her into the Urban Asian music scene though. The hit jumped straight to number one on the world iTunes chart. On YouTube, it has amassed almost 13 million views.
She attributes much of her success to the influence of her family.
With a celebrated Indian poet for a grandmother, Tasha was heavily inspired by her works.
Perhaps flouting the stereotype, Tasha's father, in fact, encouraged her musical pursuits. He himself was an acclaimed arts figure in the world of Bollywood.
Tasha has appeared at festivals, melas and other mainstream events all over the globe. She has even performed live for the BBC's Maida Vale sessions.
Fateh
We were first exposed to Fateh through his cameos in YouTube comic Jusreign's videos. Since then, Fateh has forged an incredibly successful musical career.
Born in Thailand, he was raised in California and Toronto. The move to North America was what exposed him to the hip-hop scene. He produced 3 mixtapes, exuding a unique combination of Desi beats and rap flows.
It was a 2012 project with Dr Zeus that put Fateh in the spotlight though.
Now, his discography contains a multitude of singles and albums. From the Bhangra banger 'Inch' (2015) to the more R&B 'Aya Tenu Lehn' (2019), Fateh shows ability across the genres.
This has allowed him to collaborate with a melting pot of artists. Jazzy B, The PropheC, Miss Pooja, Pav Dharia, Kanika Kapoor – the list goes on!
Fateh stands out in the Urban Asian music scene. Rapping in a hybrid of English and Punjabi, his strong Californian accent shines through. His unique sound is complemented by his distinctive appearance.
Taking pride in his turban and beard, he has become a new type of inspiration for youths. Lacking rap idols who looked like him never held Fateh back. Rather, it triggered a desire in Fateh to become the idol for the next generation.
These 12 artists have taken the Urban Asian music world by storm and continue to do so. However, we could never cover all the talent in the industry in a single article!
Watch highlights video on successful Urban Asian and Desi Artists here: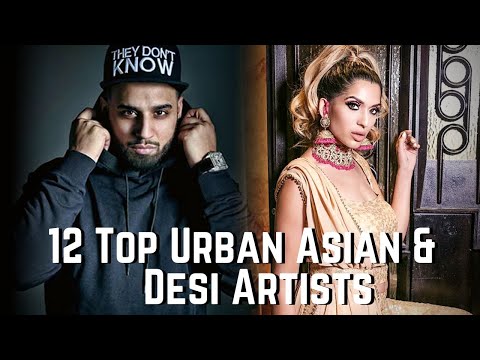 There are so many upcoming singers, producers, instrumentalists – all inspired by the success of those before them.
A new genre of music was forged and has reached unimaginable levels of fame. With both artists and listeners being on a global scale, the Urban Asian music scene is only set to expand more and more.