Giddha holds a reputation of high-spirited cultural dancing
Bhangra folk dances are a great way of promoting culture in the music industry and appeals to many South Asians.
Its colourful and energetic vibes play a significant part in making a Bhangra song sound musically rich.
Furthermore, it has also allowed men and women to showcase their true dancing abilities, and adapt to different folk styles.
In addition, dance forms such as 'Sammi' and 'Giddha' originate from countries like India and Pakistan, highlighting their gradual popularity.
The awareness of these dances emphasises how influential it is on current Bhangra music.
The visual aspects of these dances are also admirable as dancers embrace the traditional Bhangra attire.
For instance, men frequently wear vibrant colours with kurtas and paghs, whereas women wear colourful salwar kameez.
DESIblitz explores five popular Bhangra folk dances and their magical dance routines.
Dhamaal
Folk dance like 'Dhamaal' is well known in Haryana, India. Also, this dance form originates from Mahabharat, India.
'Dhamaal' can be classed as a religious dance, as it is performed outdoors during moonlit nights of the Phalgun Hindu month. It is believed that this routine is to celebrate the purpose of harvesting.
In relation to the dance sequence, the men gather in a semi-circle and bow down to the ground by worshipping Lord Ganesh, the Goddess Bhavani, Vishnu and Mahesh.
During the early stages of the performance, a musician will firstly play a long note on a specific instrument. These instruments include the Dhol, Nagara and the Tasha.
Interestingly, the male dancers pay close attention to the movement of the hips. Their 'swaying' hips are in sync with the slow but smooth Bhangra instrumental.
In addition, the dancers also make their presence known on stage, as they frequently move around. By breaking off into separate spaces and regrouping in a certain shape it is appealing to the audience.
Some dancers may carry a large instrument called a 'Daf' in which they can offer a unique sound. Visually, these instruments are decorated with brightly coloured fabrics.
Additionally, the dancers also carry sticks which play a major contribution in their sequence. They are also embellished with materials such as tassels and tinsels which gives the performance a colourful setting.
Other musical instruments that feature include the Sarangi and Dholak which tends to be played like an orchestra.
Giddha
'Giddha' is a classic Bhangra folk dance of Punjab that is predominantly a female routine. This dance form appeals more to the regions of India and Pakistan.
'Giddha' holds a reputation of high-spirited cultural dancing and is noticeable on festive occasions.
This dance form enables women to display beauty and elegance, as their body movements involve precise rhythm.
Women showcase graceful movements, particularly with the arms and their jerking hips. The rapid clapping is admirable as women usually dance to brisk, upbeat melodies.
Furthermore, they offer flexibility in the balance of their dance. For example, they are light on their feet with a slow Punjabi track – but energetic with a speedy song.
The jolting shoulders and bending the lower portion of the body also implies delicacy and versatility.
The age of women in this dance is relatively young, however, it varies as many women enjoy this routine.
A traditional Punjabi salwar kameez along with a dupatta is a great clothing addition to what is a cultural phenomenon.
Jhumar
'Jhumar' is another popular dance form, which features men. It is also a noticeable trend as this dance is performed in the most culturally rich weddings and festive events.
Depending on the type of occasion, there are three different types of 'Jhumar' which reflects contrasting moods.
'Jhumar' was gradually evolving in Sandalbar and the Balochi­stan area of Pakistan. Although, it has become engraved in Punjabi heritage and is extremely eye-catching.
The costumes are standard but maintain Bhangra culture, as the men wear white kurtas with a vibrant pagh.
When watching this performance, it represents the sheer happiness of men. The dance can celebrate any sort of joyous occasions and the dancers vary in terms of age.
This is because the men will sometimes consist of three generations of a family, which are the father, son and grandson.
With the rhythm of the dance, it's substantially slower than the enthusiasm you usually see from Bhangra dancers.
The routine sees the dancers groove around a drummer, who is sometimes in the middle of all the men.
Also, the gentle movement of the arms is the main forte of the performance, as they glide in the air. Their feet casually drift forwards and backwards, whilst lightly twisting their legs left and right in rhythm with the song.
Interestingly, a soloist will sometimes take to the stage, moving towards the centre of the circle and gracefully dance.
Luddi
The 'luddi' is more of a physical folk dance, that is common in Bhangra, and more popular in Pakistan. Also, it is a dance that both men and women take part in.
A celebratory routine like the 'Luddi' alters in terms of speed and agility. In a typical sequence, finger clicking and clapping of the hands are the common factors.
However, they like to use the stage more by performing jumps and half-turns as they swirl around in a circle.
This is an effective way of dancing as it accelerates their tempo, and creates sound by stamping their feet.
Intriguingly, some performers place one hand behind them, whilst the other hand is in front of the face, impersonating the movement of a snake's head.
Regarding its popularity, this dance is fashionable in functions like marriages. Whether it's the arrival of the groom's family or a bridal function like Mehendi, a 'Luddi' will sometimes feature.
The 'Luddi' is certainly an entertaining dance form, which is done with such physical movement. Its graceful and calming synchronised dancing is satisfying to the eyes.
Sammi
The 'Sammi' routine is a common dance form stemming from the tribal associations of Punjab. Interestingly, it originates from Punjab's Sandalbar area, which is now located in Pakistan.
Also, it is a dance that is more suited towards women that belong to Punjabi tribes. These tribes include Baazigar, Lobana and Sansi. Sammi is a dance that pays tribute to a fabled girl/woman.
With the appearance of the dancers, women are dressed in long-flowing skirts (lehengas) and vibrant kurtas. Furthermore, a distinctive silver hair ornament is also another feature of what the women wear.
Based on the dance routine, it is performed in a circle. The dancers stand and swing their arms and hands, as they move from the sides of the stage to the front.
Bringing their hands to the chest, they begin to clap. Also, the hands go down in a 'waving' motion, matching the rhythm of the song and then they clap again.
This process is done several times, as the movement of their feet also matches the pace of the song.
No instruments are used during this dance, as the sound of clapping and footsteps is the dominant noise. A trademark song called 'Sammi Meri Waar' is always played during this dance.
Watch Sammi dance performance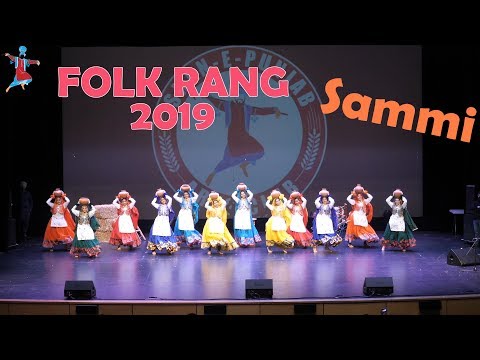 There is also a wide range of other Bhangra dance forms that illustrate talent and culture. Dances like 'Kikli' involve women locking their hands with each other and rapidly swinging in circles.
Also, there is 'Gatka' in which men passionately dance to Punjabi music, whilst holding swords, daggers, or sticks.
These traditional folk dances have been significant to Bhangra music and to dance in general.
To have different dancing styles for male and female dancers is a beneficial aspect of Bhangra. The energetic yet graceful moves are fantastic to watch and makes Bhangra music that extra bit better.