"I only knew about it [MMA] through YouTube when I watched Conor trash talk with other fighters."
Mixed Martial Arts (MMA) is still a relatively young sport since it first broadcast in 1993. Today it is the fastest growing sport and India is no exception. Why is MMA in India so popular?
More and more Indians are turning to MMA as an alternative to traditional sports like cricket.
With MMA, excitement is guaranteed due to the hard-hitting nature of the combat sport.
It involves striking and grappling, which competitors use from a variety of martial art techniques that they have learned.
While boxing also offers hard-hitting excitement, MMA presents more ways to win.
Knockouts and decision wins are in both sports, but submissions are the third way to win a fight.
A submission requires a fighter to force their opponent to tap either by hyperextending a joint or by choking them.
This is something which enhances the fan's buzz for the sport.
To see a fighter effortlessly transitioning their position on the ground and finish their opponent with a submission is a sight to behold. This is what has contributed to the growth of MMA in India.
Martial art techniques such as Brazilian Jiu-Jitsu, Muay Thai and wrestling are just a few disciplines that are incorporated into MMA.
Although MMA has only reached India within the last few years, it has caught up quickly to the West.
Idols such as "The Notorious" Conor McGregor and "Rowdy" Ronda Rousey, who was recently inducted into the UFC Hall of Fame, generate massive worldwide support.
We look at the reasons for the popularity of MMA in India and how the country has their own promotion.
Grassroots
Indian MMA pioneer and CEO of the SFL Daniel Isaac was aware of the UFC's presence and wanted to make MMA mainstream in India.
He began by creating Tiger's gym in a village called Akhara and trained them in mixed martial arts.
Daniel wanted to see how his fighters would compete against other martial arts.
His training helped produce the first Indian fighter with international recognition, Alan Fernandes.
He has competed professionally in martial arts events all over the world in kickboxing and muay thai to great success.
Alan's fights over the world gained him many fans who became inspired to take up martial arts.
People wanting to become MMA fighters came from all over the country to compete.
This included fighters from small villages fighting against people from big cities.
Usually, the village fighters would win because they trained in martial arts such as wrestling to incorporate it into MMA.
Most village fighters trained in MMA as it was seen by them as a way out for a better life. However, there was no audience so there was no money in Indian MMA.
Daniel Isaac wanted to bring MMA to India in the hope of making it as big as the UFC.
He initially created a grassroots level MMA organisation which was based inside of a gym.
Isaac created MMA events at all levels using his martial arts knowledge to make it competitive for everyone and to grow the sport.
He called it Gym Wars and there was no media coverage, only the participants and him.
So when someone is knocked out, there is no doctor.
Other competitors were the ones who revived them. This was because there were no regulations.
The sport was being promoted from a grassroots level.
The UFC intended to host an event in India, but for unknown reasons, they deal fell through.
From then on, the Super Fight League was born.
Super Fight League (SFL)
Super Fight League (SFL), the premier MMA organisation of India was founded in 2012 by actor Sanjay Dutt and businessman Raj Kundra. It is currently co-owned by boxer Amir Khan.
SFL presented the perfect opportunity and platform for MMA to grow in India while showcasing the talents of Indian fighters.
India always had a huge talent pool in combat sports, such as wrestling and boxing. But SFL is what was required to push interest specifically in MMA.
Promoting diversity, the SFL has provided interest to a wide range of people who usually would not take up MMA as a professional career.
It has held tryouts where amateur fighters from across India compete to have a chance of being signed by the SFL.
British boxer Amir Khan transformed the organisation when creating it into the first MMA League in 2016.
This had never been done before by any combat sports company, let alone MMA organisation.
The League is made up of eight teams, all of which are based in India.
Bengaluru Tigers
Haryana Sultans
Sher-E-Punjab
Mumbai Maniacs
Gujarat Warriors
U.P. Nawabs
Tamil Veerans
Dehli Heroes
The teams are split into two groups, 'A' and 'B', consisting of four teams each.
Each team has six fighters (five males and one female). These six fighters belong to six different weight classes.
The four teams compete in 12 League bouts against each other in their corresponding group.
It then moves onto two semi-final matches, with the winner moving to the final.
A third place fight is also contested.
This tournament's format is an exciting way to present MMA, especially in India where they crave for entertainment.
Establishing a large audience for MMA is difficult, however, they have been able to establish a fan base in a short space of time.
Youth is the priority demographic for the SFL and this format is certain to attract them.
Notable Indian MMA Fighters
Indian MMA fighters are gradually getting know, but still a while to go before they match up with their Western counterparts.
There are a few fighters from India who have received more coverage for various reasons.
We look at five fighters who have gathered fans across India.
Jason Solomon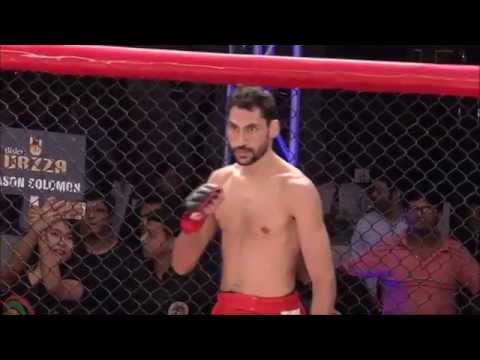 Indian MMA fighter Jason Solomon has gained worldwide recognition.
He is best known for acting cocky towards his opponent before being knocked out in nine seconds. It is his only loss to date.
Known as the 'The Delhi Don', he has amassed a record of eight wins and one loss. All eight wins have come either by knockout or submission.
Jason is known for his flashiness and brash behaviour towards his opponents.
He presents the entertainment side of MMA, which is what draws many new fans to him.
His prominence in the MMA world is a good indicator of India's growth in MMA.
Rajinder Singh Meena
Rajinder Singh Meena is a fighter who has gone on to make a mark on the international stage.
He has fought several times with fast-growing organisation ONE Championship, which is based in Singapore.
Although his record stands at nine wins and seven losses, fighting in the organisation has only increased his reputation in India and throughout the world.
The Delhi based fighter enjoyed success in the SFL, having been the former lightweight champion.
He has expressed interest in coaching the next generation of MMA fighters while progressing with his own fighting career at the same time.
Priyanka Jeet Toshi
Priyanka Jeet Toshi rose to prominence through the SFL reality show, SFL Contenders which pitted up and coming fighters against each other.
The contestants live together where the winner receives £22,000 (Rs. 20 Lakhs).
Although Priyanka did not win the show, she has risen to fame by participating in the ONE Championship, where she competed four times.
Her record of three wins and three losses may not seem like much, but competing at such an elite level shows that she belongs at the top of Indian MMA.
At only 27, Tosh is still young in the sport and can only get better. Her elite level fights are what makes MMA in India ever growing.
Manjit Kolekar
One of the most successful Indian fighters, Manjit Kolekar is a former winner of SFL Contenders and has had a dominant run in the SFL.
Manjit's record stands at eleven wins and one loss, including a nine-fight winning streak.
In 2016, Mumbai based Kolekar became the first Indian to fight in the Invicta Fighting Championship (Invicta FC), which is the leading women's MMA organisation in the world.
She fought Brazilian veteran Kaline Medeiros at Invicta FC 19. She lost the fight by a unanimous decision, having fought with an injured hand.
Although she lost the fight, Manjit's fan base increased due to her courageous effort and signed a multi-fight deal with Invicta.
This will only increase her star power on the elite MMA stage.
Bharat Khandare
The featherweight fighter from Maharashtra is making moves in the mainstream MMA scene, having become part of the UFC roster.
The Indian MMA pioneer became the first Indian fighter to sign with the American powerhouse.
He made his UFC debut in November 2017 and although he lost, he is part of the number one MMA company which has a roster of the best fighters.
The man who is known as 'Daring' has a current record of five wins and three losses.
This includes an undefeated five-fight streak in the SFL, all of which coming by way of knockout or submission.
Bharat's venture into the UFC has made him into arguably one of the most successful fighters to come out of India.
Although he lost his debut, he has gain recognition among international fighting icons.
One of those includes Jon "Bones" Jones, arguably one of the greatest fighter of all time.
Mainstream coverage of the UFC will only increase his fan base in India and throughout the world.
Worldwide Appeal of MMA
As MMA grows in India, there are international fighters who have an Indian fan base.
The main one being Irish sensation Conor McGregor who has established himself as the number one draw everytime he fights.
His trash talk and unique fighting style have gained mass appeal, guaranteeing sheer entertainment leading up to his fights.
McGregor's fan base has grown in India, especially since he crossed over to the boxing world and fought Floyd Mayweather Jr.
Although he lost, it drew the support of cricketer Virat Kohli who praised the Irishman's courage to go toe-to-toe with the undefeated American.
He wrote on Twitter:
To all those who said @TheNotoriousMMA won't even last 1 round, he went through 10!!!! A legend & an epitome of self belief. Hats off man ?

— Virat Kohli (@imVkohli) August 27, 2017
It is not just celebrities who are fans of 'The Notorious.' Many Indian people such as Quora user Bharani Dharan said: "In my country, 99% of people don't know what MMA is."
"I only knew about it [MMA] through YouTube when I watched Conor trash talk with other fighters."
"He was fascinating to watch and from then on, I started to watch Conor's fights and press conferences and began following him."
MMA in India has definitely grown due to McGregor's domination of the pay-per-view buy rates.
He has headlined the three most bought events, with his second fight with American Nate Diaz, reaching 1.6 million buys.
People in India are aware of Conor's presence, with some even mimicking his actions.
For example, a video of an Indian man went viral which saw him sporting a drawn on version of the Irishman's tattoos and copying his distinct walking style.
Watch the video here:
MMA in India and its fan base is still in its infancy. But MMA is already expanding with a celebrity owned company headed by Amir Khan.
The unique league format is something other companies could look at doing to engage more with fans in the future.
MMA can only grow further in India with the aforementioned, along with many more fighters who showcase their skills in the cage, whether it be home or abroad.