"Thank you for being my light in a world of darkness, Mustafa."
Mustafa Ali has become one of the breakthrough Superstars of WWE since his debut in 2016.
He regularly appears on WWE's Cruiserweight's exclusive show, 205 Live.
Mustafa Ali made history becoming the first wrestler of Pakistani descent to sign with WWE. Through his mother, Ali is half-Indian.
He uses this to fuel his mission to break down barriers for minorities by opting away from stereotypical Desi gimmicks. He shows you do not need a stereotyped character in order to connect with the fans. His message and work ethic is appreciated by the WWE Universe.
It's not just his entrance gear, Ali's in-ring ability and charisma lights up the arena as he wins the hearts of the WWE Universe.
Constantly impressing fans and critics, we take a look at 7 of Mustafa Ali's most jaw-dropping matches.
Mustafa Ali Vs. Jack Gallagher (20th February 2018)
This first match sees Mustafa Ali face the British star, Jack Gallagher in the first round of the Cruiserweight Championship Tournament 2018.
Throughout the match, Gallagher dominates Ali, who targets his left shoulder. He would apply the Fujiwara armbar on numerous occasions to the Desi Superstar.
Ali takes a few hellacious bumps in the match including a dropkick whilst balancing on the second rope which sent him flying into the barricade.
Ultimately, Ali would pick up the victory after his imploding 450 Splash, a.k.a. 'The 054', connects.
Mustafa Ali Vs. Buddy Murphy (6th March, 2018)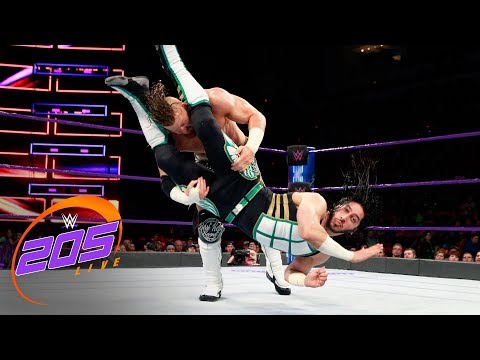 In the quarterfinals of the Cruiserweight Tournament, Ali takes on the former NXT Tag Team Champion, Buddy Murphy, from Australia.
Mustafa Ali hands his hands full with the largest Cruiserweight on the roster. However, Ali manages to isolate Murphy's left arm after a sickening 450 splash on the arm. This reduces Murphy's power offence.
This doesn't stop Murphy from using his aerial skills, taking out Ali with a Tope-con-Hilo, a somersault over the top rope to the outside.
But the injured arm proves to be too much for Murphy as Ali picks up the win with a crucifix pin.
Mustafa Ali Vs. Drew Gulak (20th March 2018)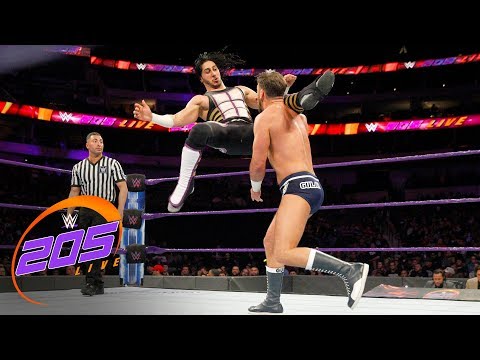 A Semi-final match to remember. With this match, a toxic rivalry would be revived as Mustafa Ali takes on Drew Gulak.
We see Ali drop his technical style and adopt a more brawling attitude against his nemesis of the "No Fly Zone" campaign.
Again, Ali takes some shocking bumps throughout the match. This includes a back body drop from the announce table or getting thrown off the top, hitting the apron on the way down.
This doesn't hinder the underdog as Ali progresses into the finals at WrestleMania 34.
Mustafa Ali vs. Drew Gulak was another top cruiserweight tournament match. My favourite Gulak match in ages, and Ali is just incredible.

— Barry (@TheBarrylad) March 26, 2018
Mustafa Ali Vs. Buddy Muphy Vs. Hideo Itami (19th June 2018)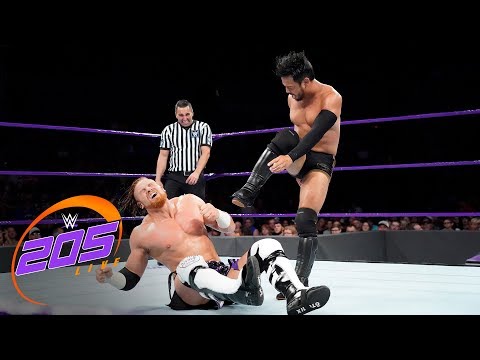 This match came as a result of the Japanese sensation, Hideo Itami creating enemies. He would interrupt a match between Mustafa Ali and Buddy Murphy by attacking the two.
The match began with Ali and Murphy both looking for revenge against the Itami.
One of the biggest spots, Ali executed a picture-perfect 450 splash Muphy was draped over Itami.
Hideo Itami would pick up the win after a hard dropkick on Ali, sandwiching his head with the exposed turnbuckle.
Mustafa Ali Vs. Buddy Murphy – No Disqualification (3rd July 2018)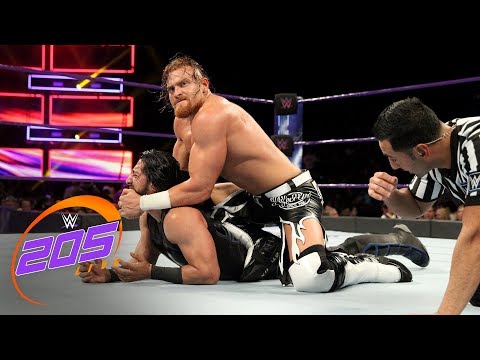 Right from the get-go, these two Cruiserweights would waste no time getting high-risk. Mustafa Ali and Buddy Murphy competed in a highly dangerous match.
Both Superstars would use the steel steps within their offence in creative and effective ways. Murphy begins targeting the back of Ali after a scary landing to the entrance ramp
Balancing on the vertically-placed steps, Ali would super-plex the Aussie with both superstars crash landing in the centre of the ring.
The ugly landings do not end there. Further, into the match, Ali would perform a Spanish Fly from the barricade to the announce table.
Ali picks up the victory with a tilt-a-whirl DDT on Murphy whilst standing on the steel steps. The height and impact allowed Ali to secure the win.
Buddy Murphy vs. Mustafa Ali, the main event of this week's 205 Live, is an absolute must watch! It's the best WWE match this week and it's one of the best main event matches (non-PPV) that I've seen in the WWE. It's that damn good!

— Bryan Williams (@TruBWill) July 5, 2018
Mustafa Ali Vs. Hideo Itami Vs. TJP Vs. Drew Gulak (24th July 2018)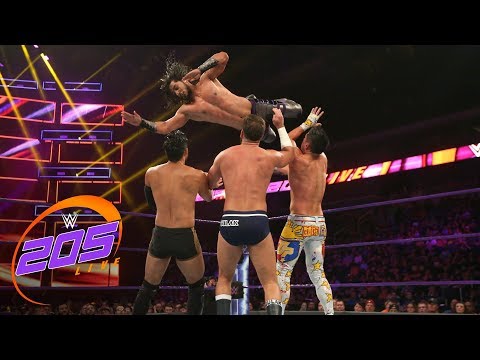 This number 1 contender's match saw Mustafa Ali outnumbered by his enemies, it almost was a 3 on 1 situation.
A nice blend of styles are on display from each of the competitors. Ali shows off his Lucha background, TJP with his technical style, Itami with his striking ability and Gulak's power.
It was looking as though Ali was going to pick up the win after he hit TJP with 'the 054'. However, a sly Itami broke the pinfall and dropkicked Ali's head into the stairs. Itami would then Irish Whip Ali face first into the ring post.
But Gulak capitalises on this when he takes out Itami and applies a dragon sleeper to Ali, stealing the victory and the ticket to Summerslam to face the Cruiserweight Champion, Cedric Alexander.
Mustafa Ali Vs. Cedric Alexander (WrestleMania 34)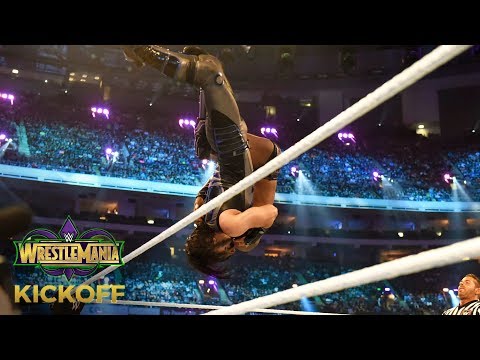 The finals of the Cruiserweight Tournament took place at 'The Grandest Stage of Them All', WrestleMania. The winner of the match would win the vacant WWE Cruiserweight Championship.
Ali debuted a new look with his LED mask, his spinning LED gauntlet and a metallic palette swap of his normal ring gear.
A solid match between these two friends as those both put on display their amazing athleticism with back and force aerial attacks. This match featured some great spots including a Spanish Fly from the top rope, executed by Ali. Even John Cena was stunned!
Ali would successfully land an 054 but Alexander placed his foot on the bottom rope to break the pinfall. He would attempt a second 054 but misses his target as Alexander rolls out of the way.
Alexander hits Ali with a series of elbow strikes and then his finisher 'The Lumbar Check' to win the championship.
Mustafa Ali – The Hero
Without a doubt, Mustafa Ali is one of the best Cruiserweights in WWE and will eventually capture the title. He continues to shine week in and week out as well as spreading positivity outside of the ring.
Michael Greene, a fan who goes by the name, Detective Chimp (@dirk_fn_anger) on Twitter, revealed the wrestler helped him avoid a suicide attempt.
In honour of this, the fan got a tattoo that reads "In a world of darkness be the light", with a gladiator helmet with "ALI" written above.
In March 2017, Ali tweeted Greene a video message.
"Despite what you're going through, try to be the reason people believe there's still goodness in this world,"
He continues,
"Whatever it is you're facing, you're going to get through this. I believe in you."
Yo @dirk_fn_anger …I got your back, brah. pic.twitter.com/OUYcP8Oy80

— Mustafa Ali (@MustafaAliWWE) March 23, 2017
15 months later, Greene unveiled his new ink with a message explaining his life struggles and the impact Ali had on him.
"I was at one of the lowest points, and selfishly made the decision that I was going to end my life. As I was preparing to go forward with things, I received a message from aman I have idolised and looked up to for years."
"That man was Mustafa Ali."
The last paragraph reads
"Thank you for being my light in a world of darkness, Mustafa. I hope I can live up to the ideals you have set out for me, and that I can thank you face-to-face"
Today, I decided to do something positive for myself, so I had a life-changing moment in my life immortalised, as well as honouring my hero. @MustafaAliWWE, I will never be able to fully repay you for what you did for me, and I will carry your message with me wherever I go. pic.twitter.com/6MMgQNyjk5

— Detective Chimp (@dirk_fn_anger) June 15, 2018
Living up to his mantra of "be the light in a world of darkness", Ali most definitely deserves the title of "hero".
To see these great Mustafa Ali matches in full, subscribe to the WWE Network and catch him and the rest of the Cruiserweights on 205 Live after SmackDown on Tuesdays (Wednesday early hours for the UK).