"And it's not just girls who are exploited, it's also boys who are sexually exploited."
Bollywood's infamous casting couch remains one of its darkest issues in the industry. Former CBFC chief Pahlaj Nihalani has brought it back into the spotlight with his upcoming film Julie 2.
Acting as a distributor for the film, he recently revealed the sordid nature of the casting couch. Which he claims sexually exploits not just girls, but also boys.
With the erotic thriller, he aims to show audiences the true story of budding actors and actresses. Pahlaj Nihalani also wants Julie 2 to serve as a warning for those who dream of making it big in cinema.
Speaking to SKJ Bollywood News, the former CBFC chief said:
"Children from the film industry are spared for obvious reasons. But young people from outside are not spared. Not only by producers. And it's not just girls who are exploited, it's also boys who are sexually exploited by producers, casting directors, casting agents and middlemen.
"Many of these middlemen are actually pimps. They promise roles to boys and girls in exchange for sexual favours on behalf of actors, producers, casting directors."
Pahlaj Nihalani also believes that the shocking incidents of the casting couch still occur today. Despite many stars shedding light on its dark truth. With this in mind, the former CBFC chief expects many to feel stunned by Julie 2's controversial content.
"Julie 2 will shock the nation. It is a true mirror of what young people have to go through in the film industry and a warning to all youngsters who leave their homes and come to Mumbai from small towns to try their luck in Bollywood.
"I personally know so many young strugglers who are used and abused. There is so much sex being thrown around."
South Indian actress Raai Laxmi will star as the thriller's main character; marking her first venture into Bollywood. In addition, a trailer was released on 4th September 2017, featuring Raai in a series of daring, hot scenes.
Watch the trailer for Julie 2 here: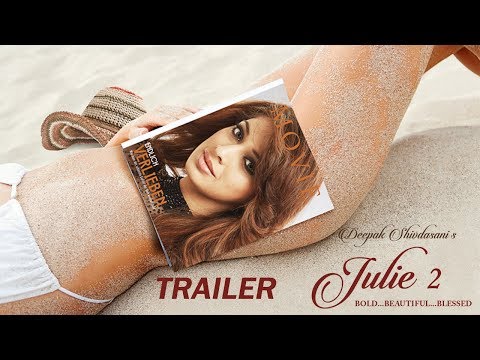 Raai has spoken herself about the casting couch, revealing her own experiences of it. Speaking to Bollywood Hungama, she said:
"I never had to face the casting couch. But I was propositioned in indirect ways and subjected to a lot humiliation. It is something all newcomers go through, unless you are from the film industry. [sic]"
The film had expected to hit cinemas on 6th October 2017; however, it has faced some difficulty with its release. Pahlaj Nihalani revealed Julie 2 faced accusations of copyright:
"It's all because of this gentleman, a producer called N.R. Pachisia who claims the title 'Julie' is his just because he produced film with the same title 13 years ago. Our film Julie has nothing to do with his film; our movie is about a aspiring star [sic].
"Yet, Mr Pachisia has gone to court claiming copyright infringement."
As of yet, it seems the film may have to wait a while longer before its eventual release. When it does arrive in cinemas, it certainly seems it will strike a chord with audiences. But whether this will be received negatively or positively remains unknown.
Judging by Pahlaj Nihalani's comments on the casting couch, it will no doubt be unforgiving in its portrayal. Presenting the true extent of sexual exploitation of both girls and boys.