one director has been offering 'bed squeezes' in exchange for work
Behind the glamorous exterior of one of the most colourful film industries in the world lies a sinister secret: the Bollywood casting couch.
Many of us are now familiar with the sexual harassment revelations that have been swarming through Hollywood. One by one, other film industries are unravelling under similar scrutiny.
With Tollywood and Pakistan's entertainment industry also exposing their own shocking stories, all eyes are firmly fixed on Bollywood.
We find ourselves asking, when will the glass walls of India's most vibrant film industry break?
No doubt, 2017 will officially be known as the year Hollywood went up in arms against sexual harassment in the most open manner.
Baring to the world one of the largest casting couch scandals with American producer Harvey Weinstein at its peak. One after another, leading actresses called his bluff and the sinister revelations ranged from forcing women to massage him to watching him naked.
Celebrities from this iconic film industry joined hands to form the Time's Up movement and since then, other stars such as Kevin Spacey, Aziz Ansari and James Franco have also been exposed.
Bollywood is grappling with a similar issue. The Hindi film industry probably has more off-screen villains than we may know. It is an open secret. But unfortunately, nobody seems willing to expose them.
Is it time for Bollywood to call upon these sexual predators too? This is a question that has been tossed around for quite some time now. What is holding them back?
Bollywood's Casting Couch: An Open Secret?
It's not as though Bollywood has always turned a blind eye to the casting couch.
Back in 2005, a sting operation revealed actors Shakti Kapoor, known for his comic roles in films, and Aman Verma, a popular TV personality, for promising work in exchange for sexual favours. The two were even found in compromising positions during an investigation carried out by a leading news channel.
During the exposé, Kapoor made big claims of other popular actors resorting to such means for work which included Aishwarya Rai, Preity Zinta and Rani Mukerji. He later made a public apology saying:
"With folded hands, I have apologised to the entire film industry, including Subhash Ghai, Preity Zinta, Aishwarya Rai and Rani Mukerji, who are close to me.
"I had no intention to hurt them. The whole thing was doctored and tampered and, in case they still feel hurt, I am ready to apologise again."
Despite the big revelation, Kapoor was initially banned from the industry but later made it back into films like Chup Chup Ke (2006) and even a Bigg Boss stint. Clearly, this did not send a strong message.
In the same year that Kapoor was charged, filmmaker Madhur Bhandarkar, who is known for his 'realistic' cinema, directed Page 3. It was a film revolving around socialites told through the eyes of an entertainment journalist.
The film touched upon casting couch through the character of Tara Sharma, a struggling actress new to both Mumbai and the big bad world of the film industry.
What's interesting is that just a year before the release of this critically acclaimed film, Bhandarkar himself was accused of sexual harassment.
In 2004, a Mumbai based model filed a police complaint alleging the director of raping her. The case grew murkier when the complainant, Preeti Jain attempted to hire a 'contract' killer to get rid of the director and was found guilty in 2017. The charges against Bhandarkar were dropped.
Shocking allegations also arose against some big names in Bollywood such as directors Anees Bazmee, Subhash Ghai and singer Anup Jalota when Israel based model-actress Rina Golan accused all of them of asking for sexual favours in her autobiography, Dear Mister Bollywood.
Fingers also pointed towards popular 90s director Rajkumar Santoshi after he was reportedly accused of the casting couch during his 1998 film, China Gate by actress Mamta Kulkarni.
Among the people named above, none has been officially charged or abandoned by the industry. Why? Let's find out.
Unreported Crimes
What is stopping most actresses from reporting or standing up against sexual harassment is one of the key questions at hand. In most cases when an actress has opened up about the casting couch, there is a fear of having her career on the line.
With some big names involved in such practices, the influence they hold in the industry and over the casting process is huge.
Sexual predators in positions of power are able to blackmail not just fresh talent but even existing stars from taking any action. Big sharks make the big bucks and this holds back several A-list stars from speaking out against them.
Another major issue is the cultural setting. With society's victim-blaming mentality, it becomes difficult for female stars to stand up and talk about their experiences. The backlash from the public could result in losing them their hard-earned fan base.
Particularly in the time of social media, the trolling and cyberbullying that may result can be a tough emotional battle. Sadly, patriarchal mindsets still dominate movie-going audiences and hence there's a possibility that these actresses may get written off much sooner or even blacklisted.
Celebrities being highly image conscious, prefer to keep their personal lives a secret. Instances of sexual harassment are scarring for any individual and with hardly any media restraint, chances are that they may have to share their experiences multiple times, only to be labelled as 'victims'. This could dent their on-screen image of being a pristine beauty.
A lack of industry support is also a concern.
While actresses like Kangana Ranaut have openly accused big names such as Aditya Pancholi for abuse, or even in her legal battle against Hrithik Roshan, hardly any other industry celebs have stood up in solidarity with her. In fact, for the most part, Kangana has found herself sidelined and alienated from the rest of the film fraternity.
In a more controversial move, choreographer Saroj Khan appeared to defend the casting couch when she said:
"Ek baat batau ye to chala aa raha hai baba adam ke zamane se. Har ladki ke upar koi na koi haath saaf karne ki koshish karta hai. Government karti hai (This is not a new thing, this has existed for a long time. Everyone wants to take advantage of girls, even the government)."
She followed by again blaming women for their own actions, as much of society is prone to do:
"Wo mat bolo, wo ladki ke upar hai ki tum kya karna chahti ho. Tum uske haath me nahi aana chahte ho to tum nahi aoge, tumhare paas art hai to tum kyu apne aapko bechoge?
"Film industry ka naam nahi lena wo humari mai baap hai. (What a woman wants depends on her, if she does not want to be a victim then she won't be one. If you have your art, why would you sell yourself? Do not blame the film industry, it is what provides us with our livelihood)."
Saroj later apologised for her comments.
It seems Bollywood too may soon need to take a step in the same direction as that of South Indian artists. For instance, actresses from the Malayalam film industry have opened up a non-profit organisation, 'Women in Cinema Collective'. It has been set up to support female artists who work on and off-screen, to ensure their safety and welfare.
Hidden Figures
In an industry that is laden with nepotism and generations of film families exploiting power, it is difficult to call out the villains. Of course, times have changed and now it is not just individuals alone but production houses that are being tagged as solicitors of the casting couch.
Among the big banner houses, there has been ample hush-hush surrounding a production house that favours young talent and is known for their offbeat films to have been involved in such activities.
While a popular director associated with the house even found himself embroiled in a case, several other big names have been brushed under the carpet.
Similarly, a director who gave a big break to one of India's biggest superstars has been popular in the industry for offering 'bed squeezes' in exchange for work. His filmmaking has suffered badly over the years and needless to say, the female characters in his films find themselves in the sleaziest of portrayals on-screen.
The director is known for creating Twitter controversies with his sleazy comments too.
Harassment of Bollywood actresses is not a recent problem. Old photographs from a 1951 screen test indicate how the auditioning process can be both invasive and slightly uncomfortable.
Popular yesteryear actresses have been known to visit sets accompanied by their mothers, just in case the director, producers or co-stars tried to cross the professional line. It is disturbing to think that an actress would feel so unsafe on a set that easily has the strength of over 200 people on the ground.
Notably, the filming of rape scenes was quite common in earlier storylines. Reportedly, they were forcefully added in the film on the insistence of actors or even directors who found them 'saleable'. The forceful inclusion of intimacy in songs too was well-known under the garb of bringing some added chemistry to the screen.
The casting process may have been slightly streamlined now but there are still several casting agents going unreported for soliciting girls into providing sexual services for their 'so-called' clients and duping them of money.
Actors who have Spoken Out
Contrary to popular belief, the casting couch in Bollywood goes beyond gender. Not just female, but male actors too have succumbed to this pressure. A few of these well-known stars have even shared their experiences:
Ranveer Singh
Actor Ranveer Singh who is currently one of the most sought-after actors in Bollywood recalled an incident where he was approached by a casting director. In an interview in 2015, he revealed, the director said that for him to find success in Bollywood, he needs to be open to "take and touch."
Ayushmann Khurrana
Actor Ayushmann Khurrana revealed in 2016 that while working in Television, a casting director had asked him for sexual favours which he turned down. The actor later went on to say that while the casting couch does exist, eventually it is only those who are talented who thrive.
Kalki Koechlin
Among the actresses, Kalki Koechlin has been one of the few who has been vocal. The actress admitted to having been at the receiving end of such offers but called herself lucky to have slipped them.
One of the biggest points she made in a video that she released in the wake of the #MeToo movement was:
"People don't listen to you if you are a nobody, but if you are a celebrity it only becomes a shocking headline."
One of the biggest reasons, according to her, preventing actresses in Bollywood from taking names is their career.
Tisca Chopra
Tisca Chopra is another such actress who revealed an incident involving a top director at the early stage in her career. The Taare Zameen Par star called the director 'reptile-like'.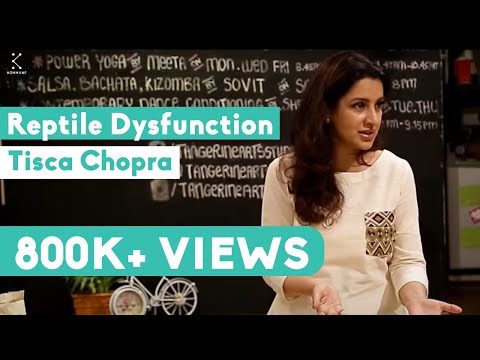 Varalaxmi Sarathkumar
Tamil actress Varalaxmi spoke about her experience with casting the couch when a leading TV programmer made suggestive comments towards her asking for favours in case she wished to continue a healthy working relationship.
Needs to be said..!! pic.twitter.com/GjJimBIKd3

— varu sarathkumar (@varusarath) February 20, 2017
In a letter she posted on Twitter, the actress said:
"I didn't come to the industry to be treated like a piece of meat or to follow the standards of exploitation of women already practised.
"I love acting, it's my profession of choice. I work hard and I am good at my work. I certainly do not want to choose either option of 'Put up with it or quit'."
Surveen Chawla
TV star Surveen Chawla who has also worked in Bollywood and in South Indian cinema said she was lucky to not have encountered sexual harassment in Bollywood:
"I feel very great that I have not encountered this [casting couch] here [Bollywood]. I have faced this (casting couch) down south and of course, I refused to give into that…
"Honestly, I can only comment on it if I had encountered it in Bollywood. I don't know if I should call it sheer luck," she said.
Payal Rohatgi:
Actress Payal Rohatgi had accused Love, Sex Aur Dhoka director Dibakar Banerjee of trying to exploit her for a role he had cast her in. Dibakar and her had developed friendly relations and once when she called him home, his behaviour towards her changed:
"Dibakar came to my house and commented that I had gained weight. He asked me to lift my shirt and show him my stomach. I didn't like it. I told him I was in no mood for jokes. But he did not agree. I told him to leave."
The director, however, clarified his side saying Payal herself had sent him messages hinting at something else. He said:
"If I wanted to cheat on my wife, I would have had an extramarital affair with a non-star. Just for casting someone in my film, I don't need to have a physical relationship with the person and go against my principles."
In Denial
To seek a solution for any problem, there is first a need for acceptance of the issue. The mere mention of taking any names puts many celebrities under cold sweats out of fear. But a lack of support or even acknowledgement of sexual harassment has more sinister consequences.
It is a shame to see big stars like Shahrukh Khan appear to be in silent denial of a problem that has plagued the industry for years.
The actor who has been a leading man in the industry for over 25 years took a rather disappointing stance when he was egged to comment on the harassment issue by a BBC journalist. Khan's comment of harassment never being a problem on his film sets seemed imprudent.
His statement was: "I'm very close to the women I work with. Nobody has said this. I've never personally been told on my sets."
Sadly the lukewarm response to the casting couch in Bollywood is disheartening. While so many big stars will eagerly sign themselves up to political campaigns proposed by the government for the chance of a photo op with the Prime Minister, it seems that women's harassment is not such an urgent issue.
Will we have to wait for Narendra Modi to introduce a 'Harassment Hatao' campaign now?
There are some positive steps being taken, however, particularly with the minor outbreaks against perpetrators in Tollywood. Actresses like Sri Reddy are setting an example by speaking up against big names in the industry. Pakistan too is ready for a change as popular names like Ali Zafar are now embroiled in sexual harassment cases.
Since smaller industries are now showing courage to speak out against harassment, we can only hope Bollywood too will soon embrace the change.