"He is a brilliant actor when it comes to comedy. His humour in real life is more English humour"
Housefull 3 is the most awaited horror-thriller film of 2016… "Mamma Mia, we're just-a joking!" Well, if you have missed the quirky character of 'Aakhri Pasta', he returns to the big-screen with the third instalment of Housefull on June 3, 2016.
The film also has a stellar main cast boasting of Akshay Kumar, Abhishek Bachchan, Riteish Deshmukh, Jacqueline Fernandez, Nargis Fakhri and Lisa Haydon. Plus, the film consists of a talented supporting-cast including Boman Irani, Jackie Shroff, Johnny Lever, Chunkey Pandey and Samir Kochhar.
Housefull 3 narrates the story of three guys, Sandy (played by Akshay Kumar), Bunty (played by Abhishek Bachchan) and Teddy (played by Riteish Deshmukh), who are in love with Jacqueline Fernandez, Nargis Fakhri and Lisa Haydon, respectively.
They conceal their reality and lie to the girls' father, Batook Patel (played by Boman Irani) Soon enough, Batook is confronted by the villain, Urja Nagre (played by Jackie Shroff), regarding his debt.
The comedy marks a first for the directors and several cast-members. Unlike the previous instalments, this film is made by Entertainment-fame directors Sajid-Farhad, who have also written the dialogues.
In the trailer, there were several laugh-out-loud moments. A particular scene where Akshay Kumar gets split personality and tells Jacqueline: "Jack, lean on me." One can certainly look forward to more hilarious one-liners.
"Yeh dono (Akshay and Riteish) iss house mein kaise ghus gaye?" Abhishek asks. Nargis smartly responds: "Woh dono toh pehle iss Housefull mein ghus gaye the. Tumhari entry baad mein huyi." And rightly so!
This is the first time we see both Abhishek and Nargis paired opposite each-other, let alone starring in the franchise. Commenting on working with co-star Abhishek, Riteish Deshmukh mentioned:
"He is a great actor and his comic timing is great. I have not worked with him for nearly eight years … I was looking forward to work with him."
In fact, Riteish is not the only one who is all-praise for Abhishek. Akshay Kumar, who worked with Abhishek in Haan… Maine Bhi Pyaar Kiya Hai, enjoyed performing with him. He told media:
"He is a brilliant actor when it comes to comedy. His humour in real life is more English humour. Lot of times his English jokes are not understandable. But, he is great."
Post Bol Bachchan and Happy New Year, it seems like Junior Bachchan is set to score again with his comic-timing, with Akshay and Riteish to work their rib-tickling charm again!
But what about the Housefull-heroines? We first saw Jacqueline as the item-girl 'Dhanno' in 2010's original film, followed by 2012's Housefull 2 as Bobby Kapoor.
However, unlike the previous movies there are two-new additions. These are the international beauties, Nargis Fakhri (last seen in Azhar) and Lisa Haydon (of Queen). This is what Lisa had to say about her liaison with the fellow co-actresses:
"I thought casting Jacqueline, Nargis and me in a film was very interesting. We all got along very well much to the dismay of our director and co-actors.
"We were constantly chatting. Abhishek [Bachchan] coined a term for us – the gaggles. We just could not stop talking. I really hope they make Charlie's Angels with us someday."
As the trailer exhibits, 'Girls Just Wanna Have Fun'… It certainly looks as if the Housefull-girls had a blast whilst working on the film.
'Papa Jag Jayega, 'Anarkali Disco Chali' and 'Oh Girl You're Mine'. Remember these tracks? After Shankar-Ehsaan-Loy composed the songs for 2010's Housefull and Sajid-Wajid were the musicians for Housefull 2.
This time, there isn't one composer. But three of Bollywood's talented, and the album itself consists of four tracks. 'Pyaar Ki' is an upbeat, romantic track composed by Sharib-Toshi (and partially sung by them).
It is also co-sung by Nakash Aziz, Divya Kumar, Anmol Malik and Earl Edgar (rapping). The song itself was filmed in Bournemouth and picturised on the leading star-cast. 'Pyaar Ki' has grossed approximately 6 million views on YouTube.
The music director for 'Taang Uthake' is Sohail Sen, who also crooned this song. Other singers consist of Mika Singh, Neeti Mohan and Mamta Sharma. It is a preppy club number which reminds us of 'Tune Maari Entriyaan' from Gunday, the only difference being a slower tempo and a slight adjustment to the rhythm.
'Malamaal' is composed by Mika Singh, who is the male vocalist in the one. We hear Akira, Miss Pooja, Kuwar Virk in the female vocals.
This is a catchy, vibrant wedding song, which was also shot in Bournemouth. One reminisces 'Saadi Galli' after hearing this track and Mika rocks once again. Alongside 'Pyaar Ki', this is the best track of the album!
The last track, 'Fake Ishq' is composed by Tanishk Bagchi. This is a quirky, heartbroken number which follows the style of 'Nakkadwaley Disco' from Delhi Belly. It is sung by Kailash Kher, Nakash Aziz and Altamash Faridi.
Watch the trailer for Housefull 3 here: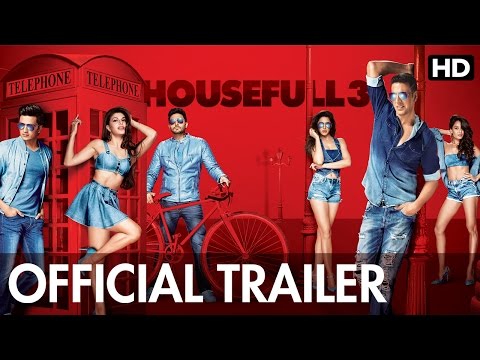 Overall, Housefull 3 promises to be another entertainer from the Nadiadwala Grandson Banner. The (somewhat) fresh star cast and music, plus the comic lines seem to be a decent formula for the movie.
Plus, considering that the previous films were commercially successful… The expectations for this film are high.
Housefull 3 releases from June 3, 2016.