"I have no kissing or love making scenes in the film"
In 2004 you had Masti, in 2013 you had Grand Masti and now in 2016 you have Great Grand Masti.
Being one of the first sex comedies of Bollywood, director Inder Kumar is all set to bring you the naughty trio of Vivek Oberoi, Aftab Shivdasani and Riteish Deshmukh back to the silver screen with yet another rib tickling comedy.
Adding a third instalment to the series, Great Grand Masti adds a touch of the supernatural with its leading lady Urvashi Rautela.
Great Grand Masti follows the story of Amar (played by Riteish Deshmukh), Meet (played by Vivek Oberoi) and Prem (played by Aftab Shivdasani).
The three friends, like in the previous movies are unhappy with their marriages and decide to try their luck outside of their civil partnerships.
As the three gather their things and move towards a remote village to visit Amar's family mansion, the three boys come across a woman staying in the mansion, Ragini (played by Urvashi Rautela).
Floored by her beauty, the three men try their ways to woo her. However Ragini is hiding a secret, she's not your ordinary girl. What's Ragini's secret? Have the boys got themselves into trouble?
Being only two films old, the young actress was appreciated by the audiences for her charming looks and the girl next door avatar. However taking a complete U-turn in her image, the actress explained how she isn't the quintessential sex comedy heroine.
She says: "I have no kissing or love making scenes in the film. It's not like a bold role. You'll get to know after you watch the film. This ghost is not a normal ghost. She is a virgin ghost. I really enjoyed working on this character because it was complicated, demanding and challenging.
"In every actor's life you need that one role which sets you apart and proves you as an actor. I'm happy that I got to do this character."
She further goes on to explain her excitement on working with the rest of the crew: "I loved Riteish Deshmukh's character in Ek Villain. It was fabulous. I see Great Grand Masti as my Ek Villain.
"Apart from being a ghost, she is the most beautiful girl ever. She is filled with beauty, innocence and at the same time also showcases her supernatural powers."
Furthermore, keeping the comedy genre in mind the sets seem to have been a fun place as well. As the actress went on to add how everyone was pranking each other on set and how the cast and crew were having a lot of fun on set.
She explains: "Every moment used to be a funny moment on the set. I'd like to say that no one troubled me. It's just their love for me. But I must tell you that they pulled my leg too much throughout the making."
Keeping the album at a crisp four tracks, Great Grand Masti has a fun mixture of songs to keep the audiences entertained throughout its 120 minute duration.
Music composers Sanjeev Darshan, Sharib & Toshi and Shaan have made sure they keep the essence of the film through its music. Starting off with the title song, the fun jazz like music is a great starting point for the film as audiences will want to dance along to the track.
The next tracks include 'Lipstick Lagawe' and 'Tera Ishq' are both signature soundtracks for Ragini seductive and sexy the tracks show a different angle to the movie. Lastly, 'Resham Ka Rumaal' is your quintessential item number fun and peppy the track adds another fun USP to the album.
Watch the trailer for Great Grand Masti here: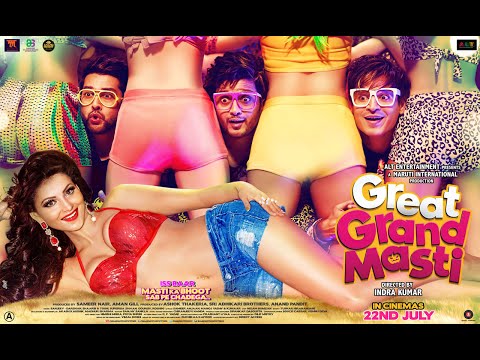 The movie has managed to rake in a decent opening at the box office collecting nearly Rs. 10 crores so far.
So would you like to be part of this hilarious movie? Great Grand Masti released on July 15, 2016.