"Longboarding is for everyone: young-old, brown-black, East-West!"
One of the most powerful things about sports is its ability to create tight-knit communities through teamwork and this is especially evident in Longboarding.
Skateboarding often receives the label of an alternative sport, likely placing longboarding as even more outside the mainstream.
Nevertheless, GirlDreamer is a Birmingham collective that has brought together young women including British Asians with longboarding.
The group, Boarders Without Borders, have now earned accolades for the GirlDreamer co-founders, Kiran Kaur and Amna Akhtar.
However, at the heart of this group, is a powerful experience that has bonded and empowered young women with an inclusive sport.
DESIblitz speaks to Amna Akhtar about her experiences with sport, how they reflect other British Asian women's experiences and GirlDreamer's future with longboarding.
How did you Start Longboarding?
I've been involved with sports since the age of 8 when I began playing football in primary school. I was the only girl in my after-school club and it was both nerve-wracking and liberating being the only girl (and of colour).
Later I was involved in athletics in secondary school and ran the 100m sprint in an Olympic qualifying time.
My sports journey and interests came to an end when my culture started interfering with my choice to play sports. Everything from "you can't play with boys", "don't wear shorts", "you'll get too dark constantly playing outside", "it isn't very girly to be participating in sports".
This was all before the age of 14, so I definitely lost my interest in sports because of the constant backlash.
Fast forward many years, I was watching my favourite vloggers on YouTube and noticed them constantly longboarding around California and knew that this is something I want to do too!
Who is Longboarding for?
Longboarding is for everyone: young-old, brown-black, East-West! It offers so many different styles within it from carving, dancing, downhill, cruising and many more. However, the majority of the time you will see white guys at the forefront of the sport.
What's your Favourite Longboarding trick?
I love watching longboard dancing and the art and skill that goes into it, but the thing I enjoy doing most is 'carving'. It's the idea of swerving side to side as you go down a path (as though you're surfing).
What is 'Boarders Without Borders'?
Boarders Without Borders is an initiative I co-set up in 2017. It offers young women of colour aged 16-28 to join a 6-week summer longboarding course for free in Birmingham.
We set this up to use sport as a tool for social change amongst ethnic minority communities and to engage more women of colour into adventure sports.
How has Longboarding affected the Women in the Crew?
From all the feedback we've received across two different cohorts, everything has been positive!
The main things our boarders say is that it helps most with making new friends, improving their mental health and building their confidence.
We definitely see this as we go along, from week one to week six – the change in some boarders is just incredible!
What have been the Challenges of Boarders Without Borders?
The biggest challenges have come in the form of support from Birmingham.
When we initially started, we couldn't wait to share with the city something so unique and cool that has been started right here in the city but represents the UK as a whole. That doesn't tend to happen a lot in Brum, so we thought the support from people, communities, companies and the media would be high.
However, it was barely existent until London started taking an interest in us; sending journalists from ITV and Channel 4, offering us spaces with international organisations to screen our film and wanting to grow the movement.
That's when Birmingham became interested too but it's a shame because we're trying to do this to improve the lives of those within this city.
Another big challenge is the paths and roads in the city, longboarders don't benefit greatly from skateparks and so we usually use the public parks and pavements but Birmingham is full of rough ground and pot-holes.
Oh and the weather has definitely been a challenge! We only get the summer holidays to run the course because the weather is usually half-decent (and even then, it rains).
How does it Feel to Win Three Awards?
I honestly don't know how to sum up how it feels to receive 'award-winning' accolades to our name.
I was sitting in the audience for the film festival where our documentary was nominated with tears in my eyes thinking about how this had all started in my mind as an idea and unbeknown to me, we were about to win not one but two awards! It's such a liberating feeling!
What are the Barriers to Physical Activity for British Asian women?
A great question! Sport is not something we tend to celebrate in South Asian culture, especially for women.
Even for guys where it is slightly more accepted to be playing football every weekend, they get cut off and pushed into a "proper career" by a certain age.
For women, it's an even bigger stigma as perfectly summed up in 'Bend It Like Beckham'. We're not pushed and encouraged to pursue sports, be super fit and climb mountains because our families won't know how to explain this behaviour to the wider community if people ask.
A lot of "what will people think?" becomes a huge barrier for our girls to pursue sport, as well as it not being a very 'feminine' thing to do.
But as far as society goes, there are barriers that exist there too. Sport can be an expensive thing to uphold, the uniforms in many sports might not coincide with one's religious beliefs/dress code, discrimination is prevalent and there's a lack of representation.
If you don't see people like you doing something that you already don't think is for you, there's not much motivation to be a part of that.
Why are Alternative Forms of Sport important for British Asian women?
Definitely to build representation in niche sports such as longboarding and show that we can literally be in ANY spaces.
Longboarding is not something you associate with British Asian women, but why can't it be?
It's important for British Asian women to believe anything is for them and then give it a go.
Why should others try Longboarding?
Longboarding is so inclusive! It really doesn't matter what you look like, how you dress, where you come from, your physical size or your mental state – longboarding does not discriminate in that way.
You can choose to longboard for social reasons, practical reasons such as commuting or get into it competitively and become a world-class champ.
It's really up to you but we see it as a great way to celebrate individuality, challenge yourself and learn something all whilst utilising the many transferable life skills/lesson it has such as mindfulness, breaking fear, building confidence and not taking things too seriously.
Any Beginner's advice?
Keep your knees loose, look ahead and breathe. Don't be afraid of the board, you're in control of it, it's not in control of you. Oh and always wear your safety gear!
What's the Future for GirlDreamer and Boarders Without Borders?
The future is filled with possibility! We have been working on a 3-year plan on how we wish to see BWB scale and really make a qualitative impact amongst women of colour not just in Birmingham but all over the world.
We'll see hundreds of young women of colour take part in adventure sport, thousands of young women of colour receive support and opportunities from our wider work and millions of young women of colour to feel empowered globally.
I can't give too much away, but mark my words, GirlDreamer will become a household name soon.
Watch GirlDreamer's Full Documentary about Boarders Without Borders below: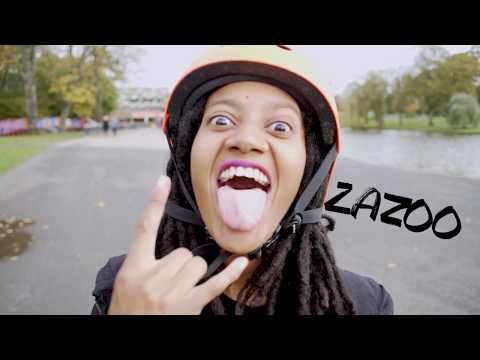 We look forward to GirlDreamer achieving this status.
Like Amna Akhtar, many young British girls encounter obstacles to participating in sports – never mind British Asian girls.
Therefore longboarding appears to be a brilliant option. In the face of so much discouragement, the community it creates can really empower young British Asian women.
The initiative to bring together young women from ethnic minority backgrounds with physical activity is truly worthy of awards and recognition. However, we're most excited to see Boarders Without Borders grow bigger and better.