"Lines is different. It is true to the heart."
Helmed by Hussein Khan, Lines is an emotional heart touching drama film, which releases in 2020.
Khan returns behind the camera for the second time as a director with this intense international feature, with a female-centric focus.
Khan made his successful directorial debut with the critically acclaimed movie Kashmir Daily in 2017.
The film Lines is a story about two sisters who live on either side of the Kashmir border.
When the two sisters meet in Indian-administered Kashmir, the siblings agree upon the marriage of their respective grandchildren.
Following the marriage, the groom and his grandmother return back to Pakistan-administered Kashmir, hoping to arrange the necessary documentation for the bride.
However, as complications emerge in Kashmir, the bride fights to reunite with her husband.
The cast is a big asset to the film Lines and its market value. The movie marks the film debut of main lead Hina Khan (Nazia) – the superstar of Indian Television.
Rishi Bhutani (Nabeel) is the male lead who marries Nazia in the film. Rishi has a couple of films to his name already.
Veteran actress Farida Jalal (Fatima Bibi) portrays Nazia's daadi. She is a very fun-loving old lady who always jokes. She always ends up discussing her sister from Mirpur.
Rani Bhan takes on the role of Nazia's mother. She is a soft-spoken lady who is silent at times. Her husband is killed in cross border firing.
Zahid Qureshi playing Bilal is a mentally unstable person who lives in Nazia's house. All his family members are killed after having suspected links with militancy.
Ahmer Haider (Sujaan Singh) is a rebel poet. He treats Fatima Bibi like his own mother. He is a well-wisher of the family as he often helps them. Additionally, Jammu based artist Lalita Tapasvi plays Noora, Nabeel's daadi.
Director's Take and Truth
Hussein Khan reveals exclusively to DESIblitz that Lines touches upon the struggles of an independent village girl who wants to meet her family on the other side of the border.
Khan explains that there is a human aspect to the story as he says:
"The film Lines is based on the Line of Control (LoC) between India and Pakistan in Kashmir. It's a story from there. It's about a young woman [Nazia] who is educated…who is very bold.
"Her wedding happens [with Nabeel] from the other side of Kashmir, which is under Pakistan control. This wedding takes place in the 90s when there was some leniency between both nations.
"During that time, they come to the other side of the border to meet their family. At the time, a decision is made that since the situation is good they can both get married.
"But during this period when they [groom side] go back, the Kargil War begins in 1999.
According to Khan, Nazia does attempt to meet her family through proper legal channels. But it remains to be seen if she succeeds.
In response to a question on how he manages to keep a balance when directing a Kashmir sensitive film, Khan expresses:
"As our tag line suggests, 'Let's tell our local stories to the world.'"
"Hence, there is no real need to have a balance, because we try to tell the truth.
"[However] as a filmmaker you have to balance things, that is very important. Otherwise, it will be like one line.
"So in terms of balance, it is important that we do not present something which is not a fact. We don't show the end, we show the beginning. That is what we always try."
Hussain feels Lines is different from other cross border films as it will touch the hearts of many people.
"Lines is different. It is true to the heart. And most importantly we are showing one part of the border. We are not going to the other side.
"This story is about one girl, one family who live in one house near the border. And how they live their lives. We have focused on that.
"It is not just a love story. It's a film of emotions. And we have tried to show those feelings in the film."
"Hopefully, I think we have been successful. That is my opinion."
Creativity and Shoot
Hussein Khan is certainly the creative visionary behind the film Lines. Thus, Khan had creative freedom, with support from his amazing team.
Khan discloses that the talented writer Kunwar Shakti Singh wrote the initial script of the film, including the dialogues. Whereas the acclaimed producer and director Rahat Kazmi worked closely with Singh to give the script its final shape.
Furthermore, Khan credits Rahat as the associate director of the film as he hugely assisted him on set with his expertise. Lines is a production of Rahat Kazmi Films, Tariq Khan Productions and Zeba Sajid Films.
The film is a co-production of Alphaa Productions and Hiro's Far Better Films in association with Seven 2 Creations and Assad Motion Pictures.
The experienced Pinku Chauhan was on duty as Director of Photography (DoP) for the film.
Khan states that the shooting of the film took place in areas near the border, including Poonch and Rajouri. Khan also told that whilst most of the film has been shot close to the border, there are some scenes in Jammu as well.
Similar to other films made in Kashmir, Khan said the local administration and politicians had been very supportive with Lines.
The producers will be taking Lines to international film festivals and will release worldwide in 2020.
Despite there being no real cinema halls in Kashmir, the filmmakers will definitely facilitate screenings of the film in the region.
Watch an exclusive interview with Hussein Khan about Lines here: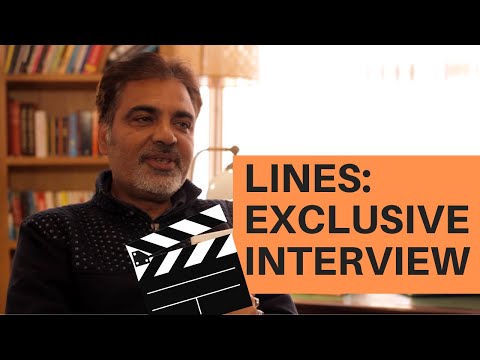 There has been a lot of buzz around Lines since Hina Khan unveiled the first look at the 2019 Cannes Film Festival.
All eyes will be on Hina's character Nazia. Above all, audiences will have to wait and see on the final fate of Nazia and Nabeel.  So, be ready for a film, which will hit all the right buttons, particularly emotional.
Where will the Lines be drawn? The film will surely highlight the plight of people living near the Line of Control (LoC).