"This night can be filed under 'holy s**t that just happened'."
Coldplay's frontman, Chris Martin, gave a spontaneous performance at New Delhi's Summer House Café on July 1, 2015.
Together with Indian music director Vishal Dadlani, Chris surprised his audience with an upclose and personal acoustic version of Coldplay hits 'Viva La Vida', 'Paradise' and 'Fix You'.
Adding to the excitement was the presence of Trishna actress, Freida Pinto, and musician, Raghu Dixit.
Fans just could not get enough of the impromptu gig, and even got 'Chris Martin' trending on Twitter in India.
@vijay_nair couldn't believe his luck as he had the chance to witness the once-in-a-lifetime performance, tweeting: "Yup. This night can be filed under 'holy s**t that just happened'."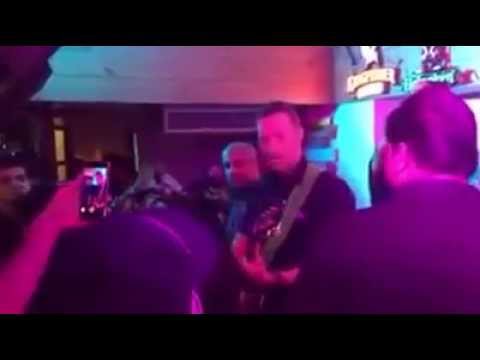 Whilst fans at the event were pinching themselves, those who missed out could only tweet their frustration.
@LostInColdplay said: "Why can't I be this lucky? Chris Martin was in Delhi and I am here in my bed crying about it."
It seems Vishal also became an ecstatic fan, but invited jealousy from Mika Singh who 'refused' to acknowledge Chris' star power:
@VishalDadlani bhai who is he??? Is he bigger then me pls let me kno I'm in tension ????????????????????

— King Mika Singh (@MikaSingh) July 1, 2015
Chris has been in India to support the Global Poverty Project, a nonprofit organisation that works towards ending extreme poverty by 2030.
Accompanied by Freida, he visited various slums in Delhi and met key government leaders to discuss sanitation projects in India.
His love life is also in the spotlight, after ending his on-off whirlwind romance with American sweetheart, Jennifer Lawrence.
After splitting from Chris for a second time, the Hunger Games star is rumoured to be dating her ex-beau, also a Brit – Nicholas Hoult.
But the father of two doesn't seem too saddened, as he has been spotted cosying up to none other than the sexy Aussie, Kylie Minogue!
After his recent gig in Delhi, Chris can expect even more ladies swooning over him!