"World championship wins certainly have to be a highlight"
Martial arts expert, teacher and choreographer Chirag Lukha has accomplished many feats in the sport.
In 2019 itself he won a staggering fifty-four titles, including 38 gold, 9 silver and 7 bronze in the UK.
More importantly, he had clinched 5 European and 8 World gold medals in 2019.
Chirag Lukha first claimed 3 gold medals at the WMO European Championships that took place in Nuneaton on May 12, 2019.
He bagged another 2 gold medals during the WKC European Championships held in Manchester on July 14, 2019.
For Chirag Lukha, his gold world titles came across 3 championships (WMF: Birmingham, WKC: Manchester, WMO: Blackpool) between October 20 to November 7, 2019.
He has many other achievements to his name, that includes being inducted into the Hall of Fame in 2019.
Chirag Lukha who was born in Leicester England, on August 9, 1990, is the founder of LIONS martial arts school.
He teaches martial arts and self-defence, empowering young people.
Chirag Lukha is also a fight choreographer, with many films and theatre work to his credit. In an exclusive Q&A with DESIblitz, Chirag Lukha revealed about his martial arts journey, titles, achievements, teaching films and theatre.
Why did you stop taking part in martial arts competitions for 11 years?
From 2004 until the end of 2008 I competed across many different martial arts competition circuits. This saw me win huge titles and have the opportunity to represent England around the world.
The goal of the competition, at this time, under the guidance of my teacher, was to explore the vast world of martial arts, meet talented individuals and expand my knowledge.
By 2008 my martial arts journey had spanned some 13 years, since the age of 5.
The martial arts have transformed all areas of my life in a very powerful way. My ultimate goal was, always, to share that with others.
So the next phase of my journey began wherein I went to university to study psychology. I  began to learn how to use martial arts as a vehicle to empower the next generation through life-saving skills.
I had always left the door open saying that I would re-enter the world of competition. In 2019 when I found out that the world championships would be hosted in England it seemed like a great time to make a comeback.
Tell us about the 2019 categories you competed in and how they differ?
The term 'Martial Arts' is an umbrella under which all systems from all lineages are covered. In 2019 I entered categories from a mix of traditional and modern martial arts.
I have been fortunate to train with masters in both Japanese Martial Arts and Chinese Martial Arts.
Japanese fighting forms are very much like you would see in the Karate Kid or the new Cobra Kai series on YouTube.
They include very strong strikes, snappy punches and mid-level kicks. My particular style is called Shotokan Karate, which was founded by Gichin Funakoshi Sensei.
Chinese fighting forms, on the other hand, are what you would expect to see executed by movie stars like Jet Li and Jackie Chan.
They are renowned for high flying kicks, lightning-fast strikes and large circular motions. These styles are derived from Shaolin Kung Fu.
I was fortunate to live with and study kung fu from Liang Yang. He is most notably known for 'the bathroom fight scene' with Tom Cruise in Mission Impossible – Fall Out.
As well as this I entered Weapons Categories using single and double Nunchaku. This is a weapon made famous by the martial arts legend Bruce Lee.
What has been your proudest achievement of 2019 and why?
Over the year there have been so many proud moments. But the absolute highlight for me has to be from the Chinese Kung Fu category at the 2019 WMO World Games hosted in Blackpool England.
At this point, Team England had not won any gold medals. Though I had taken a bronze in the Japanese section earlier in the day.
I was in a tie for gold with Canada's defending world champion. This was a crucial moment because one slip or wrong move from either of us was make or break.
We had both given 100% and were about to do it again in a tie break knowing that only one of us could raise our countries flag on the number 1 spot. To say it meant a lot to both of us would be an understatement.
At this point, Team Canada began a chant and team England seemed to surround the ring with chants of 'Come on England' in support of me.
At the end when the scores were revealed and I was announced as the new world champion, the crowd erupted with applause.
After I bowed out, kids from team England came through the barriers and hugged me. They were so excited about England's first gold of the tournament.
For me, this win was the absolute pinnacle of 2019. I will never forget that overwhelming support.
What were the most enjoyable and challenging aspects of becoming a champion?
With competition, there are so many highs and lows, often from moment to moment. That's what makes the competition exciting.
When I direct theatre and teach martial arts I have a rule – we never use the word 'problem.' Instead, we replace it with the word 'challenge.'
A problem is something that blocks us from achievement whereas a challenge is an opportunity to overcome and grow. So, in the end, you cherish the peaks and learn from the troughs.
In 2019 I burst my eardrum 3 times. Also competing while being off balance and unable to hear has defiantly been a challenge. Thankfully this has been resolved.
It has also been a challenge to train without a coach or mentor. Fortunately, the words of my Sensei's, Sifu's and Masters still resonate in my mind and continue to guide me.
Also, many colleagues have been generous enough to share tips. This is always great because you can't see yourself from the outside. It's the reason even Olympic athletes have coaches.
"The real enjoyment, for me, is in overcoming these challenges and growing as a martial artist and a person."
How did you feel like when training for so many competitions in 2019?
I have trained every single day for many years. I strongly believe that we must never ask anyone to do something that we couldn't or wouldn't do.
My students train as often as possible at home. Thus, I feel it is important to lead by example. Furthermore, training keeps me able to serve my community and students at the highest level.
It's funny because I didn't enjoy training when I was younger. However, as the years have gone on the motivation has become intrinsic.
It's this intrinsic motivation, which you get from martial arts, that carries over into so many areas of life. This becomes a small change that makes the biggest difference.
When I speak to martial artists who have dedicated their life to the study and teaching of the art they have one thing in common – they all love the process, they love the training and they all love the journey.
It is one of the main benefits that parents say they notice in their kids after a few weeks of training with me at LIONS. They no longer need to be asked to tidy or do homework. They have internal motivation.
So for me, doing the training and putting in the hard work was easy because of that motivation. There were many setbacks such as injuries. Although this is all a part of that process, which I have come to love.
What and who inspired you to enter the martial arts world?
When I was a child I suffered with severe asthma and spent weeks, and sometimes, months at a time in hospital.
This, inevitably impacted my health physically and socially. My parents decided that martial arts may be able to help me overcome these difficulties.
My dad, who loves action movies, began to show me films, which would inspire me. Dad and my mum found a suitable martial arts school locally.
They were my inspiration to start and were also my motivation to continue my journey.
I wanted to quit so many times for so many reasons. For example, I wanted to quit when the training got difficult or school-work piled up. I just wanted to play out with friends during the summer.
My parents knew the benefit of martial arts and had seen it work in me and so kept me in class.
I am so grateful for that because without that motivation I would not have had the opportunities that I have had.
At the end of all of my classes at LIONS, I tell the kids to thank their parents.
I feel the parent's job is the hardest. This is because kids don't necessarily always know that what their parents are doing for them is, in fact, to give them a better tomorrow.
For this, I will never be able to give enough thanks to my parents.
Growing up what was the first martial arts move you had learnt?
Prior to my first lesson, I had been watching martial arts movies. I had this long list of moves I wanted to learn in my first lesson.
At the top of that list was Bruce Lee's nunchaku moves and his 1-inch punch as well as the famous crane kick from 'The Karate Kid.' I knew they would be the first things I would ask to learn.
When I got to my first class I was so nervous and excited that I forgot all about those moves.
The first concept I learned was of the mind-set 'sho-shin.'
Sho-shin means beginners mind. It is the idea that when you start something new you must free yourself from the ego and from what you want. Rather one has to be willing and ready to accept what the teacher is teaching.
This is a powerful idea that has spilled over into all areas of my life. This is to approach each new endeavour as a beginner and become teachable.
The first physical move I learned was a downward block. My teacher explained that 'there is no first attack in karate.'
It would be 5 years before I was ready to pick up a pair of nunchaku and some 7 years before I broke a board with a 1-inch punch.
What martial arts styles do you know and where does your strength lie?
My martial arts journey began with studying Shotokan Karate where I hold a 4th-degree black belt. I am in the final stages in preparation to earn my 5th-degree black belt.
I also hold a black belt in Kempo freestyle and Shaolin WuShu (kung fu). This includes the northern fist, southern fist, Buddha fist, whipping arm, drunken, Eagle and Tiger.
Once proficient in my study my teacher sent me to study, albeit sometimes in brevity, with masters in various systems who have all imparted knowledge. This has assimilated its self into my unique system.
"My strength, therefore, is in the diversity of arts, which I have been able to study."
In my opinion, they are all different ways to express the striving to achieve the same goal – self-mastery.
What have been the highlights of your martial arts career?
Since I have been in the martial arts for nearly 25 years there have been so many highlights. I count the small wins.
It's a highlight for me every time a parent of one of my students tells me that they have noticed their child has become more confident or have more focus or are better behaved at home and school.
My focus is to empower the next generation to become champions of life. So these stories are my biggest wins.
Other notable highlights have been, being hand-selected to perform for the King of Dubai. This was in 2008 as part of the Gitex event as I was to perform a fusion sword routine in the presence of the King.
I thoroughly enjoy going to press nights and premiers of movies and theatre shows, which I choreograph or direct. There's just something magical about sharing and watching something that was once an idea in your mind being enjoyed by an audience.
"World championship wins certainly have to be a highlight. When you stand at the top of that podium, wave your flag, receive the medal and hear the national anthem its like time stops."
During that time you realise that all of your hard work has led to this moment.
In 2019, I have won more than 50 titles including English, British, Grand National, European and World gold medals.
I competed at 3 world championships back to back winning 15 medals, 8 of which were gold and have had a podium finish in every category entered in 2019.
To top it all off I was inducted into the Hall of Fame for my competition efforts. It is an honour to be in the same Hall of Fame as those legends, stars and grandmasters who have inspired my journey.
You choreograph fight scenes for films and theatre – tell us more?
I began choreographing film fights and theatre right around 2010. Prior to that, I had spent a while performing and this was a natural progression.
I didn't really fancy being a stunt double or an on-screen performer but always wanted to explore my own creativity and create interesting fights inspired by those which I watched growing up.
I have worked on a film called 'Don't look at the Finger', directed by Hetain Patel and produced by Film and Video Umbrella.
'Don't Look at the Finger' explores stereotypes and misconceptions about gender and race. This film touring around the globe has been enjoyed by audiences far and wide.
From a theatre perspective, I choreographed a fight for the musical 'Stardust', produced by Phizzical productions and presented at Belgrade Theatre, Coventry.
I am working on a new digital adaptation of 'Fangs of fortune' which is a fusion dance, martial arts and circus narrative based on the ancient Chinese legend of 'Madame White Snake.'
I premiered this production in 2015 as a theatre show and will be aiming to revive it as a digital exhibition in 2021.
Teaching classes, how effective is martial arts or self-defence?
Martial arts is incredibly effective for self-defence. However, martial arts and self-defence are not always the same thing. Learning a martial art from beginner to mastery is like training to become a doctor.
It is a calling for some but not for all. However, in my opinion, everyone should learn some aspect of self-defence. Self-defence can be taught in a relatively short period of time. As opposed to training to become a doctor it is like training to deliver first aid.
I always tell my students that it is better to have the knowledge and not the need rather than to have the need and not the knowledge.
I teach kids, so our main focus is on bully defence and abduction or kidnapping prevention. In some speciality classes, I teach defence against weapons and family terrorism response plans.
Self-defence, to be effective, must be age adaptive and reality-based. Meaning it must offer a solution to reality-based attacks and not staged artificial attacks.
It must also be science and psychology-based taking the height, weight and strength of a person into account as well as physiological and psychological responses to danger.
I teach both right alongside each other to create a holistic approach to martial arts. The main goal of my school LIONS is to empower kids and teens with life skills through life-saving skills.
What advice can you give to those looking to compete in martial arts?
The biggest piece of advice I can give is – Enjoy it! Enjoy the trials, enjoy the triumphs and enjoy the process.
After I left the competition scene in 2008 I often said that when I come back, I will just enjoy it. I feel that in, 2019, I truly have enjoyed every moment. It's a privilege and a victory to just being there.
It is often said that the most important thing is to keep the most important thing as the most important thing. So above all, keep the true spirit of martial arts ethics at the forefront of everything.
With the rise of 'trash talking' in televised MMA press conferences it seems that 'trash talking', disrespect and pure intimidation has become cool.
But I think kindness is cooler. It is why I have always thanked my opponents, bowed, consoled them when needed and thanked their teachers before celebrating my own wins.
"Martial arts begins and ends with courtesy."
Before I step into a competition arena I always remind myself that I represent my country, my family, my teachers and the friends who support me. I must never act in a way that would let them down.
So my advice would be to conduct yourself in a way that is appropriate to represent those that came before you…and have fun!
Despite shying away from awards, Chirag Lukha has several accolades to his name. He received the 2007 'All Round Best' award at the KFA World Games in Egypt.
A year later he picked up the 2008 'Champion of Champions award at the  KFA European games in Spain.
Watch video of Chirag Lukha being inducted into Hall of Fame here: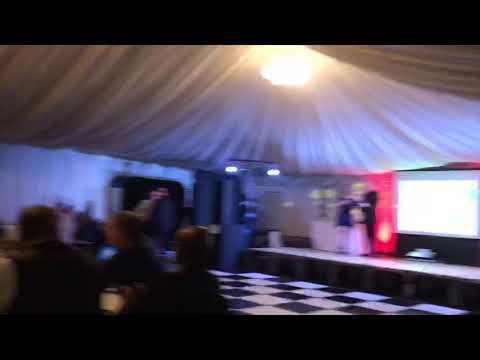 Overall winning 15 world titles in a calendar year (2019) is a testament to his successful career. Flying the flag of England, this desi sportsperson has made the nation proud and is a true champion.
The humble Chirag Lukha appreciates everyone who has supported him, firmly having his feet on the ground.
Chirag Lukha always aims high, as there are many more big achievements to come from him. After all Chirag Lukha is a glowing symbol of hope.