Music has no color, just culture.
Punjabi rapper, GOP Virk, is from Queens in New York, USA.
This guy is living proof that Rap and Bhangra music can be intertwined, to create a sound that is both original and inspiring.
Whilst on his UK tour, GOP Virk met up for an exclusive DESIblitz interview and openly talked to us about his life, music and personal tastes in many things, including women.
Stereotypes and rappers go hand in hand like bread and butter. The guns, the drugs, the women, the flashy cars and so on.
You may even be thinking it's all hype, but in reality, this guy has been through struggles and tribulations that most people can only imagine. No one denies that GOP raps about real life issues and therefore, is not everyone's cup of tea but he is also undeniably inspirational and enormously successful in his own right.
GOP Virk was born in the UK. He was then literally shipped at an early age to New York with his two older brothers. His massi (mother's sister) from the USA, assessed the situation and assisted his mother who was a single parent.
They knew that if such a move did not place, GOP would follow the footsteps of his brothers and get involved with the local gangs and crime. His mother wanted a better life for her sons than what was possible in the UK, so they moved with little or no choice.
After an unsettling period in New York, GOP decided to move into his own apartment in Queens.
He hustled on the streets to feed himself and was still trying hard to keep his studies going.
While on the streets, GOP began to rhyme about his struggles and everyday life, he combined his street knowledge and swagger with his Punjabi pride and culture to form a unique style of rapping.
He says this is the way Hip Hop found him and how his real musical journey began.
GOP has appeared on many Bhangra tracks with producers such as Aman Hayre and been involved in producing hit remixes such as 'One Peg More' with Laddi Bath.
Whilst at the same time, creating his own diverse and cultured style of Hip Hop mixed with his unique rap style that boasts his slogan, 'Music has no color, just culture.'
Musically, GOP is ambitious to venture into making his music sound universally appealing to the masses and not just limited to any one genre.
His aim is to mix the best of both the Hip Hop and Bhangra genres in his music and feels it is important to include the Eastern sounds such as percussion and vocal snippets into the Hip Hop arena in a much more mainstream favourable way and conversely, do justice to Hip Hop in Bhangra tunes.
Meeting GOP Virk on the day of the interview made us realise that he possesses a life experienced approach to whatever challenges come his way. GOP follows a fitness regime that ensures his physical look is an important attribute of his persona. From his firm handshake at the start to answering any questions that we threw at him, he certainly gave us some impressionable and thought provoking answers.
Watch the two-part exclusive video interview to hear and see GOP Virk talk about subjects and experiences he has rarely spoken about before.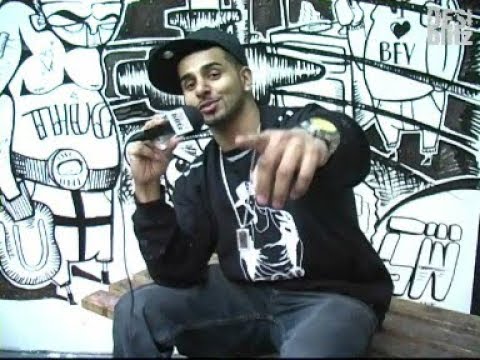 GOP Virk delivered DESIblitz an exclusive rap performance which you can watch in the third video. Please note, this video contains verbal content of an explicit nature which is not suitable for children or those who find such lyrics offensive.
Possessing a super rapping ability and a being naturally musically gifted are not the only things that GOP Virk has to offer, he was once a member of a dance group in the UK and Cleveland, and won the Mr. India New York competition in Queens. He also featured in the Bollywood hit film "Kal Ho Na Ho."
So, what is next for this up and coming distinct star? Only time will tell.
Checkout some great photos of GOP Virk in our special gallery below.