"My music is a fusion of all of the influences I had growing up."
Raja Kumari is a name which is as strong as the artist herself. Meaning 'Daughter of the King', Svetha Rao aka Raja Kumari is a US born Indian Hip Hop artist, rapper and notable songwriter.
DESiblitz took the opportunity to find out more about this intriguing and bold artist from Claremont, California, who we know is destined to make a mark with her incredible fusion of Indian classical music and US Hip Hop music forms, in an exclusive interview.
Svetha Rao, born in 1986, is of Tamil descent and comes from a musical and classical Indian dance loving family. She educated to Bachelor of Arts level with a degree in religious studies, specialising in South Asian religions.
At the young age of seven, Svetha started to dance as an Indian classical dancer. Specialising in dance forms such as Kuchipudi and Bharatnatyam, she toured India as a child dancer.
Getting into music wasn't difficult for her being an artist in dance:
"Music was really like a natural extension of my classical dance. In my home, we've always been supportive of arts. My parents are always listening to Karnatak classical and my mom always wanted to be a classical dancer."
The transition for her moving into music from dance was triggered when she came across The Score, the Fugees album. This led to her pursuing music and by 14, when she was at high school, she got the nickname 'Indian Princess' aka 'IP' as she became a freestyle MC.
Not being so fond of the 'IP' name Svetha wanted a stronger identity for herself and wanted an ancient mythological feel to it. This led to the name, Raja Kumari, a persona and character that represents the unique face of her music. What she calls the 'highest version of herself'.
Kumari is a sibling of two older brothers who followed 'traditionally expected' career paths of safe and secure jobs. Her older brother is a neurosurgeon and her middle brother is a lawyer. So, how easy was it for her parents to accept her chosen path of music? She says:
"I told my parents they got kind of one of each, so they should be satisfied with me doing music! Out of all my cousins born in America, I am the only one that does music!"
Kumari's culture plays a great role:
"My culture definitely influences everything that I do."
By 15, Raja Kumari began to make her own music. But music was not just about herself, she wanted to work with other artists and this was a key aspiration for her.
When her wishlist of artists like Gwen Stefani and Fall Out Boy became a reality, she definitely knew that music was her chosen path.
Raja Kumari has collaborated on and co-written many songs such as Iggy Azalea's single 'Change Your Life' for his Grammy-nominated album The New Classic, Fall Out Boy's double-platinum single 'Centuries', 'Boss Mode' by Knife Party, Fifth Harmony's 'Like Mariah' ft. Tyga, Twin Shadow's Eclipse, 'Broken Hearted' by Kalin and Myles and 'Mirage' by Lindsey Sterling.
In 2015, Raja Kumari featured on 'Runnin' which was a song on the original soundtrack of the hit television series, Empire. She has also worked on 'Set Me Free' for Baz Luhrmann's original Netflix series The Get Down about the birth of Hip Hop.
Raja Kumari has collaborated with Gwen Stefani for her album 'This Is What the Truth Feels' Like and features on the songs Naughty, Red Flag, Loveable, Splash, War Paint and Obsessed.
May 2016 spotlighted Kumari at the 2016 BMI Pop Awards for co-writing 'Centuries' with Fall Out Boy.
July 2016 marked the release of Raja Kumari's debut single 'Mute' featuring Elvis Brown and produced by Jules Wolfson released on Epic Records. The 'unapologetic' single portrays the fusion of an Indian American woman who was raised on classical Indian music and Hip Hop and is a free expression of what Raja Kumari feels is representative of the diaspora.
So, where did her flavour of music come from and what are her influences? Raja Kumari says:
"My music is a fusion of all of the influences I had growing up. I've been inspired by great music. Whether it comes from AR Rahman or Lauren Hill or Steven Marley and Bob Marley or Sizzla. All these different types of sounds have really played a role in who I am and the kind of music that I make."
Working towards her EP, The Come Up, Raja Kumari released 'Believe in You', an ethnic flavoured track produced by Jules Wolfsen, features clips of Kumari dancing in competitions when she was young and getting awarded a prize from sitar maestro the late Pandit Ravi Shankar.
Watch the full exclusive interview with Raja Kumari: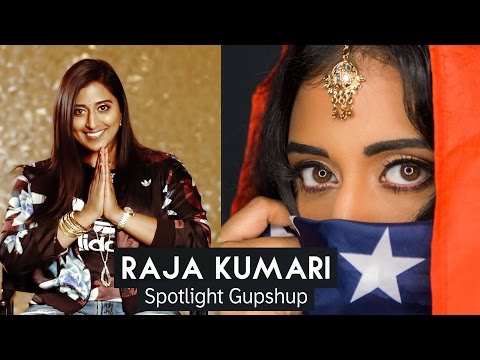 Her debut EP, The Come Up, released in November 2016, features the tracks The Come Up, Tribe, Meera, The City, Mute and Believe in You.
So what is 'The Come Up'? Kumari replies: "The Come Up is a collection of songs that I've been working 'on the come up' and it's really just a story of what it feels like to be on the presuppose of everything you desire and just manifesting ideas into reality. So, 'The Come Up' needs to be heard."
Talking about her ambitions with the album, she says:
"I decided that when I made this album I wanted it to means something and not just filler music."
So what are her goals when it came to making her music and tracks? Raja Kumari says:
"My goal for my music is to be the bridge between the east and the west. I'd like to bring eastern sounds into the western world and kind of expose people to new ideas, new energies and my music is targeted at everyone who loves great music!"
Kumari also partakes in philanthropic activities including helping to create a hospital in Bangalore, a mediation hall in South India and a school for disabled kids.
Recognition for her contribution to arts earned her the Kohinoor Award for excellence in the Classical Arts by the Governor of Tamil Nadu.
Describing herself in three words, Raja Kumari says:
"Persistent. Kind. I like to be kind to people – sometimes it's a downfall. And chocolate! I'm a chocolate addict!"
Favourite food wise, Raja Kumari has a love for one specific dish made by her mum. It's called Daddojanam which is a combination of yoghurt and rice, originating from South India.
Kumari continues to work with different artists such as Soulshock , J.R. Rotem, Rodney Jerkins, Polow Da Don, Karlin, Fernando Gariba, Tricky Stewart and The-Dream and Justin Tranter. One notable collaboration is with the renowned producer, Timbaland. Speaking of this team-up, she says:
"Working with Timbaland is the manifestation of the dream of my 13-year-old self! So, just being in a room with a genius like him, just being able to share musical experiences and learn from him is such a gift."
"Every time I get to work with him I'm learning something new and sharpening my skills as a songwriter. So, a lot of great music to come from Timbaland and I, in the future."
Raja Kumari is a prime example of a female ethnic artist brought up in the West and on a mission to promote culture through the fusion of sounds and lyrics at a level that cannot go unrecognised. She demonstrates that her determination to write and produce songs with a strong ambition will always show that she is a 'daughter of the king' and is here to ultimately reign.