"We tried to kill each other on the track"
Skilled poet and rapper, Lodhi, is emerging as one of the most promising South Asian artists within the UK.
Born as Faiq Lodhi in Pakistan, the musical MC relocated to England to pursue his higher education. However, his vast amount of knowledge mixed with a passion for music led him down a different career path.
Having been in the UK for over nine years, Lodhi has already embraced the unique elements of British music. which he aims to apply to his sound.
Raw delivery, hard-hitting lyrics, and crafty symbolism are elements within Lodhi's tracks, which he admits is influenced by legendary UK artists such as Wretch 32 and Skepta.
However, his enriching upbringing around Punjabi and Urdu music, along with poetry has also penetrated Lodhi's artform.
It gives his tracks a distinct rhythm and quality, which can only be achieved through Desi instrumentation.
The fusion of both cultures was honoured by the 2020 release of Lodhi's EP The Culture Shock. It showcases the artist's lyricism and Desi twangs with energetic songs like 'JUMMA' and 'HALCHAL'.
The three-track project also includes the popular 'DEWANA' which achieved a numbered spot on the BBC Asian Network's Pakistani Music charts.
Lodhi's multilingual and collaborative project, 'Khaar', was released in June 2021 and illustrates his unnatural dedication towards music.
The obsession Lodhi has with musical artistry is evident to see. With the integration of battle rap metaphors and presence, Lodhi has an abundance of characteristics that set him apart.
In an exclusive interview, DESIblitz spoke with Lodhi about his developing career, view of South Asian hip hop, and the heights he wishes to reach within music.
Humble Beginnings
Many budding musicians start their careers by tinkering in instruments, songwriting, and watching different artists.
However, Lodhi had a much more artistic introduction to music. His father and grandfather both wrote poetry, which allowed Lodhi to realise the power of words.
The skilled rapper picked up his elders' passion and it was there where he became captivated with expressing himself:
"I started writing Punjabi and Urdu poetry at 13 years of age. It was more of conventional Urdu, gazal, and nazams. That kind of poetry."
With the South Asian language and culture a massive component of Lodhi's poetry, it became difficult for those aspects to appeal to British fans:
"When I came to the UK…I really didn't know how to really put it out for people to actually listen to."
However, it was this poetic outlet that motivated Lodhi to figure out the most prolific way for audiences to hear him:
"People are not really buying books anymore, not really reading poems like that. You always have to make it exciting for them."
He continues to talk about how his rap adventure began:
"One of the reasons I started rapping is because I just wanted to make my poetry exciting for audiences."
The awareness to make his artform accessible and engaging is evident in Lodhi's humbleness and appreciation for music.
Although, the rapper's gratitude towards the poetic foundations laid out by his father and grandfather has not gone unnoticed. He recalls:
"Since a kid, I was reading a lot, I was practicing, my dad was correcting my stuff as well. He would tell me 'this is the right way to do it' or 'this is not balanced.'
"When I started rapping, I had those basics already."
Having been taught the fundamentals of honest expression allowed the Pakistani artist to develop a unique storytelling presence within his raps.
Once motivated by the ambience of South Asia, Lodhi inherited the artistry needed to mature into a prolific MC and songwriter within the UK.
The Switch
After making the substantial shift from Pakistan to the UK, Lodhi admits that his education came first before pursuing music.
In 2015, he started to write Punjabi and Urdu hip hop music, a great accomplishment within itself, but did it sound good?
Lodhi remembers the first time going into the studio, which was materialised through a friend:
"One day, one of my friends put me in the studio. We recorded some stuff, just rough stuff and it sounded really good. That's where it started."
Having got a taste of the quality that he is able to produce, Lodhi quickly amplified himself amongst the competition.
Although he reveals with the great amount of inspiration around him, there is no definition of his sound:
"I would say I'm still working on a sound. I really want it to be my sound, like my unique sound which is a bit of old school, boom bap, with some Desi Punjabi."
However, he further adds:
"I still want to keep it hip hop."
This fusion of musicality gives the audience an insight into Lodhi's multilingual creativity. It also displays his admiration for different genres of music, which he hopes will transcend to his fans.
Welcoming the catchy flow and hard-hitting lyricism of grime and drill music, with undertones of classic folk and Sufi sounds means Lodhi's catalogue is layered and gripping.
'The Culture Shock'
Lodhi's undeniable artistry culminated in his 2020 EP The Culture Shock. A project dedicated to unravelling particular aspects of Lodhi's expertise.
As an independent artist, the focus of his music is to showcase how South Asia, grime, and hip hop can intertwine.
Not only that, but blend in a way that highlights the very features that make these cultures so poignant. Expressing what the EP means to him, Lodhi states:
"The Culture Shock was all about different influences and I wanted to bring them into one project."
He then reveals:
"Each and every track sounded different. 'DEWANA' was folk Punjabi with some hip hop in it, then 'HALCHAL' was a very old school hip hop kind of track with some boom bap elements."
The intriguing construction of each track is awe-inspiring as Lodhi dives into numerous components, which make a song successful.
Maintaining a hypnotic tone, Lodhi raps about his relentlessness, riveting career, and unquestionable talent.
As important as the Desi sounds are in The Culture Shock, Lodhi admits that UK hip hop motivated its release:
"I heard UK hip hop, like Snap Capone and C Biz…it was literally a culture shock because it was completely different than what they do in America.
"If you listen to the EP you would hear UK hip hop reflecting."
It's this formation that highlights Lodhi's compelling pronunciation, addictive flow, and energetic beats.
One could argue the Desi musician is still a novice within the industry. However, his experience and work ethic is that of an established expert.
Building for the Future
One of the main goals for Lodhi and his music is to collaborate and provide a platform for other Desi music artists to thrive.
His recognition of other South Asian artists is proven through joint projects such as 'Khaar' which features Karachi-based MC Hashim Ishaq and Chicago rapper, Daku.
The incredible multilingual track is accompanied by a music video that has left fans in awe. Capturing British, South Asian and American influences, the video is dynamic, lively, and cultured.
Lodhi's appreciation of these artists is evident and he feeds off of the cutthroat energy they bring:
"Hashim Ishaq has been a friend for a long time, he's one of the best MCs. When it comes to Urdu punchlines, he's up there with some of the best in the game and Daku has a very trappy flow.
"It's hip hop. It's a competitive sport. We tried to kill each other on the track…but I will let the audience decide."
This friendly aggression between musicians is where Lodhi flourishes.
His vying nature comes from the impact of battle rap. An artform where rappers battle each other to see who is the champion of immeasurable metaphors, vivid imagery, and energetic delivery.
UK battle rap leagues like Don't Flop, Premier Battles, and Code Red Culture showcase this artform, which is a derivative of hip hop.
Icons like Notorious BIG, Eminem, and Jadakiss all come from a battle rap background, which is an extremely tough arena to succeed from.
Although, it is this gritty, honest, and tenacious craft that has given Lodhi a ruthlessness in his music as he says:
"It gave me more depth to my writing. If you watch battle rap, it's not just the energy, they come with metaphors, come with some language techniques.
"I think I've learnt a lot from just watching battle rap."
Interestingly, even though the star's musicality has progressed due to these influences, he told DESIblitz not to forget the power of presence.
Power of Cadence
Lyrics, flow and performance are aspects that Lodhi has easily mastered. Interestingly, it is his cadence where he thinks true triumph lies:
"I think rappers are missing out on cadence. It's not just about bars, it's the cadence of the guy, how he's presenting his bars."
This explains the power in Lodhi's voice whenever he graces a song. The vocal emphasis on Desi words, vibrant adlibs, and rhyme schemes engage every listener and musician alike.
It is this confidence the rapper exudes, which he believes distinguishes him from other artists, but also indicates his versatility.
When asked about his cadence, Lodhi cleverly asserts:
"It depends on the track. If you hear 'DEWANA', it's a bit laid back but when you listen to 'Khaar', it's more of high energy."
Lodhi then divulges:
"So I try to deliver what the song requires. It's not my cadence, it's my cadence for the track."
This adaptability secures Lodhi's place as one of the most promising South Asian musicians. The belief within his skills is truly motivational and is embodied in his 2021 release, 'The Relic Freestyle'.
Rapping in complete Urdu with a few English lyrics thrown in, Lodhi describes the track as an "Urdu rap clinic".
The tenacious freestyle is a reminder of what the rapper is capable of. With over 1800 views on YouTube, Lodhi jumps back and forth between trappy tempos and melodic rap.
Moreover, if any of Lodhi's future projects follow the same blueprint then the superstar will have more reason to celebrate.
Recognition
Starting to gain prominent traction within the music scene, Lodhi is undoubtedly becoming a solidified artist.
With immense praise from DJ Bobby Friction, the rapper's talents have catapulted him into stardom.
However, he remains appreciative of his position and hopes he can share the same opportunities with future musicians:
"At this point, for the next couple of years, that's the whole ambition, just to grow the whole scene.
"Collab with people, get them familiarised with the way we rap or our approach towards hip hop."
This humble nature showcases Lodhi's unmatched aspirations for the Desi hip hop scene. If he grows then he believes those around him deserve to as well.
Watch an Exclusive Video Interview with Lodhi here: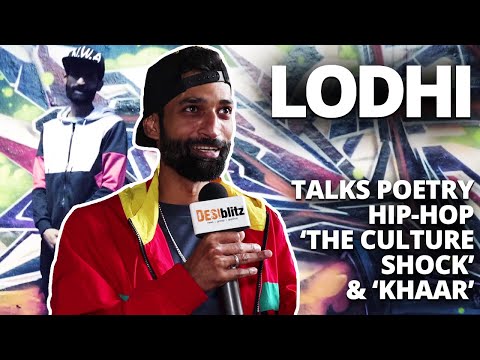 In addition, realising that the unique selling point for Desis is to incorporate their culture into their craft shows how invaluable the South Asian culture is to Lodhi.
Undoubtedly, with a colossal amount of skill, the rapper will begin to emulate the success of his musical idols, both British and South Asian.
The artistry, precision, and knowledge that the Lodhi has given to music honours his poetic foundations, Desi pride, and lucrative future.
Check out Lodhi's impressive and most amazing projects here.