"Britain has always been a home away from home"
Salman Khan was on the streets of London in Britain shooting the film London Dreams. He stars in the film with Ajay Devgan. Munnu (Salman Khan) and Raja (Ajay Devgan) are both childhood friends.
In the film, Raja wants to fulfil his dream to play in a rock band at Wembley Stadium, London. Munnu is asked to join the band but a rivalry develops between the friends. A love triangle with Priya, played by Asin, complicates things.
This is Vipul Shah's second film set in London, the first being Namaste London and now this one with the focus on well-known world stage of Wembley Stadium (check out the trailer below).
London is today a very popular location for Bollywood films.
Here is a song shoot of London Dreams in London featuring Asin and Ajay Devgan: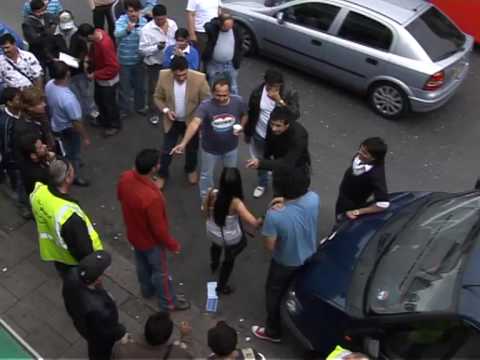 Everyone remembers Kajol racing across Kings Cross Station and being pulled into a Eurotrain just in time by Shahrukh Khan.
Dilwale Dulhania Le Jayenge was the first Bollywood film to be set in England entirely. Much of it was shot in Southall.
Then there was Hrithik Roshan strutting across Leicester Square with his Formula 1 jacket slung over his shoulder in Kabhi Khushi Kabhi Gham.
Later he arranged to reunite Amitabh Bachchan and Jaya Bachchan's characters with their estranged son Shahrukh Khan at London's Bluewater shopping mall. Amitabh Bachchan's offices were shot in Canary Wharf.
Akshay Kumar and Katrina Kauf danced their way across many of London's tourist sites in Namaste London including The London Eye, Houses of Parliament and Oxford Street.
John Abraham and Bipasha Basu also used the backdrop of Southall in Britain for John's football movie called Dhan Dhana Dhan Goal. In which he plays a footballer sought after by the struggling Southall United Football Club. Bipasha plays the sister of one of the players and his love interest.
Salam-E-Ishque was beautifully shot in many London locations. Salman Khan argued with Amisha Patel across Millennium Bridge in Yeh Hain Jalwa. In 'I See You' Arjun Rampal lip-synched along the same Millennium Bridge.
Britain and its capital city London has appeared regularly on Bollywood screens over the last few years.
Jhoom Barabar Jhoom depicts a love story set in the city with a famous scene in Waterloo Station. Abhishek Bachchan plays the role of a Chelsea Football fan. Bobby Deol stars alongside.
Amitabh Bachchan appeared in Cheeni Kum playing a chef in London and the older man with a younger love interest played by Tabu who visits Britain from India.
Love Aaj Kal with Saif Ali Khan is also set in and around London. Piccadilly Circus appeared in Chocolate. Mujhse Dosti Karoge was filmed in Kensington Gardens and Canary Wharf. Yaadein was shot in Leicester Square and Windsor Castle.
Britain has proved so popular to Bollywood that Visit Britain and Film London have released a 'Bollywood Britain Map.'
The map shows locations of major Bollywood films shot in Britain over the last few years. Film London which produced the map help Bollywood production companies find locations for its films.
Filming in Britain varies in cost. For example, shooting at Tower Bridge, as in Salam-E-Ishque, costs around £500-£1000 whereas, Trafalgar Square is either free or costs about £500.
London film says:
"The spectacle of these films is an important part of the genre and impressive locations are often used as a setting for the songs, which usually feature as an interlude to the main action of the film in the form of dream sequences
"London has inspired many Bollywood film-makers to tell their stories here."
Early Bollywood filming in the UK includes Naseeb which shot Hema Malini singing on the Thames Embankment.
In Lamhe in the '80s, Sridevi and Anil Kapoor were seen in scenes set in Trafalgar Square, London and the Lake District.
Aashiqui in the 1990s was the first Bollywood film to shoot the classic scene of the hero descending an escalator in a British tube station.
Scotland is a favourite location for Indian films. Shahrukh and Kajol's friendship in Kuch Kuch Hota Hain was filmed in the greenery of Glencoe, Ross Priory and Loch Lomond.
The grand Jacobean mansion in Kabhi Khushi Kabhi Gham, set in acres of lush countryside, was located in Scotland.
Arjun Rampal's Pyar Ishque Mohabbat was shot around Stirling Castle, University of Glasgow and Loch Lomond.
The Lake District and North Yorkshire Moors are also a popular location for Bollywood sets. Yorkshire played host to IIFA Awards in 2007.
Yash Chopra speaking to Visit Britain said:
"Britain has always been a home away from home.
"I have shot a lot of my films in Britain and my crew and I have been touched by the warmth of the people and all my shootings there have been memorable."
Fans love seeing London on Bollywood screens especially those who live in Britain. Bollywood loves filming in the UK. Which means we are going to see lots more of this match and possibly more Brit-Asian actors starring in Bollywood films too.