"We can talk for hours and never run out of conversation. I love her vibe."
Sanjay Leela Bhansali's Ram-Leela has caused a huge buzz worldwide and is one of the most anticipated films of the year.
An adaptation of Shakespeare's classic, Romeo and Juliet, Bhansali's remake stars the sizzling Jodi, Ranveer Singh and Deepika Padukone.
Both Ranveer and Deepika have been swiftly climbing up the Bollywood ladder, as each of their films have been extremely successful.
Ranveer won the hearts of many with his debut Band Baaja Baraat (2010), whilst Deepika charmed the world with Om Shanti Om (2007). Since then, neither of them have looked back on the journey to stardom.
The chemistry between the duo is off the charts and is clearly felt through the trailer. The film is set in the present day of the vibrant Gujarat, and is a powerful love story, which will melt people's hearts.
The trailer, in classic Sanjay Leela Bhansali style, speaks volumes of colourful, energetic life, highlighting features of a contemporary classic.
Talking about the title of the film, Sanjay Leela Bhansali said: "This is a very important film for me. Leela is my mother's name and it was my dream to have a film that honored her name."
Producer Sunil Lulla states: "Being a part of this film journey has been exciting. Sanjay is a great director and the way he makes his films with all the ingredients is a great experience to watch."
On being asked about her role, Deepika Padukone said: "Leela is the female version of Ram. She is ready to take all the challenges but at the end of the day she is emotional. This role is like me in real life."
Heartthrob Ranveer has gone that extra mile into achieving the right look for this film, and he worked extensively with trainer Lloyd Stevens to achieve his ripped body.
When speaking about working with Ranveer, Lloyd revealed: "He suffered from a severe back injury whilst filming Lootera which put him out of action for several months so he was unable to train.
"When I arrived in Mumbai, we agreed that it was time to take Ranveer's physique to a new level which he had never experienced before and because of the hard work put in, the results were outstanding as you can see."
Due to Ranveer's solid hard work and dedication, he was able to get his figure in almost half the time required.
There has been some speculation about whether Ranveer is copying Salman Khan, both in looks and style. The film in general already has quite a few similarities with Salman's super hit film, Hum Dil De Chuke Sanam (1999).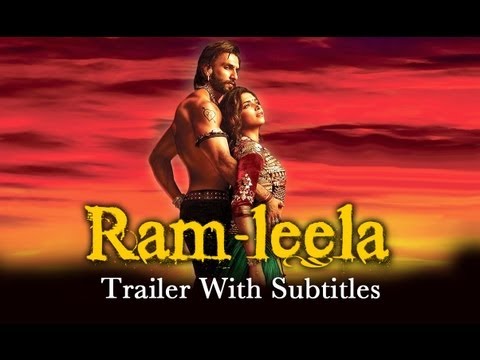 However, both films have one thing in common: Sanjay Leela Bhansali, who is known for his larger than life films that have no limits or boundaries. Many have noticed the chemistry between Ranveer and Deepika is just as thrilling as Salman Khan and Aishwariya Rai.
Interestingly, Salman and Ash's romance set off and on the sets of HDDCS mimics Ranveer and Deepika's alleged love affair which also began on the sets of Ram-Leela. It has also been pointed that just like Salman, Ranveer in the song 'Tattad Tattad' is baring his chest, free style dancing and wearing sunglasses just the way Salman does in many of his films.
The magnificently pictured garba song 'Nagada Sang Dhol' also bears resemblance to 'Dholi Taro Dhol' from HDDCS.
There have been many rumors going around that Deepika Padukone and Ranveer Singh are dating. However, neither of them have confirmed or denied it. But there are a few clear signs as to why they seem to be in a relationship.
Not only do they have naturally strong chemistry together, both have been spotted on numerous occasions in public. The romance between the two started when the co-stars were spotted kissing at a nightclub in Mumbai:
"We can talk for hours and never run out of conversation. I love her vibe. She is so calm like a Buddhist monk. She is an extremely warm person, genuine and very very kind to one and all. Beautiful on the inside as she is on the outside," said Singh when talking about Deepika.
When asked about his rumored relationship, Singh said:
"I honestly don't pay any attention or devote any mental space or energy to what is being written in tabloids or whatever."
"I just wake up in the morning and try to give my best at my workplace. I love what I do and I focus all my energy on that. So I hope the result of that translates into something good for me," he added.
Well Ranveer is lucky to be spending any time with his favourite woman at all. Kareena was initially chosen as the lead for Bhansali's film, until she was replaced by Katrina Kaif. Interestingly, both Kareena and Katrina reportedly said no to Ranveer as their on-screen jodi, because they felt he wasn't a big enough star yet.
Ranveer later smartly responded to Kareena saying that Deepika was younger and therefore a younger love story was much better. Ouch!
Kareena was also worried about the some of the extremely intimate love scenes, which hubby Saif Ali Khan might have had an issue with.
But sexy star Priyanka Chopra has most definitely signed on to do an item song for the film and she looks stunning in the first look of the song. Her avatar is different, fresh, desi and exotic.
Prabhu Deva's brother Vishnudeva has choreographed the number. PC looks amazing in a seductive white choli and flower-printed dhoti-lehenga.
The whole of Bollywood has been behind the upcoming release of the spirited Ram-Leela. Amitabh Bachchan tweeted: "Saw trailer of Ramleela…stunning! The colours, the passion, the Deepika…!!"
Farah Khan expressed: "The trailer is fabulous. Deepika looks fantastic; the chemistry between her and Ranveer looks good. The film seems to bring back the memories of Sanjay's previous films like Hum Dil De Chuke Sanam and Devdas. It looks very happy and colourful."
Bhansali is extremely pleased with the responses so far: "The film is extremely close to my heart and for its first glance to be received this warmly, is overwhelming," he says.
Let's hope this new B-town jodi of Ranveer and Deepika is as great on-screen as off. The epic love story Ram-Leela is set to hit our cinema screens on November 15, 2013.