"Bollywood without [the] Kapoor's would be like Superman without the underwear."
Bollywood royalty, Ranbir Kapoor is all geared up for his new film release, Besharam. The storyline is set in India's capital, Delhi, where we find Babli (played by Ranbir Kapoor), working as a car mechanic and living in an orphanage.
He is a street-smart, Punjabi mechanic who has no sense of right and wrong. He also steals cars to support the orphanage. He does what he feels is right as opposed to what would be the right way to go about resolving a problem. He believes in going by his gut feeling.
Speaking about the film, Ranbir says: "It's a quintessential Bollywood Masala Movie with pure entertainment and no Pravachan [preaching]."
The film also stars Ranbir's real life parents, Neetu Singh and Rishi Kapoor as police officers. The whole Kapoor family is seen in front of the camera, making us wonder if the off-screen, real life equation has rubbed off on-screen too.
Ranbir commented on the Kapoor Khandan casting at a recent New York press conference saying: "They have come individually as characters. It's not a mother-son or father-son normal cliché."
The lead actress is played by Pallavi Sharda, a former 'Miss India Australia' title winner (2010). An emerging actress, she is adamant to stay grounded while in B-town, insisting: "The notion of superstar is hundred miles away, given, I am just starting my career."
Pallavi however, was all praises for her co-star and believes that despite Ranbir's humility, she has worked with a superstar for the past year.
The film also features household name Jaaved Jaafari playing a tough man. Amitosh Nagpal plays Titu, and is seen to support Babli's character.
The movie releases under the banner of Reliance Entertainment and Movie Temple. Utpal Acharya, the Distribution Head of Reliance Entertainment was glad to announce: "Besharam will be the largest release till date, both in India and abroad. I am looking at 3600 plus screens."
This is higher than the 3500 screens that Shahrukh Khan's movie Chennai Express (2013) had when released in India, hinting that Besharam could potentially be an even bigger success.
Acharya adds one more reason to the possible positive stake in the numbers game, saying: "When the film releases at a large number of theatres, the audience can pick and choose where they want to see it, an expensive one or a cheaper option. So, more the screens, lesser the piracy."
The movie trailer shows Ranbir Kapoor humming Shahrukh Khan's famous Dilwale Dulhaniya Le Jayenge (1995), 'Tujhe dekha tau he jana sanam' in Punjabi while wearing a similar leather jacket. We also see some of the crudeness that Aamir Khan displayed in Rangeela (1995).
These clever little elements and homages to Ranbir's role-models have already been a big hit with fans and audiences, who are now even more eager to watch the film.
Ranbir admits that he had to familiarise himself with the Punjabi Delhite's lingo and mannerisms for this movie just like Aamir had to for Mumbai based Rangeela (1995).
But it is finally time to see Delhi's awaaragardi. We are pretty hopeful that it has the same authenticity that Aamir brilliantly portrayed in Rangeela.
Encouraging viewer expectation, well-known critic, Komal Nahta tweeted: "Saw promo of Besharam. Just one word to describe it: O-U-T-S-T-A-N-D-I-N-G!!"
Film critic and trade analyst, Taran Adarsh added: "A wide release can go well with a big film like Besharam. Post Yeh Jawaani Hai Deewani, Ranbir has become a big craze. Plus, you have the Dabangg director Abhinav Kashyap holding the reins."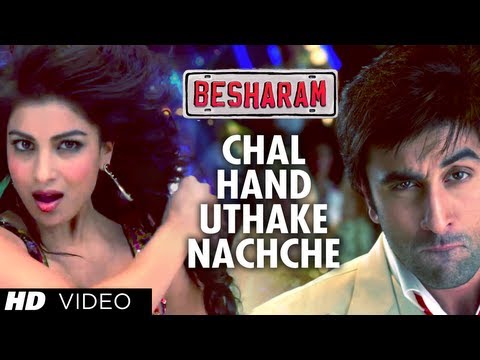 The Kapoor family were in London recently to promote the movie. At the press conference, Neetu said: "I am very proud of the film."
She should be as her number one fan, Ranbir added: "My mother is the best performance in the film." Kapoor Junior also had much praise to offer Kapoor Senior, insisting:
"There is so much believability and conviction in him and the naturalness and spontaneity of him delivering helps actors."
Our ever-charming legendary actor, Rishi, added: "Film banate hai, manoranjan bat tai hai, logo ka dil bahlatae hai."
The actors and production team have also done their best to promote the movie by appearing on various popular Indian television shows like Jhalak Dik La Ja and Amitabh Bachchan's Kaun Banega Crorepati.
The music is by Pritam who has given us some extraordinarily beautiful music in movies like Pyaar Ke Side Effects (2006) and Love Aaj Kal (2009). The music grows on you and paired with good visuals it will appease the audience.
Ranbir is shown as a hairy-chested man in the movie. If we thought him dropping a towel in Saawariya (2007) was not enough you will see him going a step further in his 'besharmi' by advising someone to wear socks as padding to enhance a man's asset.
Our dearest Bollywood Bachelor never stops entertaining us. His catchphrase for the movie is: "Na Samaan Ka Moh, Na Apmaan ka Bhay."
Ranbir has already proved to be a very pleasant surprise in the past six years. And with his versatile acting ability, audiences are sure to enjoy this fun and cheeky family movie, which is exactly what the film's promotions have promised to deliver on the big screen.
Ranbir has cheekily said: "Bollywood without [the] Kapoor's would be like Superman without the underwear."
So, Ranbir, we wait in anticipation to experience the Bollywood iconic trio that is the Kapoor family, consisting of you and your very well-loved parents on-screen. Definitely not one that we plan to miss, Besharam released across cinemas on October 2, 2013.