"I will pee in all my films. Maybe that becomes my trademark."
Bollywood actor Ranbir Kapoor has come together with his parents in a new upcoming comedy film, Besharam.
The film marks the second directorial venture of Abhinav Singh Kashyap after his successful 'century on debut' film, Dabaang (2010).
Ranbir Kapoor stars in this comedy role along with his parents, Rishi Kapoor and Neetu Singh. Actress Pallavi Sharda, a fresher of Bollywood, who hails from Australia, plays the female lead role in the film.
Besharam is set to release on October 2, 2013, although it was initially scheduled to release on December 10, 2012, as part of the film was shot in Film City, Mumbai.
Besharam has been tag lined, 'Na saaman ka moh, na apmaan ka bhay,' which translates into English as, 'No yearning for respect, no fear of humiliation'.
Babli (played by Ranbir) is a charming street smart car mechanic who lives in a Delhi orphanage. He lives his life to the fullest whilst stealing cars to support his orphanage.
He doesn't know how to tell right from wrong or vice versa until he hurts the love of his life, Tara (played by Pallavi Sharda).
Babli is chased by a police couple, Inspector Chulbul Chautala (played by Rishi Kapoor) and Head constable Bulbul Chautala (played by Neetu Singh). But Babli realises that there is no right way of doing a wrong thing. He sets himself on a mission to fix all the wrong doings in his life and continues to be shameless about it.
Ranbir turns into a Punjabi Dehli-ite for the role. He is an extravagant character with a look to match. Brightly coloured kurtas and matching turbans are what audiences can expect:
"The style and the look adds the requisite cheapness and masala tadka to this character. The attire brings total fairness to distinct culture and the dressing style Delhi holds. This has been wonderfully brought out in the costumes of the characters," says Ranbir.
Directed by Abhinav Kashyap, this new release stars an incredible cast. Alongside the 'Kapoor Khandan' are Javed Jaffrey and Amitosh Nagpa, with special appearances by Hrithik Roshan and Aden Qazi as themselves.
At the first trailer launch the trio were missing in action. Abhinav stated Ranbir could not make it since it was 'not a pre-planned launch'. The actor at that time was in Sri Lanka shooting for Bombay Velvet.
The film's spokesperson said: "Ranbir is shooting in Sri Lanka and wasn't supposed to attend. That's why it was decided that instead of the cast, director Abhinav Kashyap and Producer Sanjeev Lamba would launch the promo. There wasn't any consideration of media awkwardness."
Though reports suggest that the Kapoor's were trying to avoid the media as they also tried to get in touch with Ranbir and Rishi Kapoor (via text and calls), but they were still unavailable.
Besharam has received a mind-blowing response since the first reveal of the film and the promo launch.
The Kapoor family are sure to shake a leg in a song together, ('Hand Uthake Nachche'). The family will take to the dance floor with this special number, where the two generations are unevenly matched against each other in a jugalbandi.
The song which is composed by the hit song 'Munni Badnaam' film-composer Lalit Pandit, will have Daler Mehndi voicing for Rishi Kapoor and Daler's brother Mika's voice for Ranbir Kapoor. Sunidhi Chauhan will voice Neetu Singh.
A special set for the damakedar song was assembled at Film City and choreographing duo Bosco and Ceasar were tied in, as Abhinav left no stone unturned.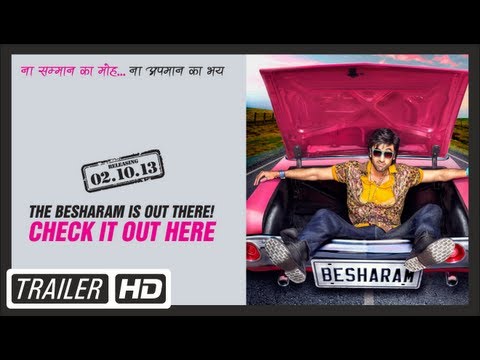 All was unveiled to celebrate Rishi Kapoor's birthday as he turned 61 on September 4. The cast planned a surprise for his birthday by going ahead with the shooting of the special song featuring the trio.
This was the first time ever that the Kapoor family got together in a song. Birthday's and dance coincided perfectly and Chintu's birthday was celebrated in a big way that was special for both the family and the entire unit.
Ranbir Kapoor likes to leave his trademark in his films like Anjaana Anjaani (2010) and Barfi (2012) where he is seen urinating. He has taken the bold decision to carry that on in Besharam in a scene where he urinates along the boundary of a mustard field.
When asked about this during the promotion of Besharam, Ranbir replied: "I was also telling Abhinav that every actor has a trademark, like Shahrukh has his and Amitabh Sir has his. So, I thought I should have one and I will pee in all my films. Maybe that becomes my trademark."
Ranbir also said during his promotion:
"This scene where I am peeing in sarson ke khet [mustard field] and singing 'Tujhe dekha toh ye jaana sanam' disappointed a lot of [Shahrukh's] fans."
"But our intention was not to make fun of anyone. Whenever we see sarson ke khet, we only think of that song," he explains.
Bare all the 'sharam' for the release of comedy romance Besharam slated for release on October 2, 2013.