"I love taking risks and following my conviction."
Anushka Sharma is the perfectly sexy and fierce goddess on the cover of Vogue India May 2016 issue.
The 28-year-old actress, described as 'daring, darling and unscripted' by the fashion magazine, radiates unbeatable confidence through her black floral outfit.
The rest of her photoshoots are pure eye candies – from the bold and beautiful prints of a Gucci jacquard dress, to the stylish Hermès bangles and a pair of cowgirl heels by Christian Louboutin.
Anushka speaks candidly with Vogue India for her feature spread, giving her most honest opinion about everything from art to acting.
The Bombay Velvet (2015) star says: "I don't understand art, so I don't have any paintings [in my house]. For me, that would be a waste of money.
"Photographs are more real for me, so you'll find pictures and posters rendered on different surfaces across the house."
Moving onto discussing her career, Anushka explains how she selects her film projects: "My characters are wildly different, but they have one thing in common – most of them are that of an independent, successful, working girl.
"I pick a film that has a strong plot. I'd never pick one to piggyback on a big actor or director's name.
"I'm not a product of how people want to see me and how I should be or ought to be. I am what I am. I've never done anything just because it has worked. I love taking risks and following my conviction."
But the fearless 27-year-old has much bigger dreams than making a name for herself in front of the camera.
She adds: "I genuinely don't believe in awards. It's rewarding enough that a film like NH10 (2015) got the response that it did, and that because of its success, I'm now producing a film with Fox Star Studios, which is funny, romantic and poles apart from NH10.
"People asked why I was doing it in the prime of my career. But we only say this about actresses because we assume that they need to do it to find work towards the end of their careers.
"I'm not into production to make films that glorify me or to replicate films that have worked at the box office; I'm doing it because I want to create quality cinema."
Watch a short clip of her interview with Vogue India here: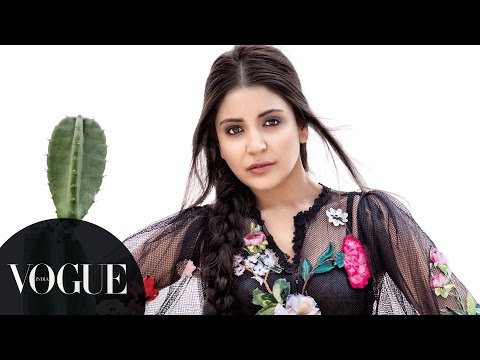 Anushka has just finished shooting for Sultan (2016) with Bollywood heavyweight Salman Khan, and will commence her next project as a film producer, Phillauri starring Diljit Dosanjh.
There are also whispers in B-town of her casting Saif Ali Khan in another film under her very own Clean Slate Productions.
Her personal life seems a little less rosy, with rumours of her and cricketer Virat Kohli on the brink of breaking up. But if she can withstand being blamed for Virat's performance on the pitch, this young star is way tougher than she looks.