"From edge of the seat to exceptionally compelling…this ride makes you invest in every moment!"
Director, Navdeep Singh presents a hard-hitting female centric film NH10, starring Anushka Sharma, Ungli starrer Neil Bhoopalam and Mary Kom starrer Darshan Kumar.
After gaining nearly four million hits on the trailer, this highway thriller has become an instant success.
NH10 follows the journey of corporate couple Meera (Anushka Sharma) and Arjun (Neil Bhoopalam) who are based in Delhi.
After Meera faces a traumatic event on a night out in Delhi. Arjun decides to make it up to her on her birthday by booking a villa on the outskirts of Delhi.
However on their journey Arjun and Meera come across Satbir (Darshan Kumar) who is abusing and forcefully dragging a girl from a Dhaba.
Arjun and Meera decide to intervene in order to save the girl. However afterwards they wish they had never said anything.
Anushka admits that the storyline and events that unfold really tests the characters to the extreme:
"Nobody knows how they would react in a situation like that, especially when there are hardcore kind of things happening in life.
"I don't know, Meera didn't know. Even you wouldn't know how you would react in such a situation. It's only when it happens to you that you realise what you are capable of doing. It's only when you have to face the music that you know what your personality really is."
A raw and gritty thriller, the adult content of the film has been a continual talking point. Ever since the censor board in India released a list of swear words that are now banned from films, it has caused a lot of issues for the release of NH10:
"Several scenes depicting violence in the film did not meet approval from the Board. The Board also objected to some of the language and dialogue used in the project."
Luckily, the cuts have not affected the film, as Anushka mentioned: "The cuts did not change the impact of the film but it does hurt when scenes are cut. We have made this film because we believe that audience exists for it.
"I think there should be rating system for the films and not cut. We are killing the concept of coming up with so many original ideas. We have the exit gates to walk out of the film."
It seems that Anushka couldn't have picked a better film to make her producer debut, but the actress admits that it was the story of the film that made her want to become more involved:
"Becoming a producer was never on my mind. It was not premeditated, but this film evoked a feeling in me to become a producer, I felt so strongly for this film that I wanted to back it in this way and I wanted to be a part of this film completely."
The dark and gritty thriller NH10 has an interesting assortment of music. With a soundtrack consisting of nine tracks, the album has an intriguing combination of composers, such as Bann Chakraborty, Ayush Shrestha, Savera Mehta, Samira Koppikar and Sanjeev Darshan.
The album has been striking the right chords with audiences as 'Chhil Gaye Naina' is already top of the charts.
Featuring Kanika Kapoor, the queen of item numbers has added a little twist to her discography by singing a rock/trance song.
Supporting her on the track is debut singer Dipanshu Pandit, who adds a lovely soul to the rock tune.
Furthermore on album there are three versions of 'Le Chal Mujhe', the male version being sung by the expressive Mohit Chauhan, and the female version sung by Shilpa Rao and the reprised version sung by the super hit singer Arijit Singh.
Having a jazz and sensual vibe to the track, writer-composer Bann Chakraborty offers an interesting mixture of electric guitar and pianos. Next on the album is 'Khoney Dey', sung by Mohit Chauhan and Neeti Mohan. It has a beautiful piano solo at the beginning and brings its own uniqueness to the album.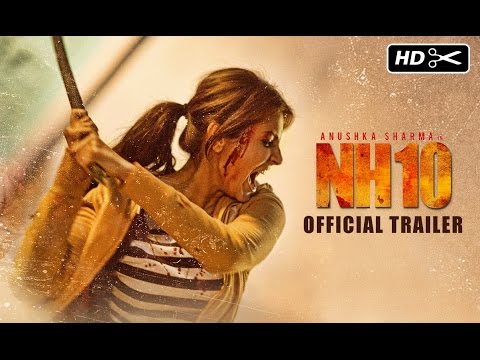 With some Bollywood stars having gone to the preview screening of the film, NH10 has been getting all praises from the actors of B-town.
Director Karan Johar tweeted: "From edge of the seat to exceptionally compelling…this ride makes you invest in every moment! @AnushkaSharma is beyond brilliant! #NH10."
Anushka's ex beau, Ranveer Singh also made an appearance to the preview and later tweeted: "Saw #NH10! Gripping, nail-biting, edge-of-ur-seat thrill ride from hell! @AnushkaSharma kicks some serious ass! Beyond brilliant! #girlpower."
Film critic Komal Nahta was all praise for Anushka's performance: "Anushka Sharma lives the role of Meera and shines with a very note­worthy performance.
"Her expressions, body language and acting, all add up so that her acting stands out. She is sure to be nominated for the best actress awards this year."
And it seems that audiences agree. Despite a slow opener, it seems that word of mouth alone has made this film a success. NH10 made Rs 13.30 crores in its opening weekend – and this is set to continue as the buzz of the film continues to escalate.
NH10 is a horrifying experience that you cannot take your eyes from. Do you want to be part of this dangerous journey? Because once you get going, there's no turning back! NH10 released from March 13, 2015.