"2017 British finals - that's my best one so far"
Classic bodybuilding winner Angad Singh Gahir is rising in the sport, with ambitions to claim a pro-card.
The British Asian bodybuilder was originally from East Africa. He was born in Nairobi, Kenya born on March 27, 1987.
Angad Singh Gahir, also familiar as Ang had to eventually head for the UK in 200o due to being "stateless."
At the age of twenty-one, he started training. He was obese and asthmatic at the time.
Angad later took over an 11,000sq ft gym facility at where he began his competitive journey. Not looking back ever since Angad has twice finished in the top three at the UKBFF British finals between 2017-2019.
He is also a twice regional bodybuilding champion, winning across two different locations. Angad is not an extremely tall bodybuilder but is pure class. His conditioning is spot on, depicting quality.
Watch an Exclusive Interview with Angad Singh Gahir here: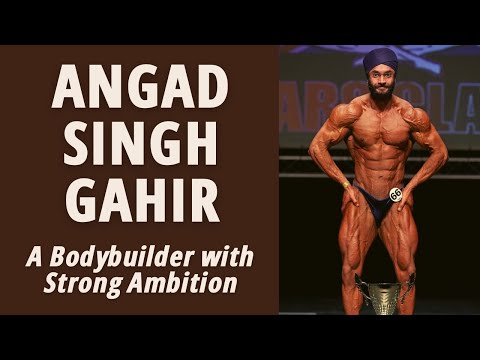 Having developed his own vegan bars, he is also formulating a range of supplements.
Angad Singh Gahir exclusively spoke to DESIblitz about his background, bodybuilding entry, career and much more.
East Africa, Personality and UK
Angad Singh Gahir is a British Asian who grew up in Kenya, East Africa. He has mix memories from his childhood and growing up days.
Angad tells us that as a young boy he was always on the quieter side. In fact, he felt comfortable with his personality, especially later on with bodybuilding.
"I've always been a pretty quiet kid. Even now. I don't really get into much. I like keeping myself to myself, which is why I love this sport because it's an individual sport."
Angad describes Kenya as a "different place to live in," recalling the "weather" as a key differentiator.
After further probing, he told us the unfortunate circumstances, which led to his departure from Kenya. He did not have much choice in the matter:
"So my mum and dad were British overseas citizens and I was a stateless… no passport. I didn't belong to any country, neither India, where my mother was from or Kenya.
"So I was kind of forced to come here because I had to belong to a country to get some status. So that's why I came here."
This whole episode was a very difficult period for Angad who eventually came to the UK in 2000.
Early Training and Bodybuilding Start
According to Angad Singh Gahir, his dad had a passion for training and subsequently opened a gym.
Besides following his father's footsteps, Angad reveals he began training at the age of twenty-one. This is due to being overweight, as well as having bronchitis and asthma.
The training was very beneficial for Angad, particularly in reducing weight and helping with his asthma. Having the knowledge and completing his levels 1-3, he went onto helping several clients.
Speaking about how he first started with bodybuilding, Angad said:
"I had the knowledge in general bodybuilding anyway. And then one of the UKBFF judges called Martin kind of saw me training one day.
"He said I should compete. So that's how I kind of got roped into it."
Angad confirms his first show as a bodybuilder took place at the Town Hall Birmingham in the West Midlands during September 2015.
Career Highlights
Angad Singh Gahir states that he had taken part in eight major competitions as of November 2019.
He cites several accomplishments, including finishing in the top three at the UKBFF British finals.
The British Championships that featured Angad took place during the month of October in 2017 and 2019. Like others, Angad had to qualify for these Championships.
Angad singles out the 2017 edition of the tournament as his proudest moment. He elaborates:
"2017 British finals – that's my best one so far because that was my first show in the UKBFF finals. I didn't think I had a chance.
"I put a lot of effort in that show. But at the end, I was going for just the attempt to see where I end up, but I ended up third. I still remember that day. That's the one I go back to always."
Despite finishing in the third spot, Angad says he has ambitions to finish first going forward. Angad also spoke about winning titles at the regional level:
"I won Leicester and Bedworth Regional Championships." These two competitions were held during September 2018 and November 2019.
Angad can compete in international shows, courtesy of his victory in Bedworth.
Training and Diet Regime
Angad Singh Gahir attributes years of training and consistency, along with diet as key factors. To achieve the perfect strength and conditioning results, he adds:
"It's like adding 5% every year. You know, diet is a 24-7 thing. It's 365 days a year. It's a lifestyle that you have to have.
"So these are bits that you build year by year. It's not something you can just build over in just one show. It's basically how consistent you can be throughout the year.
Angad emphasises that there are very little adjustments to make when implementing his nutrition and training regime:
"I mean diet-wise, I stick to the same diet near enough. I have an offseason diet where I add more calories. And then when I get ready for a show, 12 weeks out, I change and I start reducing calories to get ready for the show.
"Training-wise stick to the same. I just lift as heavy as I can with good form, good technique."
"Training programs change every one to two months. Diet pretty much sticks the same because you need a constant flow of food to build that tissue over time."
Describing bodybuilding as a sport requiring repetition, Angad mentions he regularly takes in oatmeal, whey protein, vegan, protein and dairy products.
General View on Steroids
Angad Singh Gahir feels steroids need to be regulated if one takes them for a competitive purpose. Angad also stresses on having a professional on board for guidance:
"You need a nutritionist who can read your blood work. You need somebody to where he can go get your blood work done.
"If they're taken sensibly, reasonably,  I don't see there's a problem with them.
"Naturally, there are shows that are done for natural bodybuilders. But that's a person's choice whether they want to take them or not want to take them.
"Nonetheless, with them, you need guidance. That's important."
Angad thinks a bodybuilder can be good, without having to take performance-enhancing drugs.
Hence, there are many natural bodybuilders out there, with many competing in the 2 Bros Pros events.
Learning and Supplements
Angad Singh Gahir believes he has learnt a lot from bodybuilding. He claims that the sport has helped him with his gym also.
Elaborating on this and identifying three major points, Angad comments:
"I know for one thing to build anything, any business to build this body, it doesn't come overnight.
"You have to keep at it and it just builds over time. So that's discipline. Patience is one of two things. Consistency. Those three things are the most what I learned from this and it's helped me in every aspect of my life."
In 2017, Angad divulges that he went onto developing and formulating ONG Energi vegan bars. These pre-and post-workout bars are healthy, without additives and dairy-free.
Angad also expresses that he is developing supplements that focus on gym-goers, acting as "fat-burners" and a "natural testosterone booster."
When asked if these vegan bars and supplements can help bodybuilders, Angad replied:
"Yes, of course they can help bodybuilders. My vegan bars are suitable for any athlete."
Even those who are restricted by informed sport to have certain ingredients in them."
The supplements will definitely be a good addition to the vegan bars. Looking ahead to the future, Angad wants to earn a pro-card. Angad realises that he is not a "top two or three-tier athlete."
Nevertheless, Angad wants to push his "genetics," along with developing supplements to boost athletes.
Angad Singh Gahir is also a successful gym owner, running Muscle 'n' Fitness in Tyseley, Birmingham.