"I was ahead of the Pro drivers during my stints."
Indian racing drivers have made their presence known in the world of motorsports and succeeded at various levels.
These racing car drivers from India have showcased their skills in the fast lane, forcing a high adrenalin rush and excitement amongst fans.
Narain Karthikeyan and Karun Chandhok are two Indian racing drivers who made it to the illustrious Formula One.
Other drivers have competed in highly competitive events around the world.
The excellent achievements of Indian racing drivers have given much-needed impetus to motorsports in India.
We closely zoom into the top 6 Indian racing drivers who have made an impact in their own country and globally.
Narain Karthikeyan
Narain Karthikeyan is an Indian racing legend and the first Formula One driver from his country.
He was born as Kumar Ram Narain Karthikeyan in Coimbatore, Tamil Nadu, India, on January 14, 1977.
Narain came from a motorsport background. His father Karkarla Karthikeyan Naidu was a former seven-times South India rally national champion.
Sachin Tenkulkar (IND), late Ayrton Senna (BRZ), Mika Hakkinen (FIN) and Micheal Schumacher (GER) are amongst his sporting heroes.
His first major podium finish came on April 25, 2004. This was during the second weekend of the Nissan World Series race that took place at Zolder, Belgium.
Narain came to the limelight after signing a deal with Jordan Grand Prix, a constructor team with Formula One.
He made his debut at the Australian Grand Prix on March 6, 2005, finishing 15th in the race.
His best finish came at the United States Grand Prix on June 15, 2005, just missing out on the podium for the fourth position.
In 2019, competing for Nakajima Racing, Narain won the Fuji Super GT x DTM Dream Race in Fuji During this race, he also had the fastest lap
He has participated in other car-related events and races including A1 GP, 24 Hours of Le Mans, NASCAR and Super League Formula to name a few.
Karun Chandhok
Karun Chandhok is an Indian racing driver who took over the Formula One mantle from Narain Karthikeyan.
He was born in Chennai, Tamil Nadu, India, on January 19, 1984. He inherited racing from his father, Vicky Chandok, a legendary driver and multiple rally champion.
In 2000, he became the Formula Maruti Series champion after winning seven of the ten races.
In 2001, driving for Team India Racing, Karun became the youngest ever person to win the Formula 2000 Asia Series. He was victorious in eight of the fourteen races.
Five years later, he was the winner of the inaugural Formula V6 Asia by Renault Series, claiming seven wins. He also had nine pole positions during this series.
In 2010, he made his Formula One debut, driving for Hispania Racing. Karun told Indian Express that his father was delighted when he signed a contract, particularly as he faced hardships earlier on:
"Dad was in a flood of tears because the years prior to my contract had been really hard."
"He is an eternal optimist and without him to sort things out and deal with the financial stress of motor racing, there's no way I would have been able to do anything."
He retired on lap one in his first race, which was the Bahrain Grand Prix on March 14, 2010. His best Formula One finish was fourteenth at the Australian Grand Prix on March 28, 2010.
He also had one race, driving for Lotus during the 2011 Formula One season.
Karun went on to compete in the 2012 FIA World Endurance Championship, along with having experience driving in the prestigious 24 Hours of Le Mans.
He also participated in inaugural Formula E Championship, driving for Mahindra Racing.
Watch an Exclusive Interview with Karun Chandhok here: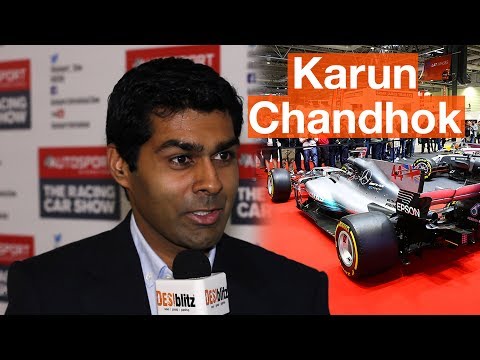 Gaurav Gill
Gaurav Gill is one of the most popular Indian racing drivers to have made a name in motorsports.
He was born in Delhi, India, on December 2, 1981. Developing an interest in motorsports eventually saw him competing in the 1999 Motocross Championship.
In 2007, he was triumphant in the National Rally Championship, driving for Team MRF.
Gaurav then became a regular racing car driver, participating in the Asia-Pacific Rally Championships (APRC).
Driving for Team MRF Skoda, he became the first Indian to clinch the 2013 APRC title.
He completed a hat trick of APRC victories after winning the same title in 2016 and 2018.
In 2019, he also became the first Indian from motorsports to receive the Arjun Award. At the time, Gaurav felt this award would give a big boost to motorsports in India:
"The main thing is education. People need to be educated about our sport and need to understand how it works.
"The basic thing is that if you understand what it's all about, then you'll gain popularity. With popularity, it will become more commercial and that means more sponsors and more money in the sport."
He collected the coveted award from the President of India, Ram Nath Kovind.
Aditya Patel
Aditya Patel is a renowned racing driver from India that has had very good international exposure.
He was born in Chennai, India, on July 8, 1988. His father Kamlesh Patel was a racing and rally champion from India.
At the age of four, he got his first glimpse of motorsports in a Go-Kart. During 2001, he won his first national title, conquering the JK Tyre Junior Karting Championship in Goa.
In his early days, he had to balance his education and racing. Driving for NK Racing ream, he came on top at the 2007 National Racing Championship in Single seaters.
In 2012, after signing up with Audi India, Aditya clinched the 24 hours of Nurburgring under the SP4T category.
Following an opportunity to drive in the JK Racing Asia Series, Aditya went on to claim a global victory at the Budh International Circuit. He spoke to The Hindu about climbing the podium, saying:
"It feels wonderful that I am the first Indian to get on the podium at BIC."
Aditya has gone on to fly the flag for India at various global race series These include F-BMW, VW Scirocco-R Cup, ADAC GT Masters and International GT.
Aditya is a fan of two-times Formula One champion Fernando Alonso from Spain. He admires his "driving style," describing him as a "class apart."
Sailesh Bolisetti
Sailesh Bolisetti is a well-known Indian racing driver with an exceptional track record.
He was born in Vishakhapatnam, Andhra Pradesh, India, on September 28, 1988.
Sailesh who always had a fascination for cars focused on his studies as per his mother's wishes. He made his racing debut at the 2008 JK Tyre National Championship.
However, it was in 2010 when he took motorsports more seriously and had instant success.
In 2010, he went on to achieve glory at the Volkswagen Polo Cup India and the MRF Racing Challenge – Touring Cars.
Two years later, in 2012, he became the first-ever Indian to compete in the British GT Championship.
In his first race driving for Lotus at Oulton Park, he had a podium finish. This was followed by a win in the second round at Germany's Nurburgring circuit.
Hence, Sailesh became the first Indian to register a victory at the British GT Championship. Sailesh believes his pit stop was the deciding factor in his maiden race triumph:
"When Phil handed me the car from lead, the first thought in my mind was to preserve it and try to keep the opposition behind and the car out of the barriers.
"The margin was slim but we managed to turn the car around in pits quicker than our rivals."
Sailesh has phenomenal statistics, with over fifteen wins, as well as a very healthy percentage overall.
Armaan Ebrahim
Armaan Ebrahim is an ace Indian driver. He has gone on to represent his country at motorsports events on an international level.
Armaan was born in Chennai, India, on May 17, 1989. He comes from a motorsports family environment, with his father Akbar Ebrahim being a former F3 champion.
Armaan who began his journey with karting became the 2004 Formula LGB Champion.
Driving for Team TARADTM, he also successfully crossed the line seven times to finish second in the 2007 Formula Renault V6 Asia Series.
His racing highlights consist of two notable achievements. This includes coming first in the 2015 and 2016 Lamborghini Super Trofeo Asia – Pro-Am B Series.
Celebrating his victory in 2016, the racing sensation said:
"My pace was strong through the year and I had two pole positions in the 6 rounds."
"In most of the races I was ahead of the Pro drivers during my stints."
Armaan alongside Indian driver Aditya Patel are the founders of X1 Racing. Established in 2019, this is the first professional franchise-based motorsports league in the world.
India has produced several other fantastic drivers. They include Rahil Noorani and Zaamin Jaffer.
Overall, all these Indian racing drivers have opened the doors for many upcoming talented racers that can reach peak heights.