"We represent this movement that's begging to happen in Hollywood"
Following the success of many live-action films such as Cinderella (2015), Jungle Book (2016) and Beauty and the Beast (2017), audiences will get to see the beloved Aladdin, which hits the theatres from May 24, 2019.
Aladdin (2019) is a fantasy musical remake of the 1992 classic by Disney, with some live action.
Mena Massoud who is a recurring star of Jack Ryan (2018- present) on Amazon Prime Video was picked for the iconic role of Aladdin.
Naomi Scott was chosen to play the much-loved character of Princess Jasmine. Legendary actor Will Smith portrays the hilarious Genie. Marwan Karwan takes on the role of Jafar, with Navid Negahban playing the Sultan.
The Empire Award-winning director Guy Ritchie, who is known more for his action films, is the director of this exciting Disney venture.
The film was shot at the Longcross Studios in Surrey and across Jordan's Wadi Rum Desert.
The film originally came under a fair bit of scrutiny when the filmmaker's unveiled the first glimpse of it. However, when audiences watch the film the general mood will shift to a pleasant and surprising one.
Aladdin remains true to its original storyline. However, it adds a few more memorable funny moments and some meaningful strong messages.
The Story of Agrabah
Many film fans are familiar with the original story of Aladdin that came out in 1992.
The story revolves around Aladdin, a poor street urchin from the city of Agrabah. Aladdin and his monkey friend Abu survive by stealing from the marketplace.
Aladdin then one day meet the attractive Princess Jasmine and falls in love with her. He wants to marry the Princess but she is all set to wed a prince chosen by her father, The Sultan.
Aladdin's luck takes a turn when he finds a magical lamp from the Cave of Wonders. This introduces Aladdin to the famous Genie that grants him three wishes.
However, the advisor of The Sultan, Jafar, plans to plot against Aladdin by stealing the lamp. Jafar wishes to steal the throne for himself.
One of the key differences in this film is that Princess Jasmine fights for her right to be the ruler. The film focuses on issues of women's rights, fitting for a contemporary audience in 2019.
The film also touches on messages like self-acceptance and building self-esteem. It's quite refreshing to see a classic film remade with a powerful message yet staying true to its original concept.
A Real 'Diamond in the Rough'
Egyptian born Mena Massoud plays the lead role of the 'diamond in the rough.'  Taking into account his journey as an actor, many believe that this role was truly made for him.
Despite being born in Cairo, Egypt, Massoud move to Toronto, Canada at the age of three. Massoud who had been building up his acting career since 2011 got his big break with this unique Disney film.
He told DESIblitz that it is incredibly important for a person with a Middle Eastern background to get this role. He praised Disney for their authenticity and assembling a diverse cast.
Mena mentioned that the representation of Middle Easterners and Asians can open the door for a lot of people now.
At a press conference held in London, Massoud touched upon diversity saying:
"Great films, they represent something greater than themselves…
"We represent this movement that's begging to happen in Hollywood that ethnic diverse groups can lead Hollywood films to the finish line."
In the film, Aladdin learns to accept himself for who he is. Massoud tells DESIblitz that the character Aladdin personally inspired him when he was younger. He says:
"I hope little kids watch this and learn that they are good enough to do whatever they want to do in life."
In the film, Aladdin is quite the performer and stuntman. Soon after Massoud got the role, it was straight to training, working on vocals, dance moves and stunts.
Mena Massoud really does body and embrace the character of Aladdin well.
Passionate Princess Jasmine
The beloved princess Jasmine is played by Naomi Scott. The London born actress, who is half-Indian began her career on the Disney channel, shines on the big screen with Aladdin.
Naomi grew up in London and started singing with the Bridge Church Youth Band, where her parents were both pastors.
Naomi reveals to DESIblitz that she had a background in soul and gospel music. Hence, she really enjoyed the learning process of how to use her voice and picking up on the dances for the film.
The only challenge she faced was with the different style of songs she had to learn.
The new song 'Speechless' written by Alan Menken, writer of the original 1992 Aladdin, was performed by Naomi.
The song 'Speechless' helps to show a different side of Princess Jasmine that many viewers have not seen before.
Naomi mentioned that she feels so blessed that she can be a role model, empowering many young girls. Also, while filming she would always think about young children and her responsibility with the role.
Watch Exclusive Gupshup with Mena Massoud and Naomi Scott here: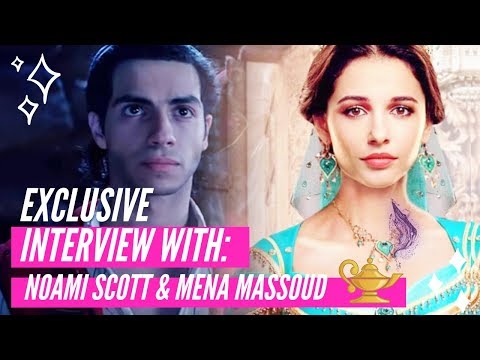 Will vs Williams
The original Aladdin had the voice of late Robin Williams as the Genie. His character was appreciated and loved by his many fans.
When news came out that Will Smith was to play the Genie, some fans were sceptical. The main worry was that Will would not be able to fill the shoes of Robin.
With early trailer releases, many people were unhappy with the Computer Generated Imagery (CGI) of Genie, saying that it looked 'so bad.'  Also, when the first reveal of the non-blue genie came out many fans were underwhelmed.
The concerns were soon shut down when pre-screenings of the film were shown. Many critics and fans fell in love with Will Smith's Genie instantly.
Will gives his own twist to the Genie character and is very successful with it. His performances to the soundtrack and his enthusiasm really brought the character together.
When asked about filling the shoes of Robin Williams, Will Smith said:
"I was terrified with that."
However, he felt that as it was going to be a live action film, there would be some opportunities to look and feel different.
At the Aladdin press conference, film composer Alan Menken explained that Will had to film in real time whereas Robin would do several takes.
Menken went on to praise and compliment Will by stating: "You filled those shoes."
When the film was initially announced, fans did not have much faith in Disney and Guy Ritchie.
Despite there being some backlash early on about casting decisions and expectations of the characters, there is a sense of excitement with the film's release.
Watch exclusive Aladdin UK Premiere Red Carpet Interviews here: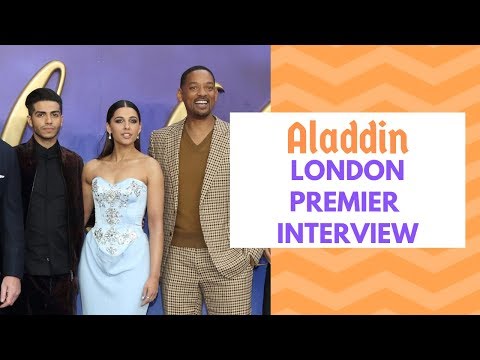 Overall audiences will not be disappointed as they will get to to see a colourful, eye-catching and breathtaking film, with some great performances and effects.
There are a number of songs in the film, including the cover version of 'A Whole New World' by Zayn Malik and Zhavia Ward.
The soundtrack is very similar to the original, with the exception of a few new tunes.
Aladdin will be shown at cinemas from May 24, 2019.