"I tried to make it real by starving, staying in dark and solitude."
Aishwarya Rai has surprised many in the recently revealed official trailer for her new film, Sarbjit (2016).
The Bollywood goddess has sufficiently glammed down for her role, Dalbir Kaur, in the film based on real life story of Sarbjit Singh.
Sarbjit was an Indian farmer, wrongly convicted of spying on Pakistan and facilitating terrorist attacks that killed 14 people in Pakistan in 1990.
His sister Dalbir Kaur launched a long and testing campaign to free her brother. The Indian and Pakistani governments at one point discussed the terms and conditions for Sarbjit's release.
Unfortunately, he passed away on May 2, 2013 – one week after he fell into a coma from a brutal attack in a Lahore's Kot Lakhpat jail.
Randeep Hooda, who portrays Sarbjit in the film, speaks of how he approaches the challenging role: "I tried to go through the journey of 23 years of solitude and what would a person think when he is alone.
"It was left to my imagination as it is not documented. I tried to make it real by starving, staying in dark and solitude."
As for his co-star, Ash reveals she did not meet the real life Dalbir before shooting and explains why:
"When I am playing real life characters, it is important for me to stay true to director's vision and narrative.
"I have not sat and watched everything of hers but I have stayed true. The lady who has gone through hardships for 23 years either can lose weight or go other way round (gain weight), Dalbir has a mole and we have kept that."
Indeed, most viewers would notice first and foremost how much she has transformed from a beauty queen to a woman struck by grief and despair in a time of difficulty.
Ranging from passionate loud shouts and pleads to moments of complete silence where her face does the talking, Aishwarya will undoubtedly evoke extreme emotion in Sarbjit.
Looking pretty in pink at the trailer launch event on April 14, 2016, Ash talks a little bit more about her new avatar: "The visual is the most important aspect and I have the highest respect for the make up which helps us transform.
"It was Omung [Kumar] (director) who told me you have to look like her, you have to talk like her, I did exactly what he said."
Watch the trailer for Sarbjit here: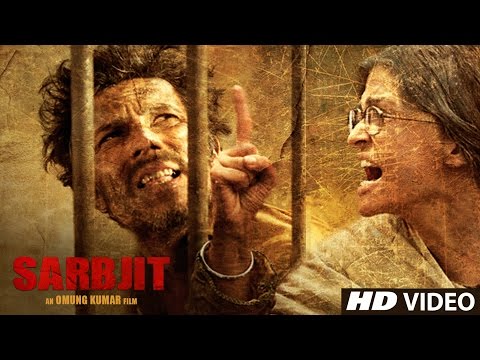 Sarbjit (2016) is scheduled to be released on May 20, 2016, expected to clash with her father-in-law Amitabh Bachchan's new film, TE3N.
Sarbjit will also be shown at Cannes Film Festival where all eyes will be on Ash's fashion treat for us on the red carpet!