"I've always been surprised how people can like you so much"
Shahrukh Khan made a visit to London on Wednesday 13th April for his latest film FAN, which releases in cinemas on Friday 15, 2016.
In a first of a kind event, Madame Tussauds London transformed its Shahrukh Khan waxwork into Gaurav, his character in Fan. The wax figure also enthralled fans at the iconic London Eye by giving an opportunity for fans to take a selfie with Gaurav.
In fact, Madame Tussauds London was one of the shooting locations for Fan. Whilst the new model was unveiled, Shahrukh Khan talked about the film and his experiences.
A gripping observation of the darker side of celebrity obsession, Fan has Shahrukh Khan playing a double role of a superstar and fan:
"Fan is a different film – it's an emotional thriller that is true to the form," says Shahrukh.
His look as Gaurav in the film was created by renowned, Hollywood special effects makeup artist, Greg Cannom – nine-time Academy Award nominee and three-time Oscar winner for the looks he created in The Curious Case of Benjamin Button, Mrs. Doubtfire and Dracula.
Khan admitted that the process was far from easy: "The challenges that we faced even made experts in Hollywood think that the film cannot be made and there were many points at which the film could have been nearly shelved. But we overcame the challenges and made it happen.
"We had to experiment with lots of different looks. I remember that on our first look, which we spent twenty hours on, I looked like a witch. Thankfully it's gone through a lot of transformation."
Upon looking at his wax model and even watching back the film, he described the experience as being 'schizophrenic':
"I don't feel like I can recognise Gaurav or relate to him. Even whenever we needed to shoot Gaurav's scene, Maneesh and the team would never call for me, they would call for Gaurav."
In a world of labels, it's easy to forget who made sportsmen, musicians and actors into stars – the fans. Every fan has their own personal relationship with their hero, which can draw similarities to love stories and personal relationships in their own right.
On talking about his own fans, Shahrukh said: "I've always been surprised how people can like you so much. Mothers like me like their own child. I think, I'm just an actor and what they see is merely an image that I have created. I get scared that people will get disappointed when they meet me. Like they'll say I'm too slim or too small."
Shahrukh admitted that he hasn't met a fan like Gaurav yet: "Nobody really obsessive. I have a lot of lady fans who aren't aggressive but they can be strong! I've had fans who have taken his clothes off and jumped into my pool or climb 7 storeys on a pipe of my house."
The Bollywood superstar adds that there is no one person that he is a diehard fan of either: "At the age of 15-25 when it's the best time to be a fan, I didn't have a luxury to be a fan. I was working. By 25, I became a star."
However, he admits he does admire actors like Amitabh Bachchan, Dharmendra and Rishi Kapoor, as well as his co-actors, Madhuri and Juhi.
On talking about sports people, he included in his list that he is a fan of Bruce, now known as Caitlyn, Jenner:
"It was the most shocking thing when I saw it on Keeping up with the Kardashians, which my daughter was watching. She was the one that told me that he's no longer Bruce Jenner and I was shocked."
King Khan also announced that he has recently become a fan of Kate Middleton and Prince William after their encounter at the gala dinner in Mumbai recently: "The Royal Highnesses were wonderful. I spent a lot of time with them."
He also helped to translate the names of Indian dishes that they were eating, laughing: "There was one point where I forgot what Palak was in English."
However, ultimately he said that he is the biggest fan of his children and would want to most spend time with them.
When asked which of your children is his biggest fan, he named the baby of the family, Abram: "Abram is most attracted to me in the house and asks for me in the most. I can ask him who do you love and he'll say papa."
Maneesh Sharma directs the film Fan and whilst he has directed films like Band Baaja Baraat and been an assistant director of Rab Ne Bana Di Jodi, this is the first time Maneesh has directed Shahrukh:
"Creativity and maturity of filmmaking cannot be judged by age. Maneesh is fantastic and he is as good as any senior director I've worked with," Shahrukh says.
Shahrukh also revealed that one of the conditions to work in the film was that every set member had had to watch my films and like them:
"I had to do scenes from my older films, such as Bazigaar. Maneesh would tell me that they weren't as good as how I did it 10 years ago and so I had to do it again."
When asked about what he learned most whilst doing this film, he said: "It gave me confidence to not be myself. For 25 years, I have played characters that are quite similar to myself. But I've learnt how not to be myself and still get a lot of people to be attracted to that character. Gaurav is a very real character and not flamboyant."
Initially, when the first look and film name was released, many had a misconception that this film was going to based on Shahrukh's real life:
"We didn't want people to have the wrong understanding that Aryan Khanna is me. It's not a self-indulgent film. However, it was necessary that whoever acted as Aryan Khanna had a body of work for 20-25 years so that people can believe that this is a star. This could have been Amitji, Salman, Aamir and many others.
"I hope that one thing that people can take away from the film is that you could achieve a lot more being yourself and not being a shadow of someone else. Remember that there is no one more important than yourself."
Watch the trailer for FAN here: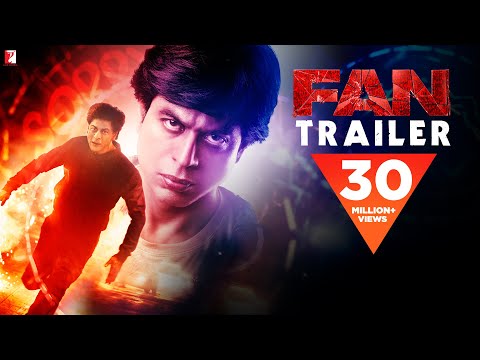 Shahrukh Khan's much awaited FAN releases in cinemas from Friday 15th April, 2016. Also catch Fan's Gaurav wax model in Madame Tussauds, London.