"This shooting experience will always be very special to me."
Actress Aditi Arya candidly reveals all about her Bollywood debut in the upcoming film, 83 (2020) as well as winning Miss India.
Aditi stars as Inderjit Bhardwaj lovingly known as Bikku, who is studying to be a doctor in London.
In the film, she is the wife of cricket player Mohinder Bhardwaj played by Saqib Saleem and is a great support to him.
83 (2020) revolves around former Indian cricket team captain Kapil Dev played by Ranveer Singh and how he leads the 1983 Indian cricket team to World Cup victory.
Bollywood debutant Aditi Arya is also a pageant titleholder and was crowned Femina Miss India World 2015.
According to an interview with Aditi, she speaks about her character Bikku, Miss India and other interests.
Tell us about your character in 83?
I play Mohinder's wife. Everyone lovingly would call her Bikku. Mohinder is played by Saqib Saleem and my character is someone who had been quite a support to him.
At that time, she was studying in London to be a doctor. She is quite a modern woman. She went with her friends to cheer for India while all her friends were from there (London).
It was like a moment of pride that you're studying at a place and there you are representing your country who come and win.
These emotions were all present in the character, to see it happening, to see the team play. Being an underdog team and defeating all the big teams. It's a rollercoaster journey.
How was the experience of shooting 83?
This was the first time I got a part in Bollywood. The set was grand but the emotional connection with the 83 World Cup as India had such a big cricket achievement.
That combined with Bollywood is a big attachment for Indians. Two of the passions – cricket and Bollywood. That coming together and this being my debut for me it was quite surreal and emotional.
When I was on set, I used to live in the moment and absorb everything. This shooting experience will always be very special to me.
How do you feel about your Bollywood debut in 83?
I take every opportunity in my life as a major gift like winning Miss India (2015). Even if I hadn't won Miss India (2015) I would have been a participant and that would have been a big thing for me.
After that, whether it would have been my first South Indian film, web series or my debut in Bollywood all of that is equal value to me.
Yes, I am very excited that my debut with Bollywood is coming out but I think that I shouldn't get overexcited about something as a way to protect yourself.
When good things happen for me I accept them with gratitude and happiness. But I have to be careful as there is a lot more ahead.
How did you mix with the cast and crew?
The girls who played the wives in the team, we kept flying in and out. But the rest of the team who were the main team players stayed together for two months.
So, their bonding was like people who live in a hostile, who become a group and play around. It was that kind of vibe. So, coming into that and joining in and interacting with the locals there and getting to know about their experiences.
They were surprised that an Indian team was there. They presumed that because it was such a big shoot it'll be foreigners.
Maybe they didn't know that Bollywood is such a big industry. But seeing all those stereotypes being broken was a lot of fun.
How big of a responsibility was this role for you?
I think in this case it's an even bigger responsibility because the characters you're playing are still alive, they are going to watch you on-screen and if you've not done a good job they'll be disappointed.
"If you've not done a good job then it's not justified."
Also, Kapil Dev is god and the entire team have been icons and if you can't play that properly then even the audience will be disappointed.
I've seen the actors behind the screen putting so much effort in. The direction team, the hair and makeup team they took care of the similarities whether internally or externally it should come across in the body language, the style and a lot of effort was put in.
How has your family reacted to your role in 83?
My family were like, 'Do what you want, be happy with what you're doing', they have that kind of mindset.
Even if I wasn't doing a movie and I was doing a campaign their reaction would have been the same, 'Are you happy?'
Years ago, when I was in college, there was this MBA institute which is considered to be one of the best in India and I got through that.
When I told my dad, I thought he'll be really happy and will say, 'I'm proud of you' but his reaction is always, 'Nice, good, are you happy? Then it's okay.' No matter what I do this will always be his reaction.
Who are your Bollywood role models?
Currently, Taapsee Pannu would be that person. Her journey has been with determination, grace and strength. She made her own path. She had no film background and nor do I.
Her skills and talents are so well polished that even if there have been hurdles in the way, she kept going and making a name for herself and proving herself.
I think Vicky Kaushal would be the male version.
Who are your favourite Bollywood directors?
Kabir sir, I got very lucky that my first film was with him. There are always some directors that you want to work with and Kabir Khan is one of them. So, I'm very glad I got my first opportunity with him.
Imtiaz Ali, you get hypnotised by someone's art and the way of describing what they want from their actors and you think if I got the chance to work with him then I'll get the chance to explore more creative layers.
Will we see you on OTT platforms?
OTT platforms have proven to be boons for my generation of actors. You have a choice to choose art over random work for money.
"Before when there weren't OTT platforms then after a point there were limited movie choices."
With OTT if the script is good then you can dive in and you don't have to worry about the other baggage of how will the promotions go or this and that. All that baggage is taken care of.
So, in the future to explore what kind of characters I can get into, different working styles of different directors I'll keep myself quite active in the OTT sector.
I have done a short film with Zee 5 that'll release soon, it's a horror-thriller.
What other interests do you have?
Singing is not my cup of tea. Other than acting, it is my love for education.
I think in our country (India) we have a lot of resources in terms of population. We have a lot of young people and if they are skilled they are able to contribute more towards the GDP. They'll consume more and produce more and overall the country progresses.
I have worked with woman and child development. Just as acting increases so will this work of mine.
Watch the Interview with Aditi Arya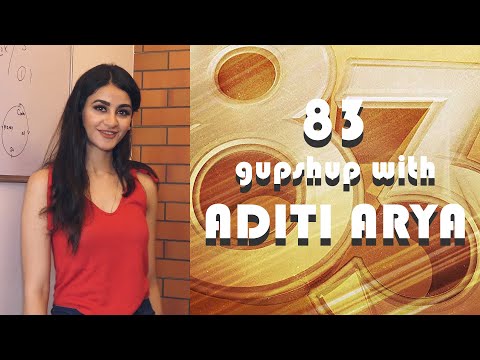 83 is scheduled to release on April 10, 2020, however, due to the current Coronavirus pandemic across the world, the film industry is on standstill.