"Hussain was touched by genius during a truly great innings."
England is known for giving opportunities to talented British Asian cricketers, especially at the county and international level.
British Asian cricketers began emerging from the 80s and onwards. Most of the top players have gone onto represent England, with others making it big during the English county season.
Many of these British Asian cricketers became specialists, particularly in Test, One Day International (ODI) or T20 cricket.
British Asian cricketers come from diverse family backgrounds. They are mostly of Indian, Pakistani and East African heritage.`
British Asian Cricketers have many highlights, with one playing becoming captain of the national side. Others have also been part of the Ashes and World Cup-winning teams.
We take a closer look at 6 top British Asian cricketers who have made inroads at the county and international level.
Asif Din
Asif Din is a former British Asian cricketer who made waves on the English county circuit. He was born as Mohammed Asif Din in Kampala, Uganda on September 21, 1960.
Similar to other Ugandan Asians, he also had to leave East Africa after Idi Amin gave an expulsion order.
After arriving in the UK with his family, during 1981, Asif made it into the Warwickshire first team.
A year later, the top-order batsman made his maiden first-class hundred versus Middlesex in the County Championship.
From a team total of 174, Asif made 102, facing the likes of West Indian fast bowler Wayne Daniel.
Scoring 9074 runs in 211 first-class games, Asif made eight more centuries in this format of the game. His highest first-class score of 217 came against Mashonaland during a tour to Zimbabwe in 1994.
He was leading the pack for Warwickshire in all limited-overs competitions during the 1990 season. Hitting 792 runs, Asif had a phenomenal average of 46.58.
In 1991, he continued where he off, smashing 682 runs in ODI cricket at a healthy average of 45.46.
During this season he made two hundreds, including 137. This was his high highest score in List A cricket.
However, his most special moment came when he played the best innings of his life. With Warwickshire, requiring 322 to beat Sussex in the NatWest Trophy final, the Midlands team were struggling at 93-3.
Not buckling under pressure, Asif made a fantastic 104 off 106 balls. Despite a tense finish, Warwickshire won this great domestic final by five-wickets on the last ball.
Captain Dermot Reeve who was unbeaten on 81 spoke about the player of the match, saying:
"Asif Din played magnificently."
Asif certainly came up trumps, when Warwickshire were right up against the wall. He had the perfect script for his seventh and final ODI hundred at Lord's on September 3, 1993.
The East African Asian was also part of the memorable Warwickshire squad, which achieved the treble in 1994.
His fifteen-year journey with Warwickshire came to an end in 1995. Considering there were very few British Asian cricketers playing during the peak of his career, Asif's accomplishments were truly amazing.
Watch Asif Din playing a super innings in the 1993 Natwest Trophy final: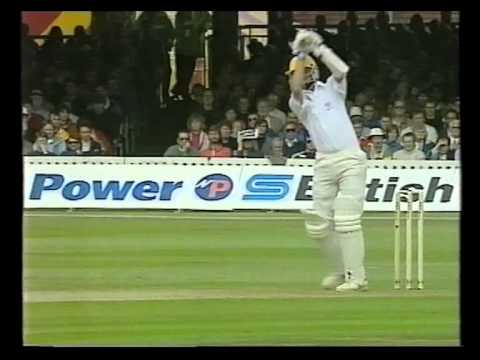 Nasser Hussain
Nasser Hussain is a former England top-order batsman and captain of the national side. He was born in Madras (Chennai) on March 28, 1968. He came from a family of cricketers.
His late dad, Raza Jawad 'Joe' Hussain was also a keen cricketer himself from the state of Tamil Nadu. He later went into coaching after moving to England.
His brothers, Mehriyar 'Mel' Hussain and Abbas were also into cricket, be it on a very brief note.
In his early days, Nasser was a good leg spinner. However, with him getting the yips, Nasser became a better batsman when joining Essex County Cricket Club in 1987.
It was in the Test arena that Nasser made an impact. He had a long Test career from February 24, 1990, to May 20, 2004.
Playing ninety-six matches, Nasser made 5,764 runs at an average of 37.18.  His highest score in a Test match was 207, coming against Australia in the first Ashes Test.
His first innings score also had a major contribution in England cruising to a nine-wicket victory at Edgbaston on June 8, 1997. Describing his brilliant innings, John Ethridge from Wisden wrote:
"Hussain was touched by genius during a truly great innings. When Warne dropped short, he cut with power and precision.
"When the quick bowlers over-pitched, he drove with skill and certainty."
From 1999 to 2003, he also went onto lead the England side with a successful ratio. Acting as a skipper in forty-five Test games, Nasser had a win percentage of 37.7.
Under his leadership, England went from ninth to third in the Test rankings. As captain, he led England to famous away wins against Pakistan (2000) and Sri Lanka (2001).
In 2001/2002, Nasser was also conferred with an OBE for his cricket heroics.
In parallel to his Test Career, Nasser had a relatively modest ODI career, which includes one century. He made a fine 115 against India at Lord's on July 13, 2002.
After retiring from the sport, he went onto become a highly respected commentator for Sky Sports.
He also wrote the award-winning autobiography, Playing With Fire (2005). At the 2005 British Sports Book Awards, it won under the 'Best Autobiography' category.
Watch Nasser Hussain make 207 against Australia in the Ashes here:
Monty Panesar
Monty Panesar is a British Asian cricketer who came and went in a flash for England. He was born as Mudhsuden Singh Panesar into an Indian Punjabi family in Luton, Bedfordshire on April 25, 1982.
The left-arm finger spinner made his debut for Northamptonshire County Cricket Club at the age of nineteen in 2001.
The Test arena was more suitable for Monty during his career. Representing England in fifty Tests, Monty took 167 wickets at a bowling average of 34.71.
His best Test match bowling of 6-37 came against New Zealand at Old Trafford, Manchester in 2008. He took seven wickets in this match, as England won the Test by six wickets.
Monty Panesar collected the man of the match award and also shared his thoughts on his contribution:
"With the assistance we were getting off the pitch, I knew there was a responsibility and luckily I got some wickets. I really enjoy bowling at Old Trafford and the wicket does help me."
Monty twice took ten wickets in Test cricket. He did not really excel in the batting department, but there was one exception.
Monty and fast-medium bowler James Anderson survived for fourty minutes on the crease to manage a draw in the first Ashes Test during July 2009.
They jointly had to face sixty-nine balls to ensure the match was drawn.
His major achievements include being part of the England team, which won the Ashes series in 2009 and 2010-2011.
His ODI career was not as fruitful, playing just 26 matches in total. During the peak of his career, Monty had good work ethics, particularly when practising with the coaching staff.
In 2019, White Owl Books published his autobiography Monty Panesar: The Full Monty during May 2019.
Watch Monty Panesar taking 6-37 against New Zealand in a Test match here: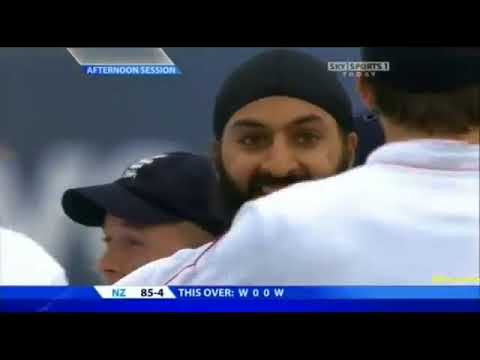 Ravi Bopara
Ravi Bopara is a batting all-rounder who had shown glimpses of his talent for England. He was born as Ravinder Singh Bopara to an Indian Punjabi family in Forest Gate, London on May 4, 1985.
In May 2002, he made his first-class debut for Essex. During his youth, he also went onto represent England at the 2003 Under-19 Cricket World Cup.
His international career took off in 2007, lasting on and off until 2015. He had more outings in the ODI game, playing 120 matches and scoring 2695 runs.
Batting lower down the order, Ravi had one ODI century to his name. His unbeaten 101 was enough to seal a six wickets win against Ireland at Malahide Cricket Club, Dublin on September 3, 2013.
His medium-pace bowling was very useful in ODI cricket. He had the knack of taking crucial wickets.
Earlier in an ODI match against Bangladesh, Ravi made an unbeaten 45 off 16 balls, along with picking 4-38 with the ball. England won this game by 144 runs at Edgbaston Cricket Stadium on July 12, 2010.
He will consider himself very unlucky to have only played thirteen Test matches for England.
Ravi is only the fifth England batsman to score three successive hundreds. This includes his highest Test score of 143.
His excellent innings came versus the West Indies in the 1st Test at Lords on May 6, 2008. England completed a ten wickets win over the Windies on May 8, 2008.
At the post-match presentation, England skipper Andrews Strauss felt Ravi took his opportunity with both hands:
"It was great to see Ravi take his chance so well."
Ravi is also a popular T20 player around the world. In the 2019 T20 Blast final, Ravi made a vital 36 off twenty-two balls, as Essex Eagles beat Worcestershire Rapids by four wickets.
The blast final was held at Edgbaston Cricket Ground on September 21, 2019.
Watch Ravi Bopara speak about his 143 versus West Indies here: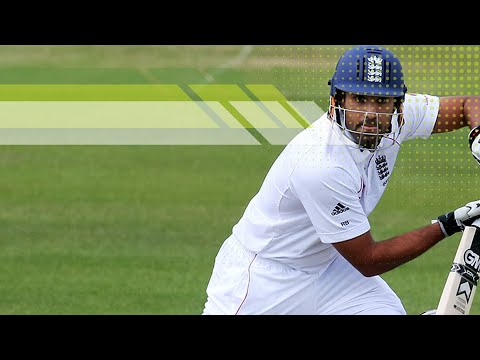 Moeen Ali
Moeen Ali has always been an excitingly elegant British Asian cricketer for England. He was born as Moeen Munir Ali in Birmingham on June 18, 1987. Moeen's family roots take him back to Azaad Kashmir, Pakistan.
He came from a cricket environment, with cousin Kabir Ali, the first to represent England from his family.
His elder brother, Kadeer Ali also had good careers with Worcestershire and Gloucestershire.
After a short stint with Warwickshire County Cricket Club, the batting all-rounder made the move to neighbours Worcestershire.
From 2014, he also went onto play for England across all formats of the sport. Moeen has enjoyed his most biggest success at Test Cricket both with the bat and ball.
His unbeaten 155 against Bangladesh at Chester Le Street is his highest Test score. England comfortably overcame The Tigers by nine wickets in this match on May 30, 2016.
Moeen has been a useful bowler in Test cricket too. He spun his country to triumph against South Africa at Lords' on July 7, 2016.
Besides claiming 6-53 in the second innings, he also had match figures of 10-115. England had gone onto win the game by 211 runs on July 9, 2017.
Man of the match Moeen was very happy with his performance in all departments. This includes making 87 in the first innings. He told the BBC:
"It was the best all-round performance of my career. it was a great wicket and I was trying to attack the batters as much as possible and it worked out well."
Mooen also completed a hat-trick against The Proteas in a Test match at the Oval in 2017.
It was a unique hat-trick as he became the first player to dismiss three left-handed batsmen (Dean Elgar: 136, Kagiso Rabada: 0, Morn Morkel: 0). England won the Test against South Africa by 239 runs.
In ODI cricket, Moeen had the license to be a little more flamboyant. He made 128 as well as picking 2-47 against Scotland in the Pool A game of the ICC Cricket World Cup 2015.
England convincingly won this game by 119 runs, with Moeen collecting the man of the match award. He has a very similar approach in T20 cricket, with his hard-hitting and off-spin bowling.
Moeen Ali led the Worcestershire Rapids to the 2018 T20 Blast title at Edgbaston Cricket Ground, Birmingham on September 15, 2018.
In the final against Sussex, he took 3-30 and made 41 off twenty-seven balls. At New Road, Moeen is lovingly familiar as "the beared that's feared."
Watch highlights of an unbeaten 155 by Moeen Ali here: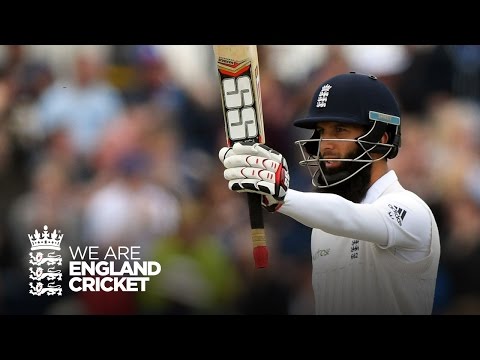 Adil Rashid
Adil Rashid is one of the most gifted leg spinners for England and Yorkshire County Cricket Club during contemporary times.
He was born as Adil Usman Rashid in Bradford, West Yorkshire on February 17, 1988. Adi Rashid is of Pakistani descent, with his family originally belonging to Azad Kashmir.
His brothers Haroon and Amar Rashid have also had brief cricketing careers at various levels. From the age of fourteen, many in Yorkshire and elsewhere in England were impressed by his bowling.
He made his first-class debut for Yorkshire in 2006, courtesy of an injury to Australian batsman Darren Lehman.
Adil has been a regular feature in ODI and T20 cricket for England, taking crucial wickets with his spin bowling.
His best ODI figures of 5-27 came against Ireland at Bristol on May 5, 2017. England easily defeated Ireland by seven wickets with 180 balls remaining.
After collecting the man of the match award, Adil spoke about him feeling comfortable, especially with his variety:
"I feel quite confident at the moment, feel pretty good. It's come from hard work in the nets and practice, knowing my fields, knowing how you feel on a good day and when you don't feel so good. [Favourite ball?]
"Sometimes it's the googly, sometimes the leggie, I just try and bowl my variations and feel comfortable with that."
In the third ODI against India at Headingly, Leeds on July 17, 2018, Adil bowled a Jaffer to dismiss Virat Kohli (71). The Indian captain was left in shock when a perfect drifting left break spun sharply to dislodge his off stump.
Adil picked up 3-49 in this match, with England defeating India by eight wickets. England also took the series 2-1. Additionally, he was part of the 2019 Cricket World Cup-winning squad.
Adil also had a good record in T20 cricket. In addition, he is also no mug with the bat, particularly in T20 cricket.
His Test career surprisingly has not gone as well as he would have expected. Nevertheless, he is a special and attacking bowler on his day.
Watch a real ripper from Adil Rashid to Virat Kohli here:
The list does not end just with the above players. Kabir Ali, Vikram Solanki, Owais Shah, Sajid Mahmood, Usman Afzaal have all played for England as well.
All these cricket players will inspire futures generations, especially those who wish to succeed at the international level.