"It should be between 35,000 and 40,000."
Since many years the legendary playback singer, Late SP Balasubramaniam has touched many hearts. It was his soothing and pleasant voice that played the magic.
SP Balasubramaniam was born into a Telegu Brahmin family in Nellore, Andhra Pradesh on June 4, 1946.
His father was a Harikatha artist who acted in plays. The talent runs deep in the family.
The epic talent was introduced into the Telegu music industry in 1966 by his mentor SP Kodanadapani.
Thus, the engineering dropout began his journey in the South Indian film industry.
Apart from singing, the multi-talented personality aced at acting, directing and producing. He had also been a dubbing artist for eminent actors.
SP Balasubramaniam was fighting with Covid-19 since August 2020. He left his fans in despair after he left for heavenly abode on September 25, 2020.
He has contributed over 40,000 songs during his lifetime. As a result of this, he found a place for himself in the Guinness Book of World Records.
The humble singer had lost count of the songs sung by him. Interviewing with Indian Express, he said:
"Even I do not exactly know. It cannot be over 40,000. It should be between 35,000 and 40,000."
The six-time National Award winner had recorded 21 songs in 12 hours for a Kannada composer.
He also holds the record of singing the highest number of songs in a day.
Fluent with all South Indian languages, Late SP Balasubramaniam also addressed as SPB has delivered over 72 films as an actor.
SPB rose to fame in the 1980s by giving his voice for the Telegu film Sankarabharanam.
The powerhouse of talent is not classically or traditionally trained in music.
Unlike other singers who take extreme care to keep their voice in check, SPB followed no such routine. The singing remained effortless and the voice – mesmerising.
Speaking to NDTV.com, the talented composer A. R. Rahman appraised SP Balasubramaniam's singing. He mentioned:
"He (SPB) will learn a song in 15 minutes, sing it in 10 minutes and go for the next recording. I don't think I've ever seen a singer like that. So quick, so professional, so humble."
Choosing the best songs from a blossoming career of five decades is a challenge.
DESIblitz brings forth the top 10 superhit Bollywood songs by SP Balasubramaniam.
Hum Bane Tum Bane – Ek Duje Ke Liye (1981)
This duet song is sung by Lata Mangeshkar and SP Balasubramaniam. This was their debut into Hindi cinema for both Kamal Haasan and SPB.
Two lovers – Kamal Haasan (S. Vasudevan fondly addressed as Vasu) and Rati Agnihotri (Sapna) belong to cross-cultural backgrounds.
They express their love for each other through the song 'Hum Bane Tum Bane'.
Initially, the composing duo, Laxmikant-Pyarelal were reluctant to offer this opportunity to SPB. They believed that a South Indian accent would not fit in.
Haasan (Vasu) plays the role of a Tamil lad in the movie. SPB had earlier dubbed for Haasan in Telegu films.
Luckily, the director of the film K Balachander was of a different view.
He believed that Kamal Haasan's role as a Tamil lad would blend well with SPB's voice.
Rishikesh Vishwakarma on YouTube expresses, "SP is just amazing…his voice.?"
This leap of faith helped SP Balasubramaniam build a mark in the Hindi film industry.
He had also won the National Film Award as 'Best Male Playback Singer' for another song 'Tere Mere Bich' from the same movie.
Watch Hum Bane Tum Bane Here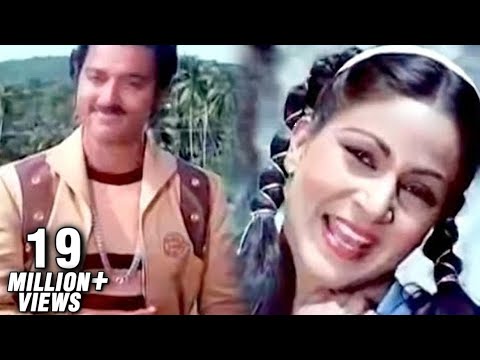 Sach Mere Yaar Hai – Saagar (1985)
Of many prominent actors, SP Balasubramaniam's voice synced well with Kamal Haasan. The duo gave fabulous songs to the industry.
The film created hype before its release as it was Dimple Kapadia's comeback movie. The director, Ramesh Sippy too was very hopeful.
The film didn't fare well at the box office. However, the music was a super hit and so were its songs.
It was the most awaited film for music director R. D. Burman. He gave his best and got due reciprocation from audiences.
'Sach Mere Yaar Hai' is a song that perfectly sums up the love triangle showcased in the movie.
Rishi Kapoor (Ravi), Dimple Kapadia (Mona D'Silva) and Kamal Haasan (Raja) are part of this song.
SP Balasubramaniam has done complete justice in depicting Haasan's emotions through the song. Haasan has also justified the lyrics well through his acting skills.
Other songs from the film like 'O Maria' and 'Yunhi Gaate Raho' by SPB also gained popularity. The music continues to be celebrated.
Fondly remembering good times spent with SPB, Haasan was one of the few people to pay a visit to the hospital during SPB's final days.
Watch Sach Mere Yaar Hair Here
Dil Deewana – Maine Pyar Kiya (1989)
After Haasan, Late SP Balasubramaniam's voice was chosen to be lent for actor Salman Khan. This was for Sooraj Barjatya's romantic drama Maine Pyaar Kiya.
The female voice of the film, Lata Mangeshkar had suggested SPB's name to the producers.
This was Salman's debut as a lead actor. The movie speaks volumes about love prevailing over money and wealth.
The song 'Dil Deewana' has two versions. The female version is sung by Lata Mangeshkar and the male version by SP Balasubramaniam.
The latter version of the song is picturised on the male protagonist, Salman Khan (Prem Choudhary).
He tries to convince his lover's father, Alok Nath (Karan Shrestha). He intends to seek his permission so that the lovers can unite.
The female lead is played by Bhagyashree (Suman Shrestha).
The emotions of the song are aptly portrayed by Salman Khan. The melodious voice of SPB indeed played its charm on audiences.
The film had bagged numerous awards in different categories.
In 1990, SP Balasubramaniam had won the Filmfare Award for 'Best Male Playback Singer' for the song.
Watch Dil Deewana Here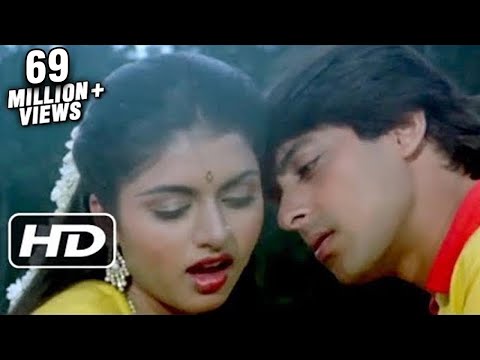 Mere Rang Mein – Maine Pyaar Kiya (1989)
The romantic song picturises Salman Khan (Prem Choudhary) and Bhagyashree (Suman Shrestha).
The duo is celebrating the birthday of naive and sweet girl, Suman.
Prem gets her various western dresses as gifts. The shy girl usually prefers wearing Indian attire.
Despite the discomfort, she goes overboard to please her lover and try all the dresses gifted to her.
'Mere Rang Mein' is one of the most romantic songs that became famous amongst the youth during the late 80s and early 90s.
Even with the music being a copy of the song 'The Final Countdown' by Europe (1986), the song didn't fail to influence Indian audiences.
The film had been one of the highest-grossing films in India during the 1980s.
Because of its popularity, the movie was dubbed in other Indian languages like Telegu, Tamil and Malayalam.
The male version of the songs in these other languages too was sung by SP Balasubramaniam. Undoubtedly, he pulled it off amazingly.
Watch Mere Rang Mein Here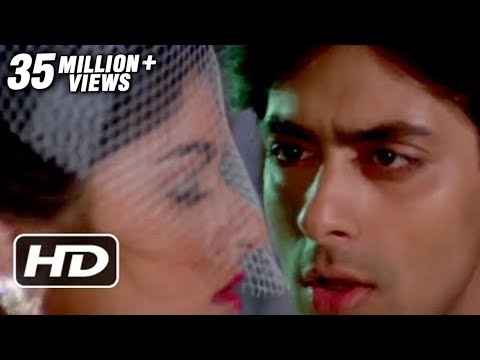 Kabhi Tu Chhalia Lagta Hai – Patthar Ke Phool (1991)
Post Maine Pyaar Kiya (1989), Late SP Balasubramaniam's voice for Salman Khan struck the chord amidst the masses.
Music lovers were eager to hear more compositions comprising of the duo. Just then Patthar Ke Phool came across.
Raveena Tandon debuted her acting career with this action-packed movie.
'Kabhi Tu Chhalia Lagta Hai' is a fun song where the actors Salman Khan (Suraj Verma) and Raveena Tandon (Kiran Khanna) express their love by concatenating old movie names.
The song runs in Suraj's mind while he is travelling in a bus with Kiran. It is an imaginary song.
Attributes designated for Suraj include – Chhalia (1960), Diwana (1967), Anari (1959) and Awaara (1951). These are also Bollywood movies.
Films like Jugnu (1973), Junglee (1961), Funtoosh (1956), Azaad (1955), Leader (1964), Loafer (1973), Hero (1983) and Joker (1970) are also stated while describing Suraj.
Kiran is compared to characters played by protagonists in these movies – Noorie (1979), Julie (1975), Chandani (1989) and Bobby (1973).
Deewar (1975), Inteqam (1988), Naya Zamana (1971), Haathkadi (1982), Sholay (1975), Qurbani (1980), Bandhan (1969), Nadiyan Ke Paar (1982), Pyaar Ki Manzil (1981), Maine Pyaar Kiya (1989), Do Dil (1965) are a few other movies mentioned in the song.
Recreating the attire of Raj Kapoor and Nargis from the evergreen song 'Pyaar Hua Ikraar Hua' (Shree 420: 1955), the lyrics, peppy music and dancing kept the audiences hooked.
The song went on to become one of the most popular tracks in the 1990s.
Watch Kabhi Tu Chhalia Lagta Hai Here
Dekha Hai Pehli Baar – Saajan (1991)
The love triangle in Saajan was celebrated as one of the highest-grossing films in 1991.
The songs too have become chartbusters. SP Balasubramaniam yet again became a lucky charm for Salman.
The slow romantic number 'Dekha Hai Pehli Baar' showcases the budding love between Salman Khan (Akash Verma) and Madhuri Dixit (Pooja Saxena).
The shooting of the song took place at exotic locations in Ooty. Back in the 1990s, Ooty was the favourite location of filmmakers.
The lyricist, Sameer Anjaan, while interacting with Rediff.com recollects an incident where the team could not find any suitable situation for the title track.
The movie was complete. But the song came out of nowhere came into the lyricist's mind. It was then sung and shot.
Who said last-minute decisions are not worthy? The phrase 'Where there is a will, there is a way' seems appropriate here.
Planetbollywood.com describes its view: "S.P. Balasubramaniam's honey laden voice adds even more harmony to the melodious number."
Other songs from the movie 'Bahot Pyar Karte Hai', 'Tumse Milne Ki Tamanna Hai', 'Pehli Baar Mile Hai' and 'Jiye To Jiye Kaise' continue to be chartbusters.
SP Balasubramaniam gave his tireless contribution which is loved by audiences.
Watch Dekha Hai Peil Baar Here
Roja Janeman – Roja (1992)
Roja was the beginning of an era building a pathway for the duo, A. R. Rahman and SP Balasubramaniam.
When two explicitly talented people work together, they are sure to create magic. This is exactly what we saw in the Tamil song 'Kadhal Rojave'.
When the dubbed version of the movie was released in Hindi, the same song was re-created as 'Roja Janeman'.
SP Balasubramaniam was an established name much before he started working with Rahman.
In the song 'Roja Jaaneman', the pain of separation is felt in the voice of SPB. The act is beautifully performed by Arvind Swami (Rishikumar) and Madhoo (Roja) on screen.
A listener on mouthshut.com is quoted saying, "Though it speaks of separation and the sorrow is intense, it is not one of your typical Run out of the Mill' Rona Dhona it is dignified even in its sorrow n solitude…"
The song picturises Rishikumar sulking over the separation from his wife, Roja.
The emotions behind the song are truly felt in the voice of SPB. This adds value to the song and connected well with the listeners.
Another mesmerising song 'Yeh Haseen Vadiyaan' by SPB from the same movie will fill your heart with peace. Hearing it is going into another trance altogether.
The minimal music in these compositions is ecstatic. Truly proven that simplicity is the ultimate sophistication.
'Devasted' by his death, A. R. Rahman was amongst the first few to express his sadness via Twitter.
Watch Roja Janeman Here
Teri Hi Aarzo Hai – Chandra Mukhi (1993)
A duet with Kavita Krishnamurthy, SPB broke the myth that he is apt for slow romantic numbers alone.
This fast-paced romantic song is sure to keep dance lovers on the floor. SP Balasubramaniam proved his versatility that amazed his listeners.
In 'Teri Hi Arzoo Hai', the magical pair of Salman Khan (Raja Rai) and Sridevi (Chandra Mukhi) enchanted people with their catchy moves.
The music composers Anand-Milind have used the effects of flute wonderfully throughout the song.
Written by Salman Khan himself, the film is about princess Chandra Mukhi (Sridevi). She comes from a heavenly kingdom in search of her lost charmed leaf.
The film failed to weave the magic. SP Balasubramaniam shined with his versatility.
A fan on YouTube quotes that "S P Bala's voice perfect match & hit & fit 4 Sallu (Salman Khan) in 90".
Another listener says: "No one like in the field of singing as S P Balasubramaniam."
Indeed, his voice is eternal. It will linger around us forever.
Watch Teri Hi Arzoo Hai Here
Pehla Pehla Pyar Hai – Hum Apke Hain Koun..! (1994)
Looks can indeed be deceptive. Observing both the personalities for real, people were not sure about the combination of SPB and Salman hitting the charts.
After delivering superhit songs in Maine Pyar Kiya (1989), SPB collaborated again with Sooraj Barjatya and Salman Khan.
Salman's chocolate boy looks were accentuated with the South Indian legend's soft voice in all the songs.
'Pehla Pehla Pyar Hai' is where Salman (Prem Nath) and Madhuri (Nisha Choudhary) discover their love for each other.
The song gracefully captures the emotions that a couple goes through while exploring their 'first love'.
SP Balasubramaniam's comforting voice can soothe one's senses. The silhouette performance of the duo dancing at the end of the song is worth watching.
A YouTube listener of the song mentions: "SP Balasubramaniam Ji; Voice of Romance, has been a legend since 1970 and the greatest singer in the history of mankind."
We could not agree more.
Watch Pehla Pehla Pyar Hai Here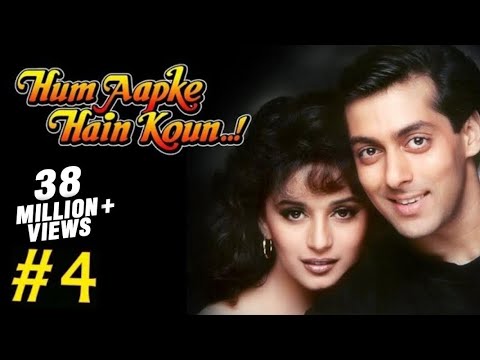 Didi Tera Devar Deewana – Hum Apke Hain Koun..! (1994)
A remake of Nadiyan Ke Paar (1982), Hum Apke Hain Koun..! was amongst the first to cross the 1 billion mark in Hindi cinema.
'Didi Tera Devar Deewana' has taken its inspiration from Ustad Nusrat Fateh Ali Khan's song, 'Saare Nabiyan'.
Indians have a ceremony lined up for every occasion.
This song celebrates the traditional baby shower of Madhuri's sister (Pooja Choudhary) wherein men are not allowed. Renuka Shahane plays the role of Pooja Choudhary.
In the song, Madhuri (Nisha Choudhary) pictures the immature activities of Salman (Prem Nath).
She playfully mocks as to how he takes care of Pooja during her pregnancy days.
Unaware that Prem is watching the entire episode, Nisha is stopped midway by Prem. He shows off a few stunts, but later apologising for intruding.
SPB has wonderfully delivered the drama through his voice. TOI has titled this song as "A song for every season."
Watch Didi Tera Devar Deewana Here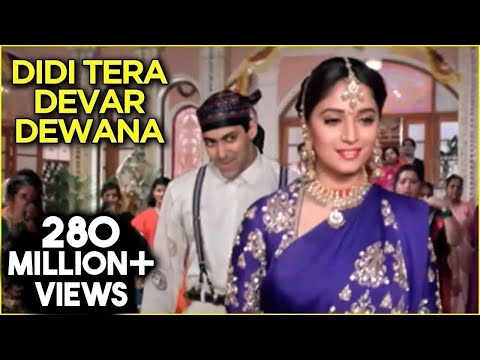 Spanning a career of five decades, SP Balasubramaniam created a brand name for himself.
Revered personalities like Narendra Modi, Rahul Gandhi, Rajinikanth, Nagarjuna Akkineni and many more have expressed their heartfelt condolences via Twitter.
Undeniably, the country has lost not just a melodious voice but an amazing human being as well.
SP Balasubramaniam is forever going to be present amongst us through his spectacular work.
As aptly quoted by a listener, "U Will never die SP sir.. u will live through these songs."