"My character Zarmeena is giving a voice to the rural women in Pakistan."
Hassan Waqas Rana's Yalghaar is one of the most highly awaited Pakistani films of 2017.
Not only is the film made on a big budget, but it welcomes a line-up of the finest talent in Pakistani cinema.
Featuring Shaan Shahid, Humayun Saeed, Adnan Siddiqui, Armeena Khan, Bilal Ashraf, Sana Bucha, Ayesha Omar and Ali Rehman Khan, Yalghaar has an extraordinary ensemble cast.
The Pakistani political thriller is based on true events from 2009 – the Second Battle of Swat or Operation Rah-e-Rast.
Set amidst peaceful and loving people in the stunningly picturesque Swat Valley, religious extremists take the community hostage.
Pakistan's Army arrive to tackle the regime of these extremists with a military operation that lasts more than 76 hours.
Watch our full interview with the Cast and Director of Yalghaar here: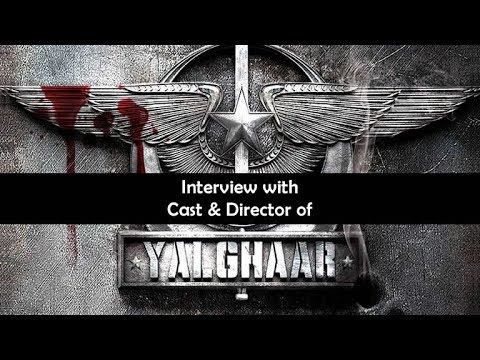 The film depicts the fierce battle between the determined and patriotic soldiers of the Pakistani Army against the bloodthirsty militants equipped with the latest weapons and ammunition.
Being a 'jawaan,' a soldier, is a matter of pride and honour. After his tremendous performance as Major Mujtaba Rizvi in Waar (which was also produced and written by Hassan Rana), superstar Shaan impresses with his performance in Yalghaar.
We can guarantee that his acting boasts of patriotism and heroism!
In fact, it seems that director Hassan Rana has been committed to making a film with a powerful and hard-hitting theme. In a special interview with DESIblitz, Hassan says:
"I obviously wanted to make a war film which actually depicts the actual horror of a war and the battles our soldiers fight every day. I always wanted to make that. But Swat operations and operations happening today are re-defining moments of the world, which the world is not realising."
Often in cinema, a battle between two nations is often depicted. But here, it is a fight between a nation and essentially its people. Hassan tells us:
"I think, historically war has never been fought between nations. Wars have always been fought between ideas. For example, [the] Second World War was between the idea of Hitler, how he saw the world. Nations are geographical lines that have been drawn. The nation represents an idea, so yes, you can have a war between nations, but it has to be based on that idea."
Joining the stellar cast of Yalghaar is veteran actor, Adnan Siddiqui. The actor's impressive career has already seen him perform in Bollywood (with Sridevi's Mom) and Hollywood (with Angelina Jolie in A Mighty Heart).
In this action thriller, Siddiqui plays the role of Lt. Col. Imran. As one imagines, it certainly is a role that only a true 'Khatron Ka Khiladi' can undertake. Talking to DESIblitz, he mentions:
"Lt. Col. Imran is not just an army guy. Basically, my message for my role is not just about borders, orders and firing. He (his character) is a loving husband, a jovial companion and when time comes, he is ready to give his life for his country."
Cast members Adnan, Bilal and Gohar definitely prove to be the heroes of the film. In fact, it is interesting to see how these action men battle against their enemies.
Every story has a hero and a villain. In the trailer, Humayun Saeed looks menacing as he portrays the role of a militant. His deep voice and sinister expressions certainly give you goosebumps. Discussing his character and what attracted him to Yalghaar, he tells us:
"It's a very dark character. I haven't played this kind of a character before – I felt that this was my biggest challenge and this itself attracted me to the character. All the other army-officer (characters) are pretty much alike, but there was a higher margin of acting in my character."
As for the female star-cast, Armeena Khan plays the love interest of Bilal Ashraf in the film. Armeena says:
"I'm actually the glamorous relief to the film. That's not to say that the character doesn't have various dimensions to it. But when it comes to me, you take a step away from the violence, intensity and gore. So, we're bringing the light-hearted aspect."
Ayesha Omar takes on a challenging role playing Zarmeena. In comparison to her previous work in Bulbulay and Karachi Se Lahore, the actress appears in a more serious avatar. She essays a character whose spouse is slaughtered by the evil militant (played by Humayun Saeed):
"It's not just about the men in this film, it's also about the women. The women in this movie are equally strong because they are representing different stratas of society."
"My character Zarmeena is personifying and giving a voice to the rural women in Pakistan."
From reading headlines to making them, journalist Sana Bucha makes her film debut, where she also plays a reporter. It's impressive to see how her journalistic prowess comes handy – especially as Shaan's love interest.
Yalghaar tackles an important and relevant subject matter. Based on real life events, the film delicately balances action and suspense with emotional character portrayals. The Pakistani political thriller is a must-watch!