"when you're enacting as Sardar Udham Singh you can't be frivolous"
Sardar Udham featuring lead actor Vicky Kaushal premiered on Amazon Prime Video in October 2021, winning the hearts of fans, audiences, and critics.
The Amazon Original Movie is a biopic, which follows the story of Sardar Udham Singh, a revolutionary freedom fighter.
Based on true events, the film shows how Singh struggles for India's freedom, avenging the death of his fellow countrymen.
The film began creating a lot of buzz, especially since the teaser came out via YouTube on September 27, 2021.
Post-release, everyone had positive things to say about it. Filmmaker Sanjay Gupta went on Twitter to compliment the film, the director and lead actor, tweeting:
"SARDAR UDHAM is a staggering cinematic achievement. The finest shot Indian film ever. Shoojit Sircar is a visionary par excellence.
"Vicky Kaushal has delivered the finest performance of this entire generation of actors. SIMPLY SPELLBINDING!"
Fans are also appreciating the film produced by Ronnie Lahiri, declaring that it should be an official selection at the Oscars.
We spoke to Vicky Kaushal in more detail about his role, character, challenges, along with his thoughts on the well-known figure and the rollout of biopics.
Sardar Udham: The Role and Challenges
Playing late Sardar Udham Singh is a privilege to perform in a film, but is testing.
Vicky Kaushal gave reasons for wanting to play this role, which in many ways is close to his heart, upbringing, and roots:
"I belong to a Punjabi family…My ancestral home is in Punjab, which is just two hours drive from Jalianwala Bagh."
"So we have grown up hearing about Sardar Udham Singh [Shaheed], Shaheed Bhagat Singh, Jalianwala Massacre."
He adds that it's a very dreamlike chapter in his career to be playing the lead role, explaining:
"So for me, it was a surreal moment to just know that. Life's closing that circle where as a kid you used to hear these stories."
"And now you're going to get an opportunity to be part of that world and live the life of Sardar Udham."
Vicky goes on to describe it as a very "special" role, which he was never going to miss out on.
Portraying such a character comes with a specific element of duty. Naturally, there was a lot of weight on Vicky's shoulders to give his best. Vicky elaborates on the challenges:
"Firstly, it was this heavy sense of responsibility which was there. He is kind of an unsung hero.
"He's not really an elaborated historical figure in our history books."
"So, if you connect to the film, this is how probably they're going to be remembering stories, and that is a big responsibility.
"And that brings its own challenges when you're performing. And you know, when you're enacting as Sardar Udham Singh you can't be frivolous about the performance. You can't be random about it."
He also mentions that there is always a "Daira" (fencing), which you have to ideally work within.
Research and Onscreen Portrayal
Whilst there is information available on Sardar Udham Singh, it has certain limitations according to Vicky Kaushal.
He came to know when exploring to prepare for this all-important role:
"I think to be honest about Sardar Udham, not much is out there. The only evidential, document about Sardar Udham Singh is from the moment that he assassinated Michael, a lawyer in 1940.
"Then his imprisonment for three months and then he was hanged in on 31st of July, 1940."
He alludes to the fact that there is reliable documentation about the existence of Sardar Udham Singh, but very little.
He cites the picture of Singh outside Caxton Hall, which came out in print, prison letters, and speeches from court sessions.
Prior to that, Vicky says there was a "mystery" aspect to his existence, with no "concrete" information available. He said certain statements are more attuned to hearsay.
Hence, Vicky admits it became a "little tricky" to "chalk down a character" who was "changing identities," especially when globe-trotting.
However, Vicky tells us that once he had all the missing pieces, he was able to place an "emotional graph" around them."
Vicky, also, acknowledges the director of the film for passing on his wealth of knowledge:
"I relied a lot on the vision of Shoojit Sircar because he's been living with the film for over 20 years."
"When he was coming from Delhi to Bombay to make films, this was the film he wanted to make.
"And I have never met a person whose as a hero thorough with this research about the Indian freedom movement and as emotional as him."
Therefore, Shoojit was a huge helping hand and advisor to the actor.
Vicky also reveals that viewers will witness many personality aspects relating to his ideologies in the film. These include freedom and equality to name a few.
Biography films, Resurgence, and Differences
Bollywood biopics are churning out quite a bit. Well, how different is this film from the others?
Well, this film is certainly very educating about a freedom fighter who was well versed through his worldwide journeys.
Sharing his thoughts on biographical films from a Bollywood and Indian perspective, Vicky Kaushal said:
"There has been a curiosity now from the maker side, as well as the audience to kind of explore our own history and find out the heroes and the heroic stories."
"And the need to celebrate them and the need to discuss them and keep them alive."
Vicky stated he is also a big fan of films that take inspiration from reality:
"I'm a full supporter of…films, which are based on true events – not just like Indian films, but international films as well.
"I guess, we are in this phase where we are trying to explore our own past, our own heroes."
As he earlier mentioned, that biopics have certain boundaries. However, he stresses that some subject matters can be "stretched," along with "creating your own boundaries."
Watch an Exclusive Interview with Vicky Kaushal and Sardar Udham and Biopics: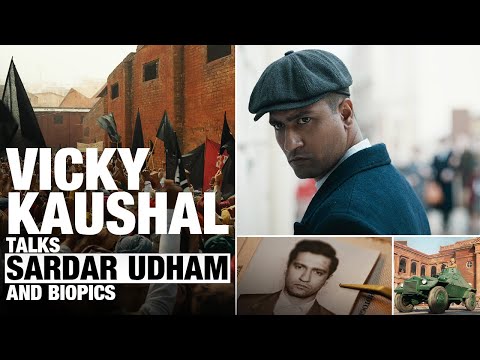 Citing some of his all-time favourite global films, he mentions Schindler's List (1993) and
Munich (2005).
Outside of films, Vicky enjoys catching up on sleep, spending time with his family and friends. He is very close to his mother and so enjoys her company.
Moving forward, he was shooting for some other romantic and dance films in 2021, which will release at the appropriate time.
He will also be part of another biopic on Indian Field Marshal Sam Manakshew. For this, he is yet again going to collaborate with director Meghna Gulzar and producer Ronnie Screwvala.
Meanwhile, Sardar Udham is proving to be a big hit as it is educational, historical with a lot of dramatisation. The film also has elements of noir in it.
In addition, Vicky Kaushal is quite slick as a freedom fighter, giving the perfect cold and vintage look. The director has definitely created a visual masterpiece, with this film.
Besides Vicky, the film has a good supporting cast. This includes Banita Sandhu (Reshma), Stephen Hogan (Scotland Yard Detective), Kirst Everton (Eileen), and Andrew Havill (General Reginald Dyer).
The film, which came out on October 16, 2021, is available to view via Amazon Prime Video.