"It's dark and interesting and bleak, but so intriguing"
The Royal Shakespeare Company (RSC) brings the brilliant play Venice Preserved to Stratford-Upon-Avon. 
Originally written by Thomas Otway in 1682, director Prasanna Puwanarajah has revamped the original into a shorter and thrilling production. 
The audience is struck by an exciting modern theatre from the opening scene: enter techno music, digital screens, laser beams and 80's costumes.
Venice Preserved tells a dark and intense love story amidst political turmoil. 
The play opens with an enraged senator named Priuli (Les Dennis.) He is arguing with Jaffeir (Michael Grady-Hall) about his marriage to Priuli's daughter, Belvidera (Jodie McNee).
Belvidera is disowned, and the couple is kicked out of Priuli's house.
Disillusioned and angry, Jaffeir is manipulated into joining a revolutionary army against the leaders of his state. When this army threatens Belvidera, however, tragedy attacks the lives and minds of the once happy couple.
The subsequent decisions made by Jaffeir contribute to the central themes of love, politics, and tragedy.
DESIblitz takes a closer look at how these themes shape the play, with exclusive interviews from some of the cast:
A Story of Love
Despite tragedy being at its core, Venice Preserved is also a love story. In fact, it is comprised of multiple love stories.
First of all, there is the love between Priuli and his daughter, Belvidera.
The bond between a parent and child is always multi-dimensional and complex. In the case of Priuli, he feels betrayed by his close friend Jaffeir for marrying Belvidera behind his back.
Like any parent, Priuli thinks he knows what's best for his daughter, but Belvidera is in love, and cannot accept her father's demands.
Les Dennis is known by many for hosting the famous British television game show Family Fortunes. In an interview with DESIblitz, Dennis discusses this relationship between Priuli and Belvidera.
He tells us that the actress who plays Belvidera is, in fact, his niece.
This allowed him to immerse himself in the character of a loving but protective father, as he has known Jodie McNee her whole life.
The second heartfelt relationship is of Belvidera and Jaffeir as a married couple. Their love struggles for two key reasons.
Firstly, they married without her father's blessing. Priuli disproves of Jaffeir's relatively low status when compared to the daughter of a senator.
Secondly, when held at gunpoint by the revolutionary army, Jaffeir feels compelled to offer his wife as a hostage to prove his loyalty.
This leads us to the final love: Jaffeir for Pierre, who is a foreign soldier and a good friend of Jaffeir's.
Jaffeir admires Pierre so much that he is easily manipulated into joining him in the rebel group. What's more, Jaffeir chooses to prioritise Pierre's respect over Belvidera's love.
Jaffeir's change of priorities is the root cause of the play's main tragedy. When he has to choose between these two loves, the audience is left wondering: which will he choose?
A Story of Politics
As the title suggests, Venice Preserved is set in the Italian city of Venice.
The original play was written four centuries ago. However, the Royal Shakespeare Company version, directed by Prasanna Puwanarajah, takes place in the 1980s. 
It also takes place amongst political turmoil. Senators in this play are corrupt and their civilians are disillusioned.
Some civilians, like Pierre and Jaffeir, wish to take action against the system. A revolutionary army is formed against the state. They aim to end what they see as political corruption.
Pierre has alternative motives behind his political agenda. He wishes to bring down the Senate in Venice as a form of revenge.
Revenge against who? Revenge against Antonio.
Like Priuli, Antonio is one of the powerful senators in Venice. He uses his political standing for questionable means, however.
It is revealed to the audience that Antonio is using his political power to pay for romantic meetings with Pierre's mistress, Aquilina (Natalie Dew).
These rendezvous serve as a form of well-needed comic relief to the play. We see this senator weak and ridiculous at the feet of dominatrix Aquilina.
Pierre seeks vengeance for Antonio's actions, and he is willing to go as far as it takes to get it.
A Tragic Tale 
In an interview with The Royal Shakespeare Company (RSC), Prasanna Puwanarajah summarises the play, saying:
"This is a play about what happens when a seismic series of events shatters the fabric of your world and all you've got left is the one person who you love."
The key relationships of Venice Preserved are what make up the main tragic themes of the play.
Firstly, there is a relationship between Priuli and Belvidera. In this relationship, Priuli expects total obedience and respect from his daughter.
Belvidera challenging his authority is a huge shock to Priuli. He feels that his status has been threatened. This tragically leads to Priulu choosing to disown Belvidera, allowing her to become destitute.
In an interview with DESIblitz, Les Dennis explains:
"People know me for comedy but in this play there isn't a hint of comedy for me. It's all tragedy."
However, the bigger tragedy here is not what becomes of Priuli, but rather what becomes of Belvidera.
Her tragedy derives from her relationship with her father, but also from her love story with Jaffeir.
Throughout the play, Belvidera is completely dominated and destroyed by the men in her life.
Her father disowns her and leaves her on the streets, while her husband chooses to use her as collateral to serve his own interests.
Her husband repeatedly comes to her with demands, and in return provides her with neither safety nor respect for her own wishes.
It is a tragic tale for Belvidera to discover that her husband, a man whom she loves and trusts, could put her life at risk for his own self-interest.
Natalie Dew, who plays Aquilina, also spoke exclusively to DESIblitz. When discussing the tragic themes of the play she commented:
"It's dark and interesting and bleak, but so intriguing that you just kind of stay with it."
A Reflection of Society 
What makes Venice Preserved remarkable is that despite being 400 years old, the themes continue to resonate with the audience.
The play's themes of love, politics and tragedy are timeless.
The cast and crew have made particular comments upon the political elements of the play. They see them as a reflection of what a contemporary audience may be following on the news.
In an interview with DESIblitz, the director of Venice Preserved discussed this element of the production. He asserts:
"It [the play] is a window into a world that we really don't want to be heading towards and it also depicts political shapes and structures that absolutely remind us of the world that we are currently in." 
Puwanarajah views the politicians in his play as a mirror of some contemporary politicians.
Taking a critical stance, he describes the senators in Venice Preserved as people who lack morality and do not care for the civilians of their city.
In an interview with the Royal Shakespeare Company, Puwanarajah explains that the modern feel of the play is what makes it so exciting.
Puwanarajah sees Venice Preserved as a 400-year-old play that is reflecting modern issues. 
Watch our exclusive interviews with Team Venice Preserved here: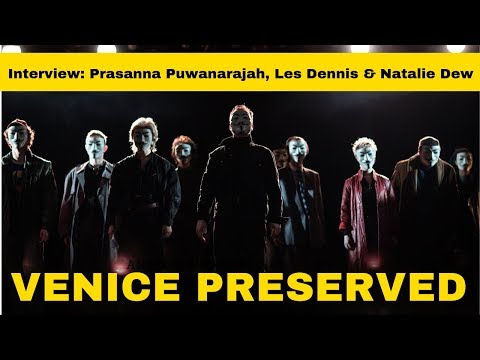 Venice Preserved may be four centuries old, but its story is timeless. For all who enjoy stories of love, lust, greed, and tragedy, this play cannot be missed.
Venice Preserved will be at the Swan Theatre in Stratford-Upon-Avon until September 7, 2019.
For tickets and further information, search on the Royal Shakespeare Company website.