"There should be an immediate moratorium on arrests, raids and prosecutions."
The Home Affairs Committee calls for the decriminalisation of 'soliciting by sex workers and sex workers sharing premises' in an interim report published on July 1, 2016.
The Committee proposes immediate action to remove the current dilemma imposed on sex workers by the law.
Prostitution is legal in the UK, but not all other activities related to it, such as soliciting on the streets. Thus, it becomes difficult for sex workers to make a living.
Current laws also define a 'brothel' as a premise used by more than one woman for prostitution.
As a result, they often work alone, out of fear of prosecution. But this simultaneously jeopardises their personal safety.
The Committee's recommendations will therefore improve their human rights, whilst continuing to clamp down organised crimes that take advantages of the marginalised status of sex workers.
The report emphasises 'zero tolerance' of such crimes and pledge to 'prosecute those who use brothels to control or exploit sex workers'.
In addition, the Committee proposes sex workers' prior convictions relating to prostitution should be removed from their criminal records to enable their transition into other lines of work.
They point out many sex workers enter the industry at a young age as a result of poor social circumstances, such as 'a legacy of childhood violence, coercion, mental and physical health issues, problematic substance abuse' and 'lack of qualifications'.
British Asian MP Keith Vaz, the Committee's Chair, says: "As a first step, there has been universal agreement that elements of the present law are unsatisfactory.
"Treating soliciting as a criminal offence is having an adverse effect, and it is wrong that sex workers, who are predominantly women, should be penalised and stigmatised in this way. The criminalisation of sex workers should therefore end."
The Labour MP also says that the Committee will review how the UK can adopt different models used by countries like Sweden and the Netherlands, where decriminalisation has yielded positive results in improving human rights and public health.
There are many British Asian prostitutes working in the UK of Indian, Pakistani and Bangladeshi descent. A simple search on classified sections will provide results for such sex workers, working as escorts, working for brothels, providing massages and in some cases on the streets.
Mostly working independently, they charge anywhere between £40 and £1,200 for a variety of sexual services.
Therefore, this decision will also provide the safety desired by British Asian women working in the sex industry.
In May 2015, an Indian woman was caught running a prostitution ring in Ilford. In an undercover video filmed by a news organisation, the woman spoke of how she lured young Indian and Pakistani girls into selling sex to men.
Watch the undercover video here: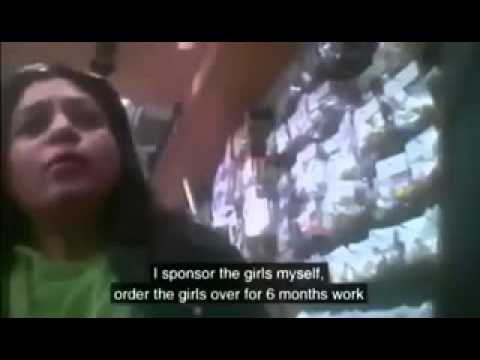 The English Collective of Prostitutes is supportive of the Committee's efforts to raise their profile.
Laura Watson, a spokeswoman for the London-based organisation, says: "There should be an immediate moratorium on arrests, raids and prosecutions.
"Just today we heard from a woman whose premises was raided and closed. All her accounts have been frozen and she was left with £50 to feed her children pending charges for brothel-keeping being brought against her.
"Civil orders against street-based sex workers such as Section 35 dispersal orders must also be abolished and the Home Office should withdraw from cases we are fighting where Romanian sex workers are facing deportation on grounds that sex work is not a 'legitimate form of work'."
According to the Committee's findings, there are currently an estimated 72,800 sex workers in the UK. 32,000 of them work in London. The real figure is believed to be much higher due to their preference to remain invisible under the social and legal stigma.
More and more of them are found to be migrant women, as former sex worker and activist Laura Lee reveals:
"The industry is awash with migrant sex workers and that is simply because it is a buoyant industry, so what you have is mothers coming to the UK earning money and sending it back home to their children and to feed their families."
If operating brothels becomes legitimate in the UK, it is possible that we may witness an influx of migrant sex workers. Human trafficking could also take a turn for the worse, as a result of a rise in demand for business.
On the other side of the coin, they could benefit from better legal protection and earn their living voluntarily – no longer as victims of sexual and financial exploitation.
You can read the Home Affairs Committee's full report here.