"Having a Happy Birthday. Thank u all...for this amazing love."
Bollywood superstar Shah Rukh Khan turned 53 on November 02, 2018. The much-awaited trailer for his forthcoming film Zero (2018) also released on the same day.
The hard-working actor had a working-birthday by attending the grand trailer launch hosted in Mumbai.
Khan's co-stars Katrina Kaif and Anushka Sharma were also in attendance for the launch.
The trailer of the film surely does not disappoint, with its superb dialogues and amazing acting by the three lead stars.
It shows a love-triangle between the characters of Shah Rukh, Anushka and Katrina.
The trio previously came together for Jab Tak Hai Jaan (2012).
Bauua Singh (Shah Rukh Khan) falls in love with Aafia Yusufzai Bhinder (Anushka Sharma), a scientist who is wheelchair-bound.
However, Singh meets his favourite actress played by Katrina Kaif and his life changes.
The trailer is truly a visual masterpiece, which shows Bauua defying the odds of a vertically-challenged man.
Fans went on social media to share their excitement after watching the trailer. One user expressed:
"After watching the trailer of #zero @iamsrk this is sure that this is going to be a mega blockbuster."
Whilst another user said: "OMG ! What a trailer and what a transformation. Hat's off @iamsrk Sir."
As well as the trailer release, Shah Rukh did make time to celebrate his birthday with family and fans, as he does every year.
He greeted his fans outside his home who waited with their phones to get a sight of the star at his residence Mannat.
Khan went on Instagram to reveal a glimpse of his celebrations.
He was seen feeding cake to his wife Gauri Khan and greeting fans outside his residence, Mannat. The star wrote alongside it:
"Fed cake to wife..Met my family of fans outside Mannat…now playing Mono Deal with my lil girl gang!
"Having a Happy Birthday. Thank u all…for this amazing love."
The makers of Zero had been ramping up the excitement for the trailer launch by releasing posters of the film a few days earlier.
One poster shows Katrina's character leaning in to kiss the dwarfy character of Shah Rukh.
Kaif is looking dazzling in a seductive red dress, whilst Khan's character seems quite bewildering.
Another poster shows Anushka's character in a wheelchair, with Bauua perched up next to her.
The two look happy in each other's presence.
Finally, a third poster was released by director Aanand L Rai, to celebrate the occasion of Shah Rukh's birthday.
The poster focuses entirely on the character of Bauua Singh.
The character is seen walking down the middle of a street, wearing a vest, striped boxers and a garland made of currency notes.
The Bauua character also joined Twitter, garnering over 250,000 followers.
The Bauua Twitter account sent wishes to Shah Rukh for his birthday, with a hilarious message. The tweet read:
"Duniya toh wish karti rahegi par Bauua Singh ki taraf se Happy Budday in advance! Aur hum fakeer sahi par khaali haath nahi aaye hain, tohfa bhi laaye hain."
"Aaj jahan bhi jaoge, Twitter pe hamara hi chehra paoge! #Bauua," the pint-sized character continued.
The promotional strategies from the makers have a peaked buzz for the release of the film.
During Eid al-Fitr 2018, a short teaser of the film was released.
The teaser featuring Bauua Singh dancing with Salman Khan received 35 million views on YouTube.
Shah Rukh took out time to show the trailer of Zero to his industry friends before it was released to the public.
SRK went on Instagram, posting a picture of him and his fellow superstar friend, Aamir Khan.
The two are seen embracing in a hug with the caption saying: "Hug from the Thug….!! Beat That!"
After watching the trailer, Aamir posted his thoughts on Twitter:
"Guys, I just saw the trailer of Zero. Just one word… OUTSTANDING!!! Congratulations @aanandlrai ! #Katrina is fantastic! @AnushkaSharma is unbelievable! @iamsrk, you have outdone yourself! Can't wait to watch the film! Love. a."
A close friend of Shah Rukh's, Karan Johar also shared his delight after watching the trailer. He said:
"The trailer of #ZERO has BLOCKBUSTER written all over!!!! The fantastic @iamsrk is the most endearing character of his career!
"The always brilliant soulful @AnushkaSharma and watch out for the intro shot of #KatrinaKaif and her impact in the trailer!!!! This ones a whopper!."
As well as expressing excitement for the trailer release of Zero, Bollywood stars also used social media to wish Shah Rukh a happy birthday.
The evergreen dashing Anil Kapoor posted on Twitter:
"Wishing my dear friend, a very Happy Birthday! @iamsrk may you have an even more successful year ahead!
"Sending you best wishes & vibes today and always! Looking forward to see you create magic again on screen in #Zero."
Devdas (2002) co-star Madhuri Dixit tweeted: "Happy Birthday @iamsrk! #ZeroTrailer is the perfect gift for your fans.
"Wishing you all the love & success. I hope you have a wonderful year ahead!"
Watch the Official Trailer of Zero here: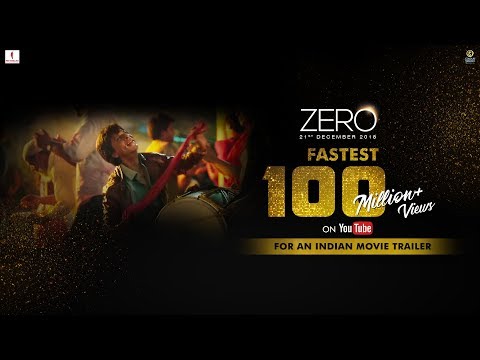 It seems that both fans and the film fraternity are excited about the trailer and much-anticipated release of Zero.
Zero also features special appearances from a whole host of Bollywood stars.
Actors Salman Khan, Kajol, Deepika Padukone, Alia Bhatt and the late Sridevi are set to make cameos in the keenly-awaited film.
Zero will be releasing on December 21 2018.
DESIblitz wishes Shah Rukh Khan many happy returns of the day!